Matt puts faith into action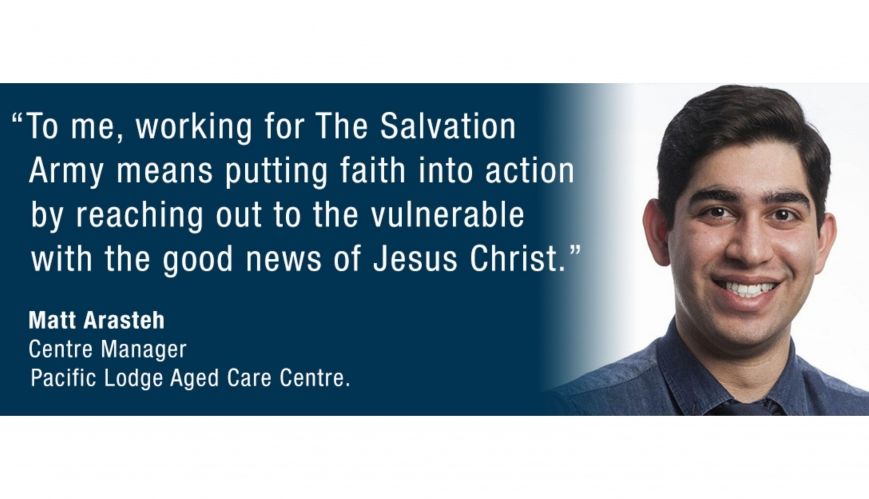 Matt puts faith into action
4 September 2020
Compiled by Lauren Martin
Matt Arasteh decided he wanted to become a nurse 20 years ago when his father was hospitalised after having orthopaedic surgery. Matt stayed with his dad at the hospital and that's where he says it all started.
"I found it difficult to watch him be unwell and for me to be able to do absolutely nothing," he says. "I was so inspired by the nurses who provided care for my father that I decided to become a nurse."
He is now the Centre Manager at Pacific Lodge Aged Care Centre in Collaroy, Sydney. He studied a Bachelor of Nursing Advanced at Western Sydney University where he was awarded the Dean's Medal for Academic Excellence. After he completed his degree there, he went on to study a Graduate Certificate in Health Services Management at the University of Technology Sydney and then a Graduate Certificate in Business Administration at the University of Newcastle.
After his studies, he did some research on different workplaces within his industry. He discovered that The Salvation Army operated within the aged care space, with mission and values similar to his own. "I always wanted to work in a Christian not-for-profit organisation where I can provide the best care and services for seniors and demonstrate Jesus Christ's love and compassion in a practical way.
"To me, working for The Salvation Army means putting faith into action by reaching out to the vulnerable with the good news of Jesus Christ. This is exactly why I joined The Salvation Army Aged Care."
Matt says that being a nurse is an incredible privilege: "When you are a nurse, you know that every day you will touch a life, or a life will touch yours. Dealing with [our people] and their families and helping them through what is often a difficult time is extremely satisfying for me."
When asked about how COVID-19 has impacted the way that he works, Matt says, "This pandemic has highlighted the importance of going back to basics, such as improving hand-hygiene compliance. I want to mention to my colleagues that it might be stormy now, but rain doesn't last forever!
"To me, 'faith sees best in the dark' – meaning when there is no hope or no logical reason to keep going at all; it is the faith that keeps me going."
He is humbled to be considered a nominee for The Salvation Army Year of the Nurse Award and he believes that all of his colleagues are equally deserving of the distinction by virtue of their high character and commitment to providing quality care.
"Matthew 28:16-20 says you and I were given the great commission. I see my workplace in The Salvation Army as a great mission field. I live out my faith in the workplace by treating people with respect and not being shy to talk about what God has done in my life."
Adapted from an article on The Salvation Army's Aged Care website: agedcare.salvos.org.au