You are here:
Home › News › 2020 › 09 › 08 › Cooks Roast Each Other But Finish Kitchen Course Well Done
Cooks 'roast' each other but finish kitchen course 'well done'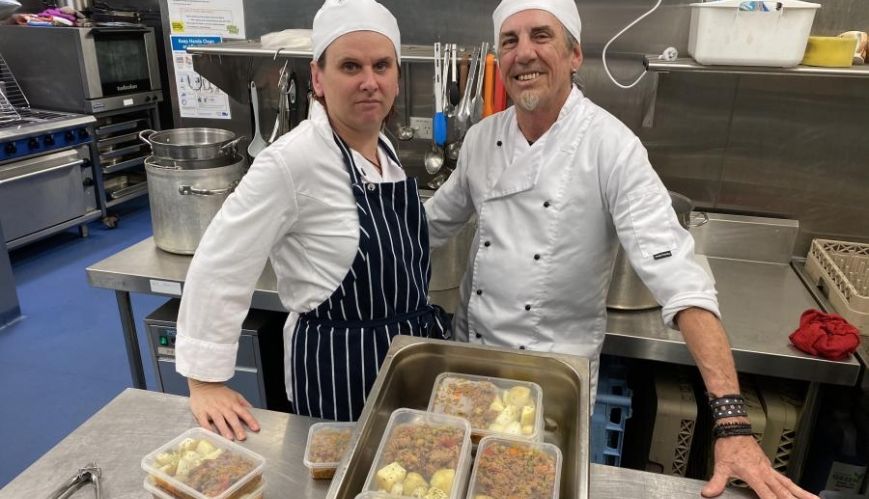 Cooks 'roast' each other but finish kitchen course 'well done'
8 September 2020
Chefs Jess Artis and Pete McCarthy in the kitchen at Brisbane Streetlevel Mission.
By Darryl Whitecross
There's been a bit of friendly rivalry for some time between volunteer cooks Pete McCarthy and Jess Artis in the kitchen at Brisbane Streetlevel Mission.
Pete has been the head chef at The Salvation Army centre for two years alongside his faithful sous chef, Jess.
They've always been happy to take friendly potshots and baste each other with a little light-hearted banter, but it was not until Jess decided to enrol in the Busy at Work Certificate 2 in Kitchen Operations that Pete's competitive nature began to show.
If Jess finished the course, she would be more qualified than him, so he enrolled, too. Seriously, though, he did enrol to support Jess, who suffers from Asperger's Syndrome, to help her through it. In the end, Pete said he "learnt a few things, too".
Pete, who has lived in Brisbane for almost 30 years, said that being the head chef at Streetlevel "keeps him busy and out of trouble". He said he had "no real big ambitions" while growing up in Sydney to pursue a specific career and, along with being in and out of jail during his life, had been a house painter, roofer and worked in warehouses. "I've had a hundred different jobs," Pete admitted.
It wasn't until he stumbled across Streetlevel, after having been through the Moonyah alcohol and substance abuse recovery program in Brisbane and was invited to help in the kitchen that he found a calling. "I was at Pindari [homeless men's hostel in Brisbane] and wandered down here [to Streetlevel, about a 10-minute walk away] for a lunch or two and started picking up plates."
Not long later, the chef left and Pete fell into the role. "That was two years ago, and I've been running the kitchen ever since – and really loving doing it; I love cooking," he said. "I love the friendship here ... I can relate to all the people on the street because I've been there, done that; jail time, drugs, alcohol ... but it's not my lifestyle now. The opportunity this place has given me is just fantastic." Jess agreed: "We love our job. We love the people."
Pete said while meal preparation was "not too fancy – protein and vegies" – it was a pleasure being able to produce good-quality meals from good-quality donated ingredients to the struggling members of the community. "I've got to think on my toes," he said. "I try to keep it simple. Easy on the palate; filling."
The kitchen team consists of Pete, Jess and "normally one other person". Pete is rather proud of his record in the kitchen: "In two years, we've never failed to get the meals out every time."
Social distancing and other restrictions during the COVID-19 pandemic has meant the Streetlevel kitchen has only been preparing takeaway meals: "We're pre-cooking everything at the moment. Usually, they are sit-down meals ... 120 per sitting."
Fewer people have been calling on Streetlevel for assistance during COVID-19, so about 60 meals a day are being prepared and refrigerated. 
Jess, a visual merchandiser by trade, moved to Brisbane with her younger sister from her hometown of Melbourne more than 10 years ago to be nearer to her terminally ill mother. Although being on a disabled pension, Jess said she had "always done volunteer work".
When she was invited to visit Brisbane Streetlevel at its former location, Jess said she was "drawn into helping in the kitchen" and, as with Pete, found her niche.
Jess said that while she and Pete were a couple away from Streetlevel, "here, we are work colleagues". She said at work she answered: "Yes, chef" to Pete but, at home, it was "Yes, dear" from Pete. 
Brisbane Streetlevel team leader Paul Maunder.
Streetlevel team leader, Paul Maunder described Pete and Jess as "Streetlevel stalwarts".
He said they had been "fantastic", especially during the COVID-19 issues of social distancing and isolation, preparing hundreds of meals that were packaged and frozen as the regular sit-down meals had not been taking place.
He said that, along with Pete and Jess, the rest of the course participants had continued to cook food to ensure "those doing it tough in our community" were served a meal that was "a five-star experience" because "we are keen to make sure all are valued, accepted and loved here".
"The venture with Busy at Work has worked largely due to the positive attitude and approach of the head chef Martin, the coordinators of the program, as well as all of the students participating," Paul said.
Taren Cooper, Busy at Work coordinator for the Skilling Queenslanders for Work program, said the 12-week Busy at Work certificate course gave participants an introduction to various kitchen equipment and appliances and how to use them, took them through the preparation of basic recipes and covered occupational health and safety procedures and regulations.
Jess and Pete said the course was full of "a-ha moments". Pete said there were things he would never have attempted before because they appeared too complex, but the course had shown how easy in reality they were to do.
Pete now aims to complete a Certificate 3 in kitchen operations to upgrade the skills covered in the course he just completed. Jess said she had gained a lot of confidence through taking part in the course. "She's a different girl," Pete said.
Jess and Pete graduated with 12 other students and plan to proudly hang their certificates in the kitchen at Streetlevel – but Pete says he is still the boss!