You are here:
Home › News › 2020 › 09 › 11 › Strategy Gives Slavery Top Priority In Global Army First
Strategy gives slavery top priority in global Army first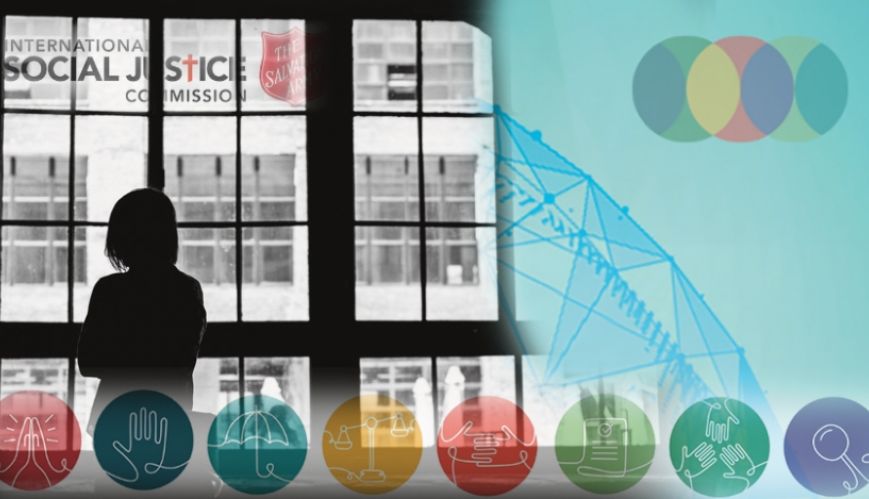 Strategy gives slavery top priority in global Army first
11 September 2020
Graphic includes images of the 'P' words, which form the eight-pronged strategy for Fight for Freedom – prayer, prevention, protection, prosecution, partnerships, policy, participation and proof. Artwork by Darryl Whitecross
By Darryl Whitecross
Throughout September, The Salvation Army has been introducing an initiative that is aimed at mobilising Salvationists, employees, volunteers and friends to its updated international response strategy to modern slavery and human trafficking.
It is the first time since the church began more than 150 years ago that it has had a global plan to respond to "this evil trade and exploitation", as International President for Women's Ministries Commissioner Rosalie Peddle described it, and that it was an "international priority".
Priscilla Santos, the International Modern Slavery and Human Trafficking Response coordinator, said it was the first time the Army had a coordinated global strategy on the issue and the strategy was a roadmap of "how to fight and work towards a world that's full of Jesus, justice and freedom".
Priscilla Santos says The Salvation Army is "one of the strongest anti-human trafficking service providers in the world."
Priscilla, who is part of the International Social Justice Commission (ISJC) in New York, said the strategy would provide opportunity for the approach to be "a real grassroots effort" for all Salvationists around the world.
"It's a new time for The Salvation Army in terms of desiring to really strengthen our modern slavery and human trafficking response effort," Priscilla said. "We are excited for everyone to come on board to join the fight for freedom.
"The mission of the 'Fight for Freedom' strategy is to create, implement and ensure a strong and sustainable modern slavery and human trafficking response in every Salvation Army territory, command, region and community," Priscilla said.
After having coordinated anti-human trafficking efforts in the United States' Western Territory for several years, Priscilla joined the ISJC earlier this year in her new role and this is her first major international project. "I truly believe The Salvation Army is one of the strongest anti-trafficking service providers in the world," she said. 
The introduction of the strategy has been happening virtually around the world through daily online communications and social media posts by International Headquarters, the ISJC and International Women's Ministries. People should respond to social media using the hashtag SAFightForFreedom.
Commissioner Rosalie Peddle told Priscilla in an interview online that slavery and human trafficking was "a global problem", which required "a global response" and the Army needed to "up our game" in raising awareness of the problem.
Rosalie described human trafficking as "a huge challenge" that the Army could not solve alone, but in partnership with individuals and organisations around the world.
"I think we need to raise awareness wherever we can and to continue to combat the root cause of human trafficking, which is poverty and inequality," Rosalie said. "It took a while for us to put this together [the new strategy] and we celebrate that," Rosalie said.
Rosalie said that Global Slavery Index figures recently recorded that an estimated 40.3 million people were experiencing a form of slavery. "That is a rude awakening to read those kinds of numbers," she said. "We want to use whatever influence and energy we have to be part of the fight against this evil. It's gone on too long. It's got to stop somehow. Who's going to stop it? We're in a position to do that. Let's make it happen."
She said the Army needed to be "up front" in this area as a priority and all Salvationists should become more aware and informed of "how huge this is" around the world and how devastating an impact it had on society.
General's plea
General Brian Peddle, the Army's international leader, said the strategy was quite challenging to coordinate as it sought to bring together all of the Army's diverse resources around the world – from preventative and educational components to networking with various groups to work together to help out in any situation anywhere in the world in fighting against that issue but to support the people caught up in it.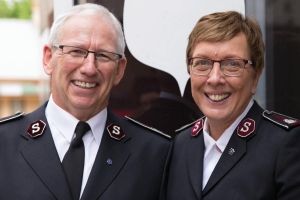 General Brian Peddle and Commissioner Rosalie Peddle.
General Peddle called on everyone connected with the Army to embrace every aspect of the strategy as it is rolled out around the world. He said responding to modern slavery and human trafficking was part of the Army's DNA. "The Salvation Army belongs on the front line where the coalface of great need exists," he said.
He said a red marker pen could be taken and a line drawn along the trafficking route from Argentina and Buenos Aires to Canada and the "trail of tears" across Europe; trails and paths where there are Salvation Army corps who should "camped". He commended all the people who "with passion" were involved in developing the strategy and was intrigued by the possibilities it presented.
"The Salvation Army, with its breath of presence around the world, could be a part of not only a preventative and an awareness plan but to be in the moment when a woman or a man or a child was being rescued or taken out of a difficult situation," General Peddle said.
He said the Army could be present when the person was rescued and there when they were given back the life they deserved.
Promotional material
Each day during September, messages, resources, tools and inspiring videos are being shared to encourage and inspire everyone connected to the Army to get involved in the strategy.
The Army believes it has a moral, theological and historical mandate to respond to the issue, which has been the catalyst for its revised international strategy in this area.
Among the promotional material being used to introduce the strategy, the Army said it chooses to "see, to engage and to fight" against the pandemic that is modern slavery and human trafficking. It believes it is "uniquely equipped" for the fight.
Rosalie said she was encouraged by the eight 'P' words that formed the basis for the strategy's eight-point action framework: prayer, prevention, protection, prosecution, partnerships, policy, participation and proof.
"God bless the international army for wanting to do something as big and powerful as this," Rosalie said.
The comment from Catherine Booth, the wife of founder William Booth, that "if we are to better the future, we need to disturb the present" is a cornerstone of the new strategy.