New growth for Gaile after fires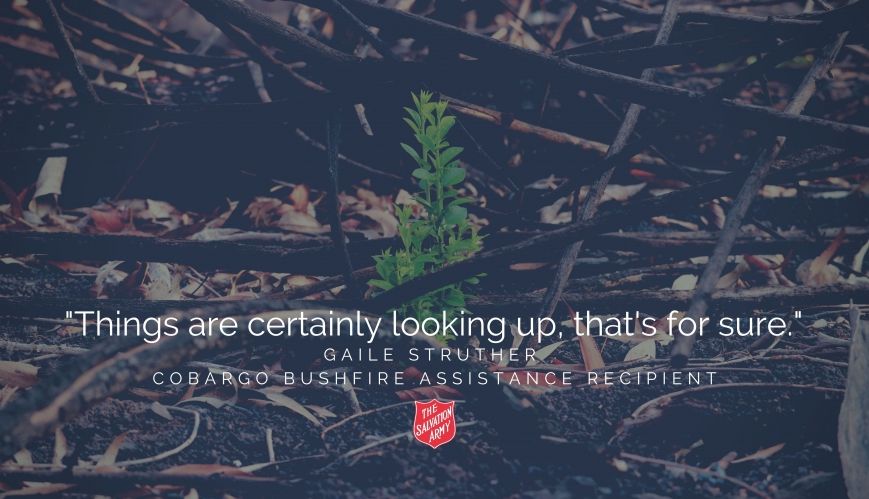 New growth for Gaile after fires
17 September 2020
Photo: Kian Worthing
By Grace Michael
Gaile Struther stayed up all night to get her family to safety when fires ripped through her town of Cobargo in the Bega Valley Shire of NSW. Located just outside the centre of town, Gaile was with her son and his family.
"I had my son, his partner and their two children staying behind the house in the barn," Gaile said. "I didn't sleep, I stayed awake all night and managed to get everyone out safely. When we returned the next day, everything was gone but the barn was standing – we were pretty devastated."
The house had completely burnt down. Even though the barn stood, it was uninhabitable – there was smoke damage and shattered glass from windows that had exploded. The once green land that surrounded Gaile's home was now burnt and blackened.
"My son and his family went to his partner's family's house in town, because they had air conditioning, so the kids wouldn't be breathing in the smoke," Gaile said, adding she moved in with a friend for five months. "I was insured, but I didn't know at that stage how that would all go," she said.
Thanks to government and charitable grants, Gaile has begun rebuilding her life and property. This has included purchasing a new generator, water tank, a temporary mobile home and gardening equipment. However, the challenges brought on by the COVID-19 pandemic have been especially tough on Gaile and the Cobargo community.
"We are only a small village and the coronavirus has separated us," Gaile said. "Before that, we were recovering quite well and all of a sudden you are on your own. In my case, I was living with a person who was having chemotherapy, so we had to lockdown at the first whisper – you sort of become a bit isolated."
In response to ongoing social-distancing requirements, The Salvation Army Bushfire Recovery Team went mobile, using donated vehicles including Winnebagos to drive out to communities impacted by the Black Summer bushfires, particularly those in regional and rural areas.
It was during one of these trips that Gaile met an outreach worker and received a Salvation Army bushfire relief financial grant. Gaile has used this grant to help re-establish her property, like many other Cobargo residents.
"I've ordered gardening equipment and a shed to get rid of this blackness that is around us – things are certainly looking up, that's for sure," she said.
The Salvation Army's team of bushfire recovery workers have been on the ground, working with local communities since February, helping people like Gaile.
Martin Boyle, who leads the team of recovery workers, said they were "here to help and support people. We want to work with them, to empower them on their recovery journey". He added some people were only just contacting the Salvos for assistance, while others required additional or ongoing support, reinforcing The Salvation Army's commitment to stand by communities for the long haul.
Though the last few months have been tough on Gaile and her community, she has a more positive outlook on life. Her home is looking likely to be rebuilt in the next 12-18 months and with long-term support from organisations such as The Salvation Army, the Cobargo community has been given hope where it's needed most.
"The people that are up there are just amazing – lovely people to talk to and they certainly make you feel much better," she said.  "People out here are so grateful. I don't know what we would have done without you."
This story first appeared in The Salvation Army 2020 Impact Report. You can read the full report here.
Grace Michael is Internal Communications Coordinator for The Salvation Army Internal Communications Department.