Registrations open for virtual Just Brass Conference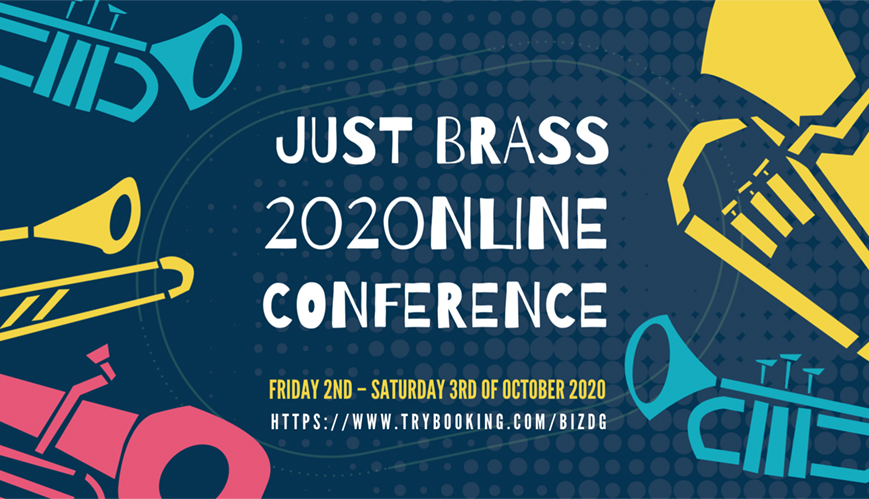 Registrations open for virtual Just Brass Conference
18 September 2020
In light of COVID-19, this year's Just Brass conference will be virtual. However, hubs will still meet up in Perth, Adelaide and Brisbane.
By Jessica Morris
If you're involved in music in The Salvation Army, then you'll appreciate the time and effort your music teacher, bandmaster or songster leader has put in over the years – from every off-note to the God-glorifying high notes of praise.
These dedicated souls can include the exasperated singing company leader at the small corps down the road, the elderly adherent who teaches the occasional music class or the burnt-out brass tutor who tries valiantly to keep the junior band in tune. 
While there are different expressions of music ministry, these leaders often have one thing in common – especially during this time of COVID-19 restrictions – a need to be encouraged, energised and equipped in their ministry.
Cue the 2020 Just Brass Online Conference – a timely event for anyone who leads a Just Brass program, people with dreams of running the program, or anyone who works with young people or music teams. The conference will be held on Friday-Saturday 2-3 October and registrations are now open.
A decade since Just Brass started as a corps-based school music program, the team is giving participants two conference options this year – attend the conference online in your own home [for those in lockdown or in regional areas], or gather with a group of people in one of three 'Conference Hubs' around the country. These hubs will be hosted by Perth Fortress Corps, Ingle Farm Corps (Adelaide) and North Brisbane Corps, and will involve workshops and other collaborative activities. 
"Just Brass is seeing lives transformed, and even in 2020 after 10 years of the program being in action, we are still seeing it make a real difference, and we are in it for the long run," said Britteny Ling, Territorial Just Brass Consultant.
"People [attending the conference] will be able to interact with different groups, listen to speakers, and participate in or observe band workshops. We actually have someone from Melbourne overseeing a band in Perth!" 
The guest speaker will be Sue Arney, a lecturer in Teacher Education at the University of Melbourne, where she teaches music education into the Early Childhood, Primary and Secondary Master of Teaching courses. 
Program leaders from across the country will also share some of their strategies for working with different age groups.
Excitingly, there will also be a session titled 'Beyond The Music', where leaders will discuss the faith pathways available for participants and share stories about families that have had their lives changed by the program.
"We want to establish these opportunities for young people and families, which has an impact years and years after they've been part of the program," said Britteny. "We're really excited about what's happening in Just Brass and we want to build into the future. So why wouldn't you want to be part of it?"
Registrations for the conference close on 25 September at 5pm. To register, see the conference schedule or find out more information, go to https://www.trybooking.com/BIZDG.