You are here:
Home › News › 2020 › 09 › 22 › One Small Step For Leanne One Giant Leap For Her Ministry
One small step for Leanne. One giant leap for her ministry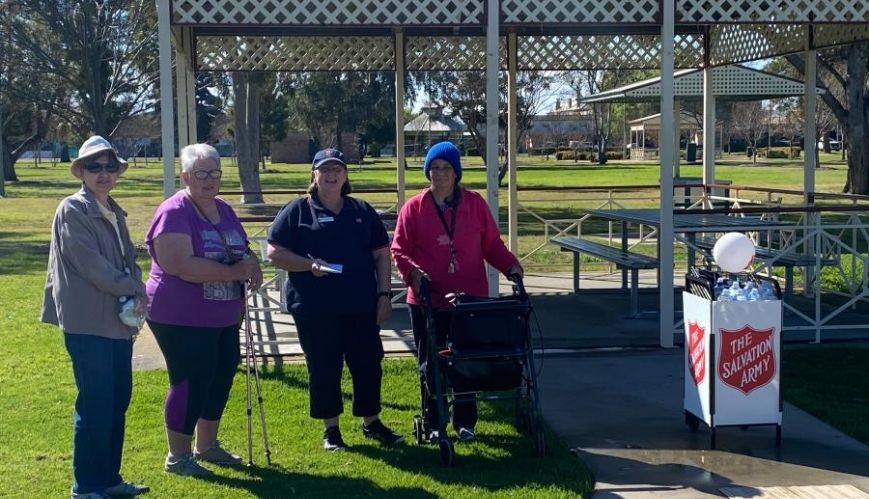 One small step for Leanne. One giant leap for her ministry
22 September 2020
The Southern Downs Corps 'Twenty is Plenty' walking group gets set for its weekly stroll around Warwick's Leslie Memorial Park, from left: Yvonne Nowell, Lorraine McCulloch, Lt Leanne Hardaker and Debbie Moffat. 
By Darryl Whitecross
Twenty is Plenty is the catchy name for a Wednesday walking group that Lieutenant Leanne Hardaker has set up in Warwick, 130km south-west of Brisbane, as part of an effort to connect with the community.
While Sport Australia has its 'Find your 30' campaign, designed to get all Australians to do "moderate-intensity physical activity" for 30 minutes a day, Leanne says 20 is plenty, thank you very much.
Leanne said her first steps into this venture came after having been to the doctor, concerned about her weight and the detrimental effects on health and wellbeing that might have. She was encouraged to exercise.
"When I told my doctor I couldn't find a walking group, he said 'start your own'," Leanne said. She has, and following an article in the town's newspaper and some publicity at a women's fitness centre, four people turned up on the first day.
The group walks around the four-hectare Leslie Memorial Park, which is opposite the Southern Downs Corps hall. "It's such a beautiful park in the centre of town – and it's flat!" Leanne said. The group starts around 9am and strides around the park for 20 minutes – about two laps.
She said the pace is not great – yet – because at the moment it was all about building stamina and confidence. "Most people, if they're bigger, are embarrassed to walk in public. They don't want to wear tracksuits and I know because I've been there," Leanne said.
Leanne said the walking group is part of the corps' community ministry vision of "building community and creating an environment of belonging".
As part of that vision, Leanne said she was planning to start a young mothers beginner craft group, also on Wednesdays, in the hope that, when it became established, the members of Twenty is Plenty could join with the craft group for a combined morning tea.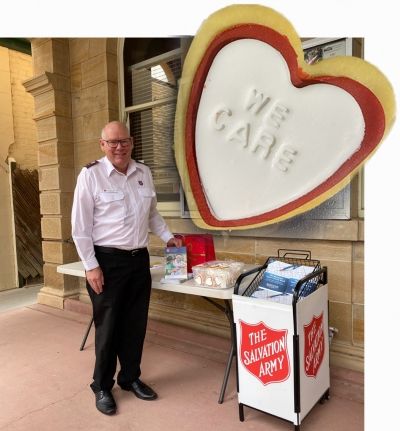 Southern Downs Corps Officer Captain Richard Hardaker giving out some of his wife Leanne's homemade 'We Care' biscuits on RUOK? Day.
"Our work is not just a matter of people knowing God. It's about the quality of life and having a place to belong," Leanne said.
Leanne and her husband, Captain Richard Hardaker, have been the corps officers at Southern Downs for about 12 months after having been the administrators of the Army's drug and alcohol abuse recovery centre (Moonyah) in Brisbane.
"We're used to working with people on the fringes," Leanne said. "We came from the city, where we worked with drug and alcohol users and I've noticed there's a lot of ice usage out here as well."
Leanne said the walking group was designed to help people slim down but was also part of a concerted effort to grow the Army's ministry in the town, so it was open to anyone interested in attending.
She said Leslie Memorial Park was often a focal point for large events in Warwick and was the perfect place for ministry opportunities as the Army hall was "across the road".
"I was preaching [one Sunday morning] and I could see out the door [of the hall] to the park across the road and it was packed, like, absolutely packed," Leanne said. It was the weekend of the town's annual Jumpers and Jazz Festival. "It was a beautiful day and I said to our congregation: 'I don't know why we're all in here. Next year, we need to be out there."
The corps' mission now is to "be represented in the festival somehow; definitely building community; letting people know who we are; because we want to be out in the community (and) boost the profile of the Salvos in this area," Leanne said.
As well as walking and craft, Leanne's other hobby is baking – and she has turned that into a ministry opportunity, too.
On the recent RUOK Day [September 10], which seeks to encourage people to have meaningful conversations about mental health and suicide, Leanne baked her popular red-and-white 'love heart' biscuits, on which were written the words 'We Care', which she and Richard gave out on the day.
Twenty is Plenty is not only for people wanting to lose weight, it is a group for anyone, Leanne said. But for her, it's about growing ministry while slimming down.