Playground has kids jumping for Jesus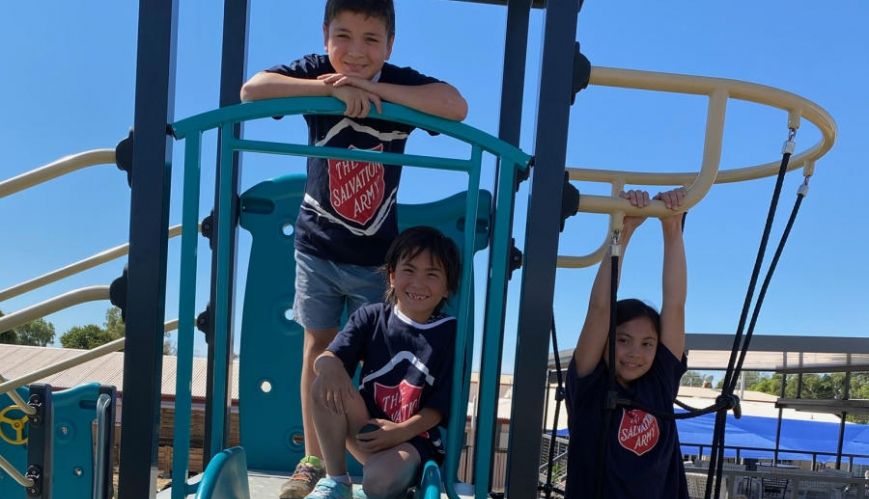 Playground has kids jumping for Jesus
23 September 2020
Stephanie, Adam and Paula Batts couldn't wait to try out the new playground at Mt Isa Corps.
By Darryl Whitecross
A new playground constructed at Mt Isa Corps in Western Queensland has children literally jumping for Jesus.
Corps Officer Lieutenant Natalie Steele said the playground was the brainchild of former corps officers Captains Brad and Helen Whittle, who had since been transferred to Townsville Riverway Recovery Mission.
Natalie said there were quite a few parks in Mt Isa – 25 to be precise – but only eight that had playground facilities [including the Family Fun Park].
From this ... to this: The new playground at Mt Isa Corps.
She said the new corps playground was a good use of the space available, as it was a reasonable walk to other city parks. Natalie also said some clients from Serenity House [supported accommodation and women's refuge] who are escaping domestic issues prefer to remain less visible, so the corps facility was ideal for their children.
Funding for the playground came from a bequest to the corps. There had been several setbacks in construction, including restrictions from the COVID-19 pandemic, but the end result has been worth the wait.
Natalie said the playground would be a safe, family-friendly environment for a number of groups attached to the corps, including families who were part of the foster care community and where supervised visits could be coordinated.
Brad said the playground was the last piece in a larger project, breathing new life into the "dead space" between the citadel and the Serenity House facility – which had expanded from the one-house facility into five individual units – so the entire Army presence on the site could be more unified and integrated.
The original Serenity House complex was a standalone building that had become derelict and was demolished to allow for the upgrading of the area to include an "outdoor youth space" with a basketball/soccer facility and the playground and to upgrade another building next to the citadel, which is now a multi-purpose facility.