Tee-mendous golf tournament donation above par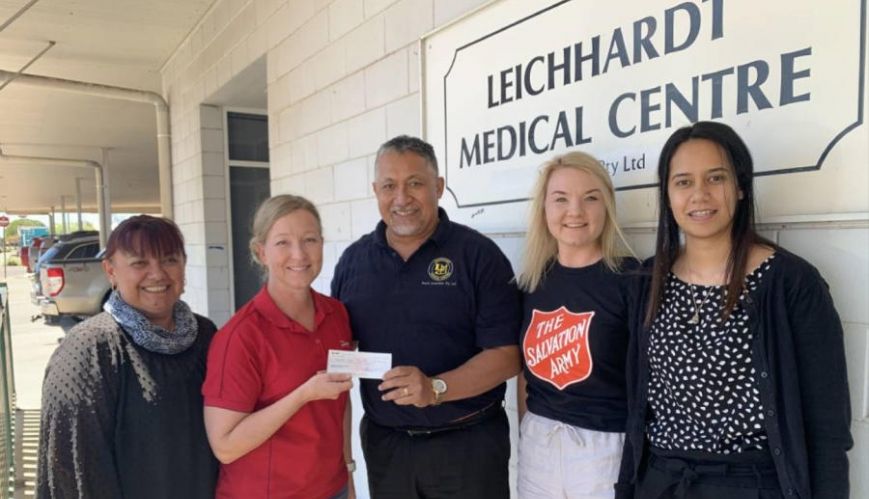 Tee-mendous golf tournament donation above par
2 October 2020
Leichhardt Medical Centre practice manager Carmen Bond, Mount Isa Corps Officer Captain Natalie Steele, Dr Jos Pouesi, Mount Isa Corps ministry assistant Britta Winton and medical centre receptionist and tournament support crew Tori Hignett. Photo: Samantha Campbell (courtesy The North West Star newspaper)
By Darryl Whitecross
The Salvation Army and the Leichhardt Medical Centre have hit it off in Mount Isa, with money raised from an annual golf tournament being donated to the outback Queensland corps.
As the debate raged over whether the tournament was 'to tee or not to tee' this year, because of COVID-19 restrictions around social distancing and crowd numbers, it eventually went ahead as the organisers called fore! Fitting, as it was the fourth year that Dr Jos Pouesi from the Leichhardt Medical Centre (LMC) had hosted the event with proceeds going to charity.
More than 70 golfers took to the fairways to raise money for the Army's work in the mining town and the opportunity to put the 2020 LMC Cup in their trophy cabinet. The event raised more than $900. 
"This year we decided to donate the funds to the local branch of The Salvation Army, who do a lot of good for the homeless and disadvantaged in the Mount Isa community," Jos said. "This was the biggest the event has been and has been steadily growing over the past four years."
Captain Natalie Steele, Mount Isa Corps Officer, said the money would support programs within the corps, specifically buying paints and canvases for its Wednesday morning craft group.
Natalie said the corps' Crossroads program, which was a free community meal service on Thursday nights, would also benefit from the donation. "We host that in conjunction with Isa Community Church and Baptist Church," Natalie said.
The tournament was originally scheduled for June but, due to the pandemic restrictions, was postponed. Jos said it was a popular event and this year's full complement of players included two from Julia Creek. "Players are on the waiting list," he said.
For people interested in the result, the overall winner was Craig Denham with a nett 67 (on countback). Next year's event is scheduled for June.