Commissioning, 2020 style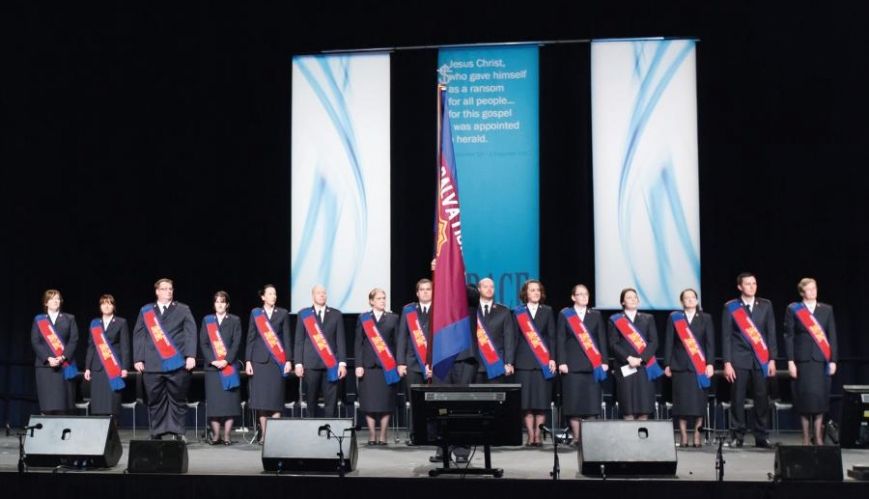 Commissioning, 2020 style
5 October 2020
The 2020 Commissioning of the 'Messengers of Grace' will be very different from years past.
By Sandra MacDonald
The Ordination, Commissioning and Sending Out of the Messengers of Grace will be a virtual event this year, due to COVID-19 restrictions making it impossible to gather together in person.
"Who could ever have imagined that 2020 would be the year of the pandemic and that one of the repercussions of that would be a virtual commissioning?" said Captain Brenda Young (Leader, Officer Formation). 
"The challenge for us has been to strip back, to refine, simplify and figure out what really matters. Naturally we are sad at our inability to gather, but this year's commissioning event is no less significant than any other year. As covenants are signed, and as people are commissioned and ordained as officers, the celebration is found in each person's readiness and willingness to serve God as they participate in bringing and revealing the Kingdom of God to their communities. The Messengers of Grace are ready to live, love and fight and not even a pandemic could hold them back."
Cadet Beth Shao reflected on the necessary change from a grand to a simple, virtual ceremony. She notes that there are some regrets, such as not being able to invite family and friends to be physically present and missing the opportunity for professional photos, to which she had been looking forward: "Nevertheless," she said, "my focus has gone beyond the ceremony. Instead, I pay more attention to the future ministry I will carry out after commissioning.
"The commissioning marks the end of our two years' training and the beginning of a new journey of serving God. The future is beckoning to me. I can't wait to 'press on toward the goal for the prize of the heavenly call of God in Christ Jesus' (Philippians 3:14)."
Cadet Wayne Collyer knew that entering Officer Formation in the early days of the new Australia Territory would make for a different college experience, but said he could not have imagined just how different it would be: "Who would have thought the first commissioning event in 10 years that I wouldn't be able to 'turn up to' would be my own!
"COVID has brought with it the need to re-evaluate the way we do things: online worship services, Zoom church or Bible studies and now commissioning." He cheekily commented that since he's being commissioned on Zoom in the comfort of his home, "I may just be the first officer to be commissioned in my pyjama bottoms, but you'll never know!"
Eva Burrows College invites all Salvationists and friends to participate by joining online on Saturday 5 December at 7pm (AEDT) where they can view the Ordination, Commissioning and Sending Out of the Messengers of Grace in a film created by Salvo Studios to mark the occasion.
The online link will be available closer to the time, but for now, please save this date in your calendar.
Sandra MacDonald is First Five Years of Officership & Auxiliary-Lieutenants Development Coordinator