New facility to meet 'significant demand' in Townsville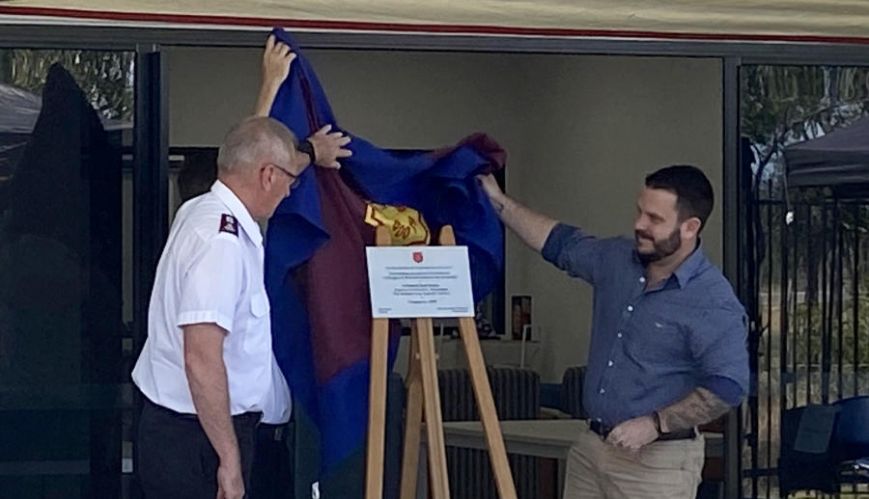 New facility to meet 'significant demand' in Townsville
6 October 2020
Lieutenant-Colonel David Godkin and Phillip Thompson (Member for Herbert) unveil a plaque at the opening of The Salvation Army's purpose-built drug and alcohol rehabilitation and detoxification facility in Townsville.
By Darryl Whitecross
The Salvation Army has opened a $1.2 million, purpose-built drug and alcohol rehabilitation and detoxification facility at its Townsville Recovery Services Centre in Far North Queensland.
At the official opening this month, centre manager Captain Brad Whittle said the facility was the realisation of the vision the Army had when the centre moved to the site three years ago after having served the people of the region for almost 45 years elsewhere. Funding for the facility was provided by the Federal Government.
Brad said the facility would enable the Army to expand opportunities for people to undergo withdrawal in a "safe and supported, consolidated setting" with the potential for "longer-term change" in their lives.
He said the facility could accommodate 10 patients at a time in medicated care and have nurses to provide 24-hour support in an environment to help clients move from "the crisis that they were in, to better health outcomes".
"Our drug and alcohol services' National Model of Care emphasises the importance of responding to the holistic needs of people and their ongoing choices towards health and fullness of life," Brad said.
Lieut-Colonel David Godkin, Queensland Divisional Commander, said the Army was one of Australia's largest providers of alcohol and other drug treatment services, assisting more than 14,000 people each year through recovery programs across the country.
"It has been shown that alcohol is by far the most common presenting issue among people attending treatment services," he said. "After tobacco, alcohol continues to represent the substance that causes the most harm in the community. I, therefore, feel that the opening of this service could not be timelier.
"This has been a challenging year for everyone. These incredibly difficult circumstances have also seen alarming new trends emerging, which show an increase in the use of alcohol and other drugs in Australia."
David said that research showed that it could take 66 days to develop a habit and that some Australians had been in isolation for longer than that.
He said that figures released by the Foundation for Alcohol Research and Education [covering the COVID-19 period] showed that in households where the buying of alcohol had increased, 70 per cent were drinking more alcohol than usual, 32 per cent were concerned about the amount they or someone else was consuming, 28 per cent were drinking to cope with anxiety or stress and 20 per cent were drinking earlier in the day.
"It is our genuine hope that the opening of this new facility will create a safe space for people to come and access support at that critical moment in their lives when they need it most," David said.
Greg Hunt, Minister for Health, said that since 2018, the government had committed more than $800 million to reduce the impact of drug and alcohol misuse. "The Salvation Army's track record helping people recover from addiction and reach their full potential is a tribute to its practical support and compassionate care," he said.
Phillip Thompson, Member for Herbert, said alcohol, cannabis and methamphetamine use in North Queensland was a problem not only for the person affected but for their family, friends and the wider community.
He said it was a facility that Townsville needed. "The Salvation Army residential rehabilitation and detox facility is one we're very fortunate to have on our doorstep. This means that people who reach out for help and support can get it right here in their own community and that's more likely to lead to a better outcome.
"I'm pleased we've been able to take this action to address the significant demand for appropriate drug and alcohol rehabilitation services in Townsville. There's no magic bullet to beat addiction but, with the experience and expertise of The Salvation Army, many people will be able to take their first steps toward a stronger, healthier future."
Major Meaghan Gallagher, Area Officer for North Queensland, said those involved in bringing to fruition the facility were part of "a very important legacy of giving hope to Australians and our community in need".
Meaghan, who was the MC for the opening ceremony, said the rising cost of living, addiction, homelessness and family crisis continued to place "unbelievable pressure" on Australian families, often with tragic results but, "in people's darkest moments in one of our community's low points, The Salvation Army has been there to show love, care and practical support".
Matt Daley, who is taking part in the Townsville Recovery Services program, said in his testimony at the opening that his story was the reason why the new facility was important to the community.
After having struggled with addiction for several years and having enrolled in a recovery program at least twice, Matt said he approached Brad at the beginning of this year to be part of the Army program in Townsville.
"Being eight months clean today was only possible because I have a safe place (where) I could detox and get into a program," Matt said. He has enrolled in a TAFE course, goes to the gym five days a week and "my children have a father again".
"I'm in the battle of my life against addiction. The solution starts with this facility and this service," he said.