Worship Arts gets creative for kids showcase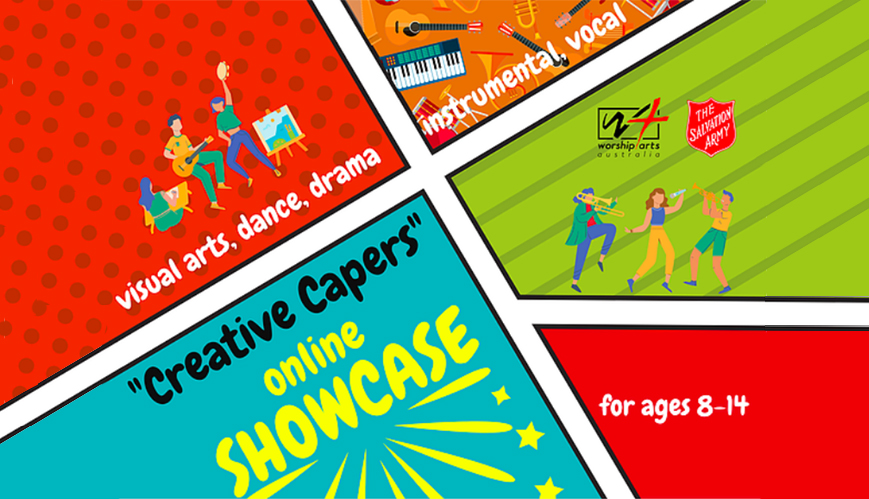 Worship Arts gets creative for kids showcase
10 October 2020
Kids aged 8-14 can submit entries to the Worship Arts Creative Capers 2020 virtual showcase under the drama, instrumental, vocal, dance or visual art streams.
By Jessica Morris
It's time for kids to get creative!
In lieu of the territorial Junior Creative Arts Camp, the Worship Arts team is hosting a virtual Creative Capers Showcase so children can share their talents – be it acting, playing an instrument, singing or dancing!
"Creative Capers 2020 is a virtual music and creative arts worship concert, where children aged eight to 14 are invited to prepare instrumental, vocal, dance, drama and visual art presentations and upload a video of their presentation for inclusion in our 'LIVE Online Showcase'," said Ken Waterworth, Territorial Manager for Worship Arts.
While a normal camp is a no-go due to COVID-19 restrictions, kids can still participate in Creative Capers by recording their performance from home. Streams include drama, instrumental, dance and timbrels, vocals and visual arts, so there's plenty of room to move. Then they choose a music, script or thematic item to perform or create from the Worship Arts website, to be submitted by 2 November. How's that for a fun post-school holiday activity?
"We want to encourage the development of children in music and creative arts, and we hope this supports the growth of worship arts ministries in corps around the territory," said Ken. "We want to provide a platform to share the talents that God's given our kids, and celebrate the emphasis of giving our best for God."
The Creative Capers Showcase will premiere on Sunday 29 November at 4pm (AEDT) on the Worship Arts YouTube Channel.
So what are you waiting for? Head to the website here for more information and to register now for Creative Capers 2020.