MSB finds a 'wonderful day' in their 130th year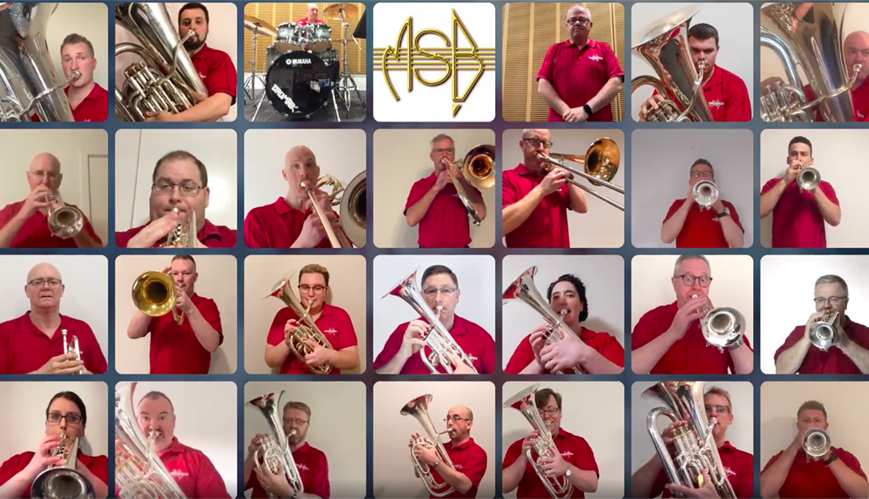 MSB finds a 'wonderful day' in their 130th year
12 October 2020
It was almost like the members of the Melbourne Staff Band were in the same room when they virtually recorded the tune 'What a Wonderful Day' during lockdown. Can you spot any familiar faces?
By Jessica Morris
Did you know that the Melbourne Staff Band is celebrating its 130th anniversary this year? Unfortunately, the milestone has coincided with COVID, so the year has gone almost silently by for one of the Army's most beloved brass bands.
Until now.
All 27 band members recently gathered 'virtually' to record the tune 'What A Wonderful Day', which has now been released for everyone to enjoy.
Sporting casual, red polo shirts, and with a little bit of humour a la The Brady Bunch, the laidback performance has shone a little light on a keynote year for the band.
"As a music ministry group, what we do is share the Gospel through music. Not being able to do that has been extremely frustrating," said Darren Waterworth, the band's secretary. "[But] the band has a reputation of being innovative in its ministry, so doing a virtual performance was something we were keen to explore." 
The swing rendition of the well-known song took nearly 30 hours to record, edit and produce, thanks to the expertise of band members Britteny Ling and Stewart Orchard, as well as Box Hill's Jacob Dyer. But the performance reflects something much larger than one project – it represents a band that has ardently leaned into community and ministry in a year of setbacks.
"We had a full year planned visiting small and large corps around Victoria and interstate. It was going to be good to connect in with a number of Just Brass programs, including their 10th-anniversary celebrations," said Darren. "And as 2020 is our 130th anniversary year, we had plans in place for significant concerts with international guests [including former International Staff Band member Philip Cobb from the UK]."
Beyond the keynote events and corps visits, another fundamental aspect of the Melbourne Staff Band is its sense of community. While COVID restrictions kept the band from interacting face to face, they found ways to support each other, especially as various members battled job losses, health problems and other related issues.
"We have met each fortnight via Zoom and on a number of occasions have had guests join us, including Stephen Cobb [ISB bandmaster], Andrew Blyth [UK bandmaster], Commissioner Jim Knaggs [former USA Western Territorial Commander] and our own Commissioner Robert Donaldson. And on the 'non-Zoom' weeks, a member of the band has prepared a video devotional message, which has been shared within the group. Some of these have been quite personal, sharing the struggles that 'these days' have created," said Darren.
Ever the stalwart leader, Melbourne Staff Bandmaster Ken Waterworth has ensured practice routines have been maintained throughout the year. And the release of 'What A Wonderful Day' heralds a new season of music and community as lockdown restrictions begin to ease across Victoria.
So never fear MSB fans – the band is still brimming with enthusiasm and looking forward to bringing its ministry to a venue near you in the future. Bring on 2021!
Watch the Melbourne Staff Band's performance of 'What A Wonderful Day' here: