Volunteers in the zone for Delacombe kids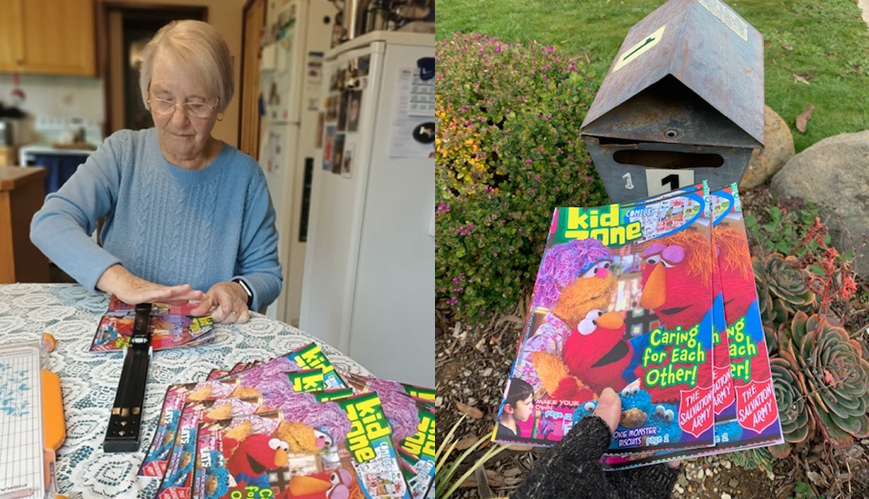 Volunteers in the zone for Delacombe kids
22 October 2020
Anne Stables and other volunteers at Delacombe Corps took on the responsibility of printing, folding and delivering the online version of Kidzone when the magazine's print production stopped due to COVID earlier this year.
By Jessica Morris
It's a rite of passage for children to pick up their weekly copy of Kidzone at church. But when COVID-19 hit earlier this year, the beloved children's magazine stopped printing for the first time in 130 years and Cousin Koala went online.
Thankfully, Kidzone is back once again and appearing in 'Church at Home' packs across the country. But for a few months, corps had to get creative. And for the team at Delacombe Salvos, that meant grabbing the online version and getting their hands (or koala paws?) busy printing, folding and delivering a hard-copy of the magazine.
"We've been doing weekly deliveries of 50 Kidzone magazines since the first lockdown, and initially we were printing them each week. It has been a way to let these children and their families know that we are still here," said Fiona White, Corps Sergeant Major at Delacombe.
Fiona said the kids at Delacombe Corps love the magazine. Before COVID, it was handed out fortnightly at their 'Beans' kids' club. Fiona said she sees it impacting lots of kids in the community, including families connected to The Salvation Army Ballarat's homelessness programs.
In the past, the team would drive a 12-seater bus and pick the kids up for kids' club. And even though meeting face-to-face was put on hold due to COVID, they knew the connection was still needed. Thankfully, volunteers at the corps were willing to roll up their sleeves and make sure no kid was left without a copy. And over the months, it changed lives.
"[At the start we would] occasionally see faces at doors and windows and be able to call out 'Hi' and ask how they're doing. But now we have one girl who has become so used to the weekly deliveries she is now often running out the door to get them!" said Fiona.
Corps member Anne Stables was one of the volunteers who stepped up for the kids during COVID. She would help to print, cut, copy and fold the magazine every week so it reached the younger generation.
"Major Craig and Captain Ellen Farrell were busy organising a church service on Sundays and I thought there must be a way I can help!" said Anne.
"As I was slicing and stapling the booklets I was praying that as the children worked through the fun and games, the simple truths would establish themselves in their lives, and also perhaps in the lives of their parents who often helped them. Kidzone is an awesome ministry tool!"
The online version is available at kidzonemag.com.au/