Salvo centenarian soldiers on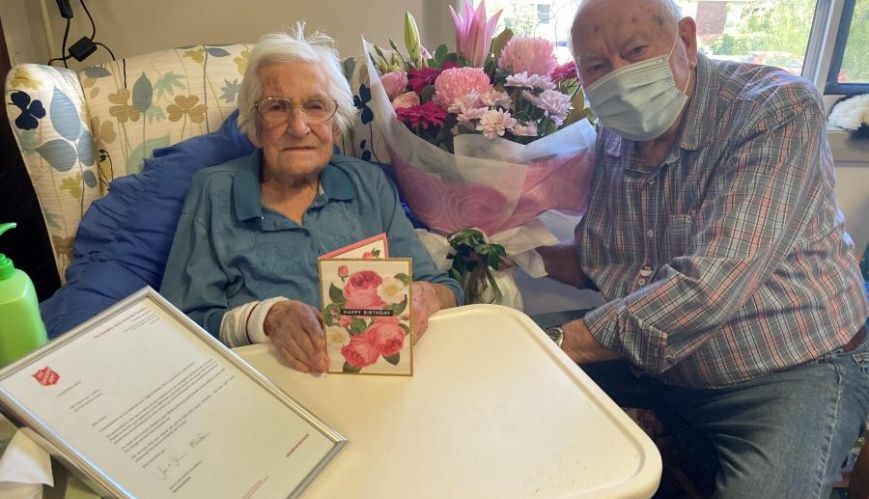 Salvo centenarian soldiers on
2 November 2020
Hazel gets a visit from Bruce Bowie, also from Parramatta Salvos. Bruce and his wife Lois regularly transport Hazel to church and back.
For more than 100 years, Hazel Vickery's life has been richly entwined with the work and mission of The Salvation Army.
Hazel was born on 23 September 1920 at Gulgong (NSW) into a Salvation Army family. Her father, Harry Gudgeon, was the bandmaster at Gulgong Corps, where Hazel's family worshipped.
During World War Two, the family relocated to Sydney and Hazel found work in the telephone exchange at the Post Master General's Department. It was in Sydney, at Burwood Corps, that Hazel met Fred Vickery. They were married in 1947 and went on to have four children. Their daughter Anne Gumuna later became a Salvation Army officer.
In 1953, the family moved to Sydney's western suburbs and became involved at Toongabbie Corps, where Hazel continued to serve as a Salvation Army soldier until the corps closed more than 40 years later. She then moved to Parramatta Corps where she has served and worshipped ever since.   
Major Grant Sandercock-Brown, Parramatta Corps Officer, said Hazel is a valued member of the corps.
"Hazel is an amazing person with a dry sense of humour and a keen interest in her corps. She is a constant encouragement!" he said.
"She is a gifted musician and has served as a pianist in many roles and has also invested in young people and others in a wide range of ministry roles. We thank God for her and pray every blessing on her for the future."