Roma Corps welcomes store back into the 'family'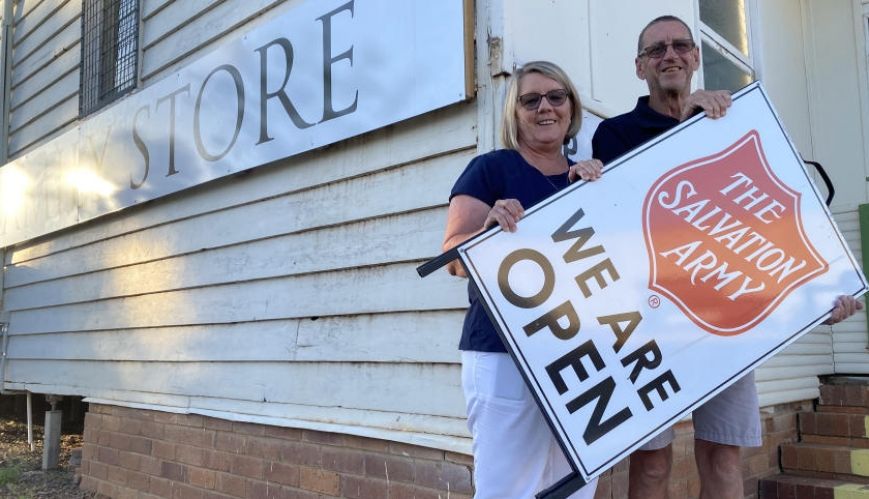 Roma Corps welcomes store back into the 'family'
16 November 2020
Majors Kaylene and Paul Morrice, Roma Corps Officers, signal the start of a new era for The Salvation Army in the town, with the family store returned from the edge of town to the corps property.
By Darryl Whitecross
As part of a new holistic approach to Local Mission Delivery across the Australia Territory, Roma Corps has become the latest Salvation Army expression to return or open a family store on the one property.
Major Paul Morrice, Corps Officer in the small town located 480km west of Brisbane, said the family store had operated from a retail space on the edge of town for some time. However, when the lease expired on the premises, the decision was made to bring the store back to the main corps site, which is more centrally located.
The corps has three buildings on its site – the old citadel, an adjoining officers' quarters and a modern facility where worship and mid-week ministry and outreach is held. The family store has been relocated to the old citadel building. 
Paul said the corps, while waiting for the family store lease to expire, had renovated the old citadel, which had remained unused for several years, essentially becoming a "storage shed". He said a ramp was constructed at the main entrance to enable it to be more accessible.
Jo Howlett was the first customer through the door of the new Roma Family Store after the official opening.
Opening day of the 'new' store on 10 November was an event the community had been eagerly awaiting. Major Kaylene Morrice said people were lining up at the door, and about 30 people stayed for a coffee and chat after the opening ceremony.
Paul said the sausage sizzle did "a roaring trade" from The Salvation Army Emergency Services trailer, and the store took in $1650 at the till as shoppers snapped up bargains. "All in all, a busy and successful day," Paul said, adding that he received many comments including "We're glad your back", "Why did you ever move?", "This is so friendly" and "Great to have the ramp ... it makes the shop available to all".
"One customer said they found the shop too busy so they came back in the afternoon when it was quieter," Paul remarked.
Major Peter Sutcliffe, Area Officer, who worked on the sausage sizzle, said he was encouraged by the "steady stream of customers all day".
"One customer travelled 40-odd kilometres from Warrambilla to shop at the family store but, when she went to pay, she found she forgot her wallet, so she drove the 40km back to get the wallet before returning to pay and pick up her goods," Peter said.
By having the family store closer to the main operations of the corps, Paul and Kaylene are looking forward to increased opportunities to live out the Army's vision statement and show the love of Jesus to people in their community.