Sallyma'am Gai recognised for dedicated service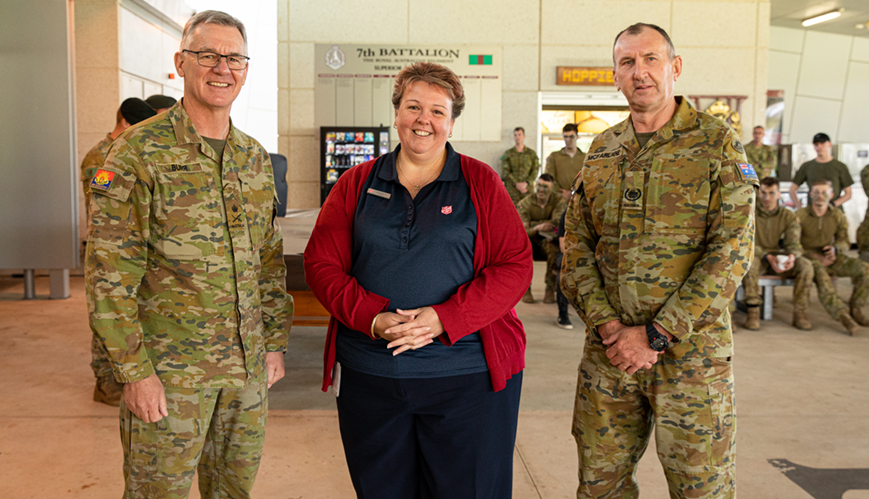 Sallyma'am Gai recognised for dedicated service
19 November 2020
Captain Gai Cathcart (centre) says she loves being Christ's representative in the Australian Defence Force. She is pictured here with Lieutenant General Rick Burr, Chief of the Australian Army (left) and Regimental Sergeant Major Grant McFarlane OAM, Warrant Officer of the Australian Army.
By Jessica Morris
Captain Gai Cathcart has been recognised for her outstanding work in the Red Shield Defence Services (RSDS) with a nomination in the Women in Defence Awards.
Gai met General Brian Peddle in December 2018 at the Still Others Conference.
Gai has been the RSDS representative, or 'Sallyma'am', at the Edinburgh Defence Precinct in South Australia since 2018, appointed to the 7th Battalion Royal Australian Regiment (7 RAR).
She was nominated for the Australian Defence Force (ADF) 2020 Women in Defence Awards ('People and Culture' category) by Lieutenant Colonel Adam Gower, head of 7 RAR.
The ADF website states that the awards "celebrate talented, determined, successful women who make a positive impact in the defence business arena, as members of Defence industry, Australian Public Service (APS) or in uniform".
"Gai's presence and work ethic within the unit is profound and has proven instrumental in ensuring the soldiers of the 7th Battalion can maintain their focus knowing that they themselves and their families are in good hands," Adam said.
Gai's admiration for the defence force is deeply instilled in her – her grandfather was a Sallyman who survived the bombing of Horn Island in World War Two, and her father, like many of that era, completed National Service. But her commitment goes beyond this.
As Christ's 'hands and feet' to members of the Australian Army serving on the frontlines, Gai said her role is all about serving Jesus – and the people in front of her – faithfully. As she says, "It's Jesus in me."
"I'm not being special; I'm not being extraordinary. I'm just being me," said Gai. "It's taken me a while to be okay with the person God has made me to be. When we can hone into that and surrender to it, that's when Jesus' light shines out."
Gai was also publicly recognised recently for her work supporting the families of the battalion by Lieutenant General Rick Burr, Chief of the Australian Army.