Tara raising her voice for youth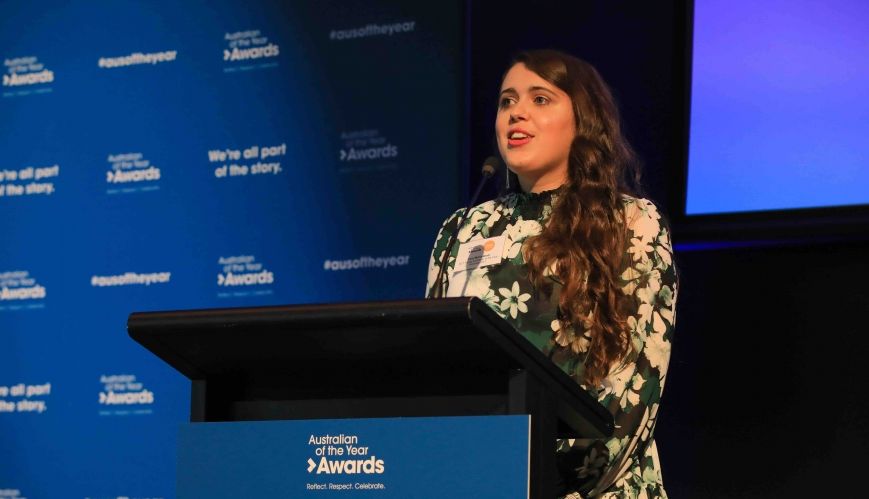 Tara raising her voice for youth
26 November 2020
The Salvation Army's Tara McClelland wants to highlight issues affecting youth during her tenure as 2021 ACT Young Australian of the Year. Photos: Salty Dingo
By Lauren Martin
A Salvation Army case manager has been named the 2021 Australian Capital Territory Young Australian of the Year and now goes into the running to become the Young Australian the Year. 
Tara with her 2021 ACT Young Australian of the Year award.
At 24, Tara McClelland is passionate about advocating for young people to have a voice. "My key message is that we are undervaluing and underutilising the power of youth, and I want to change that," she said.
Tara is the Case Manager (Women and Children) for The Salvation Army Samaritan Women and Children's Service in Sydney. She has previously worked for The Salvation Army's Youth Outreach Service (YOS) in Brisbane and Oasis Youth Service in Canberra.
She was nominated for her work with The Salvation Army as well as for her volunteer roles with the Canberra Youth Theatre and Headspace. She has also assisted the Children and Young People Commissioner's office, which is part of the ACT Human Rights Commission, with their work on family violence.
"I've always wanted to give back to the community and help out," she said. "At school I was very community-orientated. I went on a missionary trip in Year 11 to an orphanage in India ... and that was my turning point in [realising], 'Yeah I want to do this, I want to give back.'"
Tara was dedicated at The Salvation Army as a baby, but the first memorable contact she had with the Salvos was during a university placement at Brisbane Youth Outreach Service. "I loved it, I was like, 'This is what I want to do, this is incredible!'" she said.
She continued to work at the service casually while she studied, teaching students drama and dance at the YOS alternative education school, which she believes are powerful tools to enable young people to express themselves. "You can almost tell your story through a character or through something else, which is quite powerful for young people when they don't want to feel that vulnerable because you can step on the stage as someone else."
When spending a university holiday break in Canberra, Tara sought out the Salvos and secured a part-time job with Oasis at one of its youth refuges. That turned into a full-time job when she graduated from her degree.
"Seeing the struggles that young people go through, but also knowing how resilient they are and how inspiring ... I think that young people are sometimes not given as much credit as they deserve, because they really are incredible."
And while she's still coming to terms with the award and the platform it gives her, Tara has wasted no time in preparing herself for the role. She has met The Salvation Army's advocacy team to gain advice on how to be a public ambassador for the organisation. She has spoken to past recipients to understand the responsibilities of the role, knowing that she will be invited to speak throughout 2021 at different organisations and speak into key issues affecting young people.
"I do want to use the platform to be able to raise awareness for the issues affecting young people," she said. She's looking forward to meeting Prime Minister Scott Morrison and other politicians and said she will waste no time in putting forward her case for more young people's voices to be heard. "I want young people to be at the forefront, I want the issues affecting young people to be acknowledged and to take action.
"I want more young people on boards, more young people influencing policy and decision-making, more young people having a say in the world they're living in ... because sometimes young people feel so powerless."
Tara will begin her role in January with an invitation to the 2021 Australian of the Year awards. There she will meet the Prime Minister and other dignitaries, as well as Young Australians of the Year from each state and territory in Australia, all in the running to be named 2021 Young Australian of the Year.
"We find out on the eve of Australia Day, the 25th of January," she said, but added: "Just coming this far – that's amazing."