Pakenham ahead of the pack for Christmas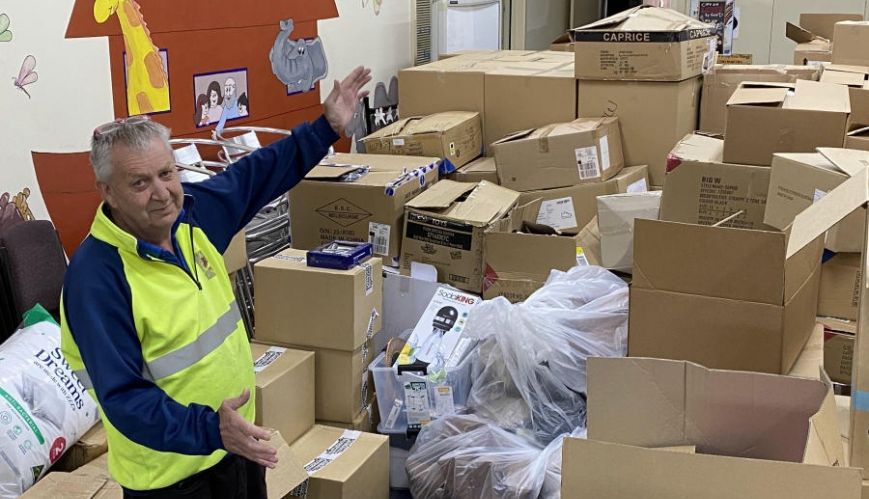 Pakenham ahead of the pack for Christmas
2 December 2020
John Cooper, part of the emergency relief team at Pakenham Salvos, with the huge array of new clothing, shoes and accessories ready to distribute for Christmas, and beyond.
Words Simone Worthing
"It's going to be a great Christmas! All our clients are going to get new clothes and shoes, and their kids as well. Plus, we can share these around other Salvation Army centres in our area. We can help give people dignity. It will be Christmas cheer and beyond."
John Cooper, part of the emergency relief team at Pakenham Salvos in Victoria, was excited. Thanks to the 'sharp eye' he had been keeping on the Good360 website, John secured $192,000 worth of new men's, women's and children's clothing and accessories to distribute to those in need this Christmas, and into 2021.
Good360 is a 'matchmaking' site, helping repurpose items of value by directing them to the Australians who need them most. The organisation connects those working to lift up Australian communities, including charities, with the brand-new surplus goods of businesses.
"Good360 had advertised these goods online a few weeks ago," John explained. "I knew it was first-in first-served, so I kept watching for them to become available. As soon as they came up, I was there to hit the send button on our request. All we needed to pay was the fee to hire a truck to pick everything up."
Sam Gardiner, a Doorways case worker at Pakenham, helps hang the new clothes.
Under the COVID-19 safety plan, the Pakenham Salvos team, including Corps Officer Captain Belinda Saunders and a small number of volunteers, will set up the clothes, shoes, underwear, socks, hats and related items on racks in preparation for 'Christmas Cheer' at the centre. From 14-17 December, clients will be able to have a 'shopping experience' where they can choose clothes and footwear for themselves and their children. Toys will also be available.
Those accessing support from Pakenham Salvos include emergency response and outreach clients, as well as those leaving family and domestic violence situations.
"There is so much need in our community and this is unlikely to reduce any time soon," said Captain Dale Saunders, Pakenham Corps Officer. "In these particularly challenging times, these goods are such a blessing. We will also share them with other corps and centres in our local Cardinia Shire and around much of south-east Melbourne."
Leftover items will be stored to distribute throughout the coming year.
Sam Gardiner, a Doorways case worker based at the corps, and Amanda Fleming, Doorways Pakenham Team Leader, were also delighted with the clothing. "There is summer and winter clothing, business shirts and outfits that our clients can wear to interviews and work, as well as smart casual gear and leisurewear," said Sam. "It's going to take five or six people around 40 hours to sort it all out, and what a great job to have!"
Pakenham Salvos also distributed $20,000 worth of new jeans from Good360 earlier in the year.
For more information, go to https://www.goodcompany.com.au/au/charity/Good360-Australia-Ltd