Virtual 'cloud of witnesses' view a unique Commissioning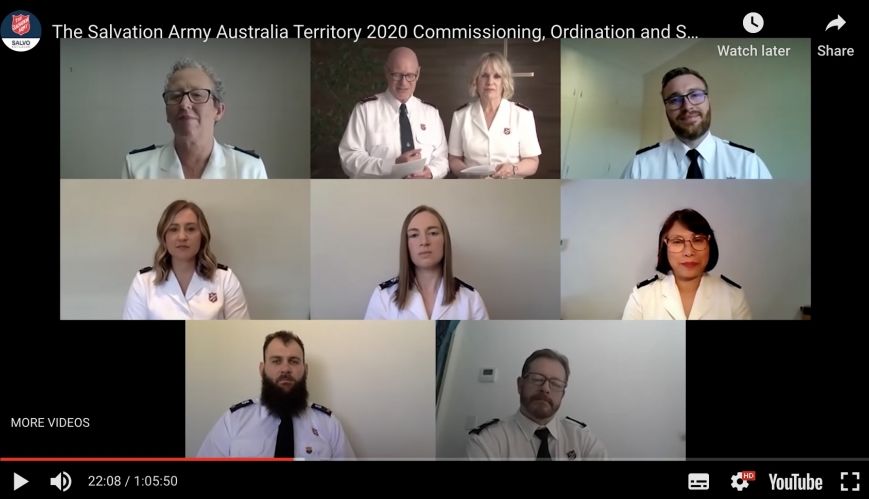 Virtual 'cloud of witnesses' view a unique Commissioning
7 December 2020
Commissioning 2020 was an online event.
By Lauren Martin
The Australia Territory 2020 session of cadets, the Messengers of Grace, have been commissioned, ordained and sent out in the first-ever virtual Commissioning.
In her opening remarks, Chief Secretary Colonel Winsome Merrett encouraged people watching from across Australia and around the world to be a "cloud of witnesses and encouragers in the spiritual realm" by offering their own prayers of intercession, and to clap and cheer during the 'sending out': "While you may not be physically present, your participation in this way will have a positive impact in the spiritual realm."
Worship was led by Captain Nicole Park and featured the Melbourne Staff Band.
Captain Richard Parker, Head of Eva Burrows College, shared a prayer over the future ministries of the new lieutenants: "They each bring gifts and abilities to their ministry, which have borne fruit for the Kingdom of God and will continue to as they take their next steps in ministry.
"We pray for the communities they are part of, and the communities they will join. We thank you that because of their connection to you, lives will be changed, and people will be welcomed into the Kingdom of God in the here and now."
Captain Brenda Young, leader of the Officer Formation Stream, acknowledged what a tough year it had been for the cadets, with online classes, online preaching and completing out-training at times from home. "And now, for your commissioning, unable to gather in person as you would have hoped, being commissioned in different places across the nation, in your homes, in front of a computer ... it's not what we would have wished for you.
"And yet you have risen to every challenge, been adaptable and resilient, all the while keeping up your encouragement for one another."
She said the Messengers of Grace cohort came to officer formation with a variety of theological and other qualifications, along with significant ministry experience.
"Perhaps more than any other session of cadets, you've brought new meaning to the concept of individualised training. We celebrate the diversity of the gifts and skills that you bring to your ministry."
Commissioners Janine and Robert Donaldson, Territorial Leaders, ordained and commissioned the cadets as Salvation Army officers in a live ceremony in which every cadet was present online. Commissioner Robert Donaldson, Territorial Commander, said: "We're so grateful to the many Salvationists around the country who will support you in prayer and encourage you along the way."
Major Cathy Elkington, Personal and Spiritual Formation Coordinator, then shared a prayer of dedication over the new lieutenants.
In his message, Robert talked about the mission of The Salvation Army. "Our mission is who we are, not just what we do, it is our identity not just our activity," he said. "Keep your eye on the ball, develop your relationship with Jesus Christ, be filled with his spirit day by day. And keep your eye on the ball of this mission, that as we work out our identity, we will care for people, we will create faith pathways, we will build healthy communities, and we will work for justice through his power and in his name."
People wanting to view Commissioning can do so HERE