You are here:
Home › News › 2020 › 12 › 14 › Parramatta Corps Opens New Door To Mission Opportunities
Parramatta Corps opens new door to mission opportunities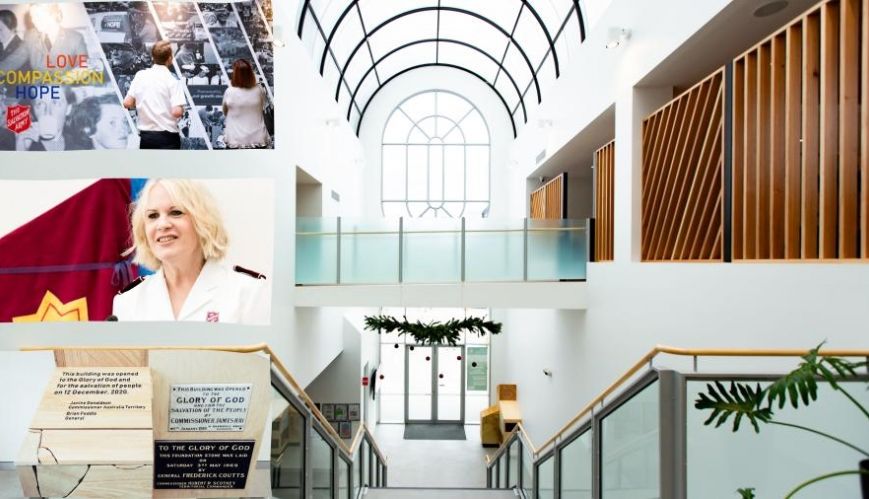 Parramatta Corps opens new door to mission opportunities
14 December 2020
Commissioner Janine Donaldson (inset) dedicated the new Parramatta Corps building to the glory of God at its official opening on Saturday 12 December. Photos: Cazeil Creative
By Lauren Martin
A purpose-built, multi-story corps building has been opened in the heart of Parramatta, which will house the western Sydney corps, its ministries and provide opportunities for new community engagement.
The building project has been several decades in the planning. An office building on Church Street in Parramatta was purchased in 2017, and Parramatta Corps members have worshipped at the nearby former Granville Corps building while construction on the refurbishment took place.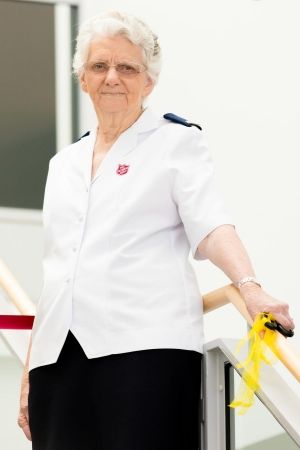 Long-serving Parramatta Corps soldier Margaret Robinson cut the ribbon to open the new corps building. Photo: Cazeil Creative
The new corps building was dedicated to God on Saturday 12 December by Commissioner Janine Donaldson, Australia Territory leader and Territorial President for Women's Ministries. Before unveiling the plaque, she said the corps had a responsibility to be a place of refuge for people in need, as well as a place of worship.
"We live in a very dangerous world and people need to have a place of refuge where they can come and rest – people that are hurting, people that are lonely, people that have no one else to turn to. The problem right now is that perhaps the Church is not living up to its billing. We are not always doing our job so well. We are not always acting together so that we can reach out to this world.
"Parramatta Corps – I decree today – that this will be a place where people run to, not run from. I say to you today, let's spread God's word through love in action, through hands, through feet, through voices. It's how both the hurting and in need find God."
One of the longest-serving Parramatta soldiers, Margaret Robinson, cut the ribbon to officially open the building. She has been the Parramatta Corps secretary for the approximately 35 years and began attending the corps at the age of nine.
"I was there when we moved from George Street, and then we moved to Smith Street, and now we are coming around to Church Street," she said. "We're finding that a lot of people are coming in here [the new building] putting their names down for Christmas gifts, toys etc. So, we're thankful that we have the opportunity to serve the community because that's what it's all about."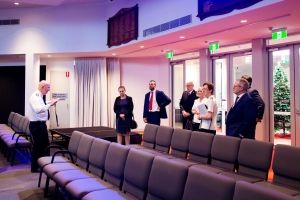 Parramatta Corps Officer Major Grant Sandercock-Brown gives dignitaries a tour of the new corps building. Photo: Cazeil Creative.
The building has retail space on the ground floor, which will be rented out to keep the corps financially sustainable. As well as the worship space, the ministry spaces include a large multi-purpose room with an industrial kitchen, that can be configured for different sized groups. There is a children's ministry space and an outdoor playground, as well as office space and a café.
The opening of the building was attended by both Salvation Army and community representatives, including the Deputy Mayor of Parramatta, Michelle Gerrard, who thanked the corps for its work in the community. "The Salvation Army meets and supports local communities at their point of need, and you've been doing this in Parramatta since 1884.
"The city of Parramatta is incredibly fortunate to have The Salvation Army as partners in the care and wellbeing of our community."
NSW/ACT Divisional Commander Lieut-Colonel Miriam Gluyas made special mention of the Parramatta Corps Officers, Majors Grant and Sharon Sandercock-Brown, for bringing the building project through to fruition during their appointment. They have received new appointments for January 2021, and Parramatta Corps' new officers will be newly commissioned Lieutenant Sarah Walker [already serving] and Major Kylie Collinson.
"We believe that many, many people will come to faith and be served because we have this facility," said Miriam.
Watch highlights from the opening ceremony: