Salvos bring Christmas Cheer after year of turmoil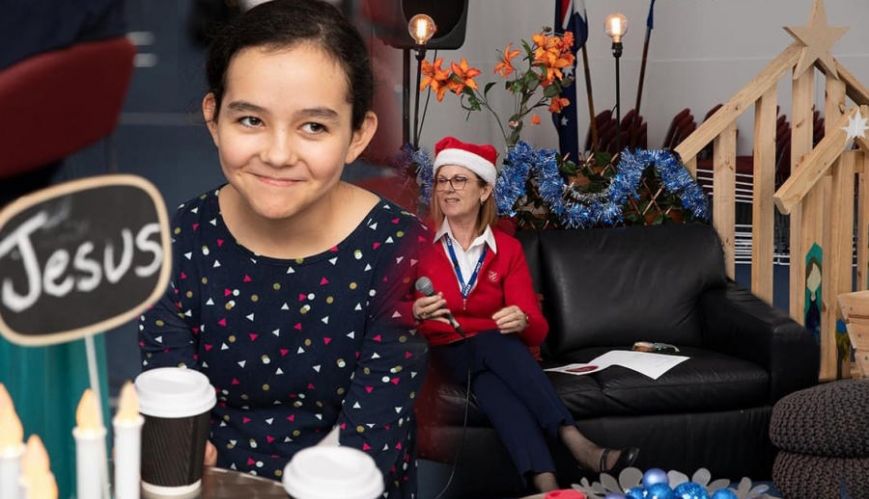 Salvos bring Christmas Cheer after year of turmoil
15 December 2020
Annika Conroy and Auxiliary-Lieut Deb Strapp enjoy the lounge-room atmosphere at Marion Corps' Christmas with the Salvos carols series. Photographs blended by Darryl Whitecross
By Darryl Whitecross, Jessica Morris and Lauren Martin
Many Australians put their Christmas tree up early in 2020, eager for some Christmas cheer to herald in the closing of a traumatic year. Despite social-distancing restrictions still in force, Salvationists across the country are doing whatever they can to bless their communities in this time where people need hope more than ever.
NSW/ACT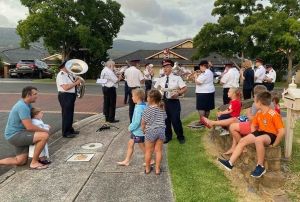 Wollongong Corps bandmaster Joe McIver gathers children from a local neighbourhood for a rendition of 'Jingle Bells'.
Getting the kids involved is a big part of Wollongong Corps band's approach to carolling in the coastal city south of Sydney.
Many families follow the band around the suburban streets, and bandmaster Joe McIver likes to gather them in front of the band to sing favourites like 'Jingle Bells' and 'Rudolph the Red-Nosed Reindeer'. Joe also gives a young child the opportunity to 'conduct' the band for a carol or two.
"These moments are often the highlight of our carolling evening," band member Dean Simpson said. "These kids will remember this for the rest of their lives ... the day they conducted The Salvation Army band at Christmas!"
Corps Officer Major Phil Inglis does a letterbox drop a few nights before the band arrives in a certain suburb, which has proved a success.
"We've often got people waiting for us on their driveways … even setting up deck chairs with drinks and nibblies," Dean said. "There's a real community atmosphere. We've got other corps members walking around chatting to people and we're always really well received."
In Wagga Wagga, southern NSW, the usual Christmas dinner, dessert, games and musical event was cancelled this year, replaced by a COVID-safe car-park event. Corps Officer Captain Kara Hartley said families receiving Christmas hampers will be given a specific time to attend the corps car-park where several marquees will be set up with shade and water.
"People will receive their hampers through a window decorated 'all things Christmas'," said Kara, "and we'll have Christmas music, too!"
Canberra's Tuggeranong Corps blessed its community with its band and songsters carolling in various locations throughout December, including at Canberra Recovery Services.
A major Christmas fundraising drive, 'Hundreds for Thousands' raised thousands of dollars for corps throughout Canberra and surrounding towns to give out to struggling families and individuals in gift cards in the lead-up to Christmas.
Victoria
COVID restrictions may have eased across Victoria, but mission expressions across the state are still adapting to Christmas Cheer with smaller, or no gatherings.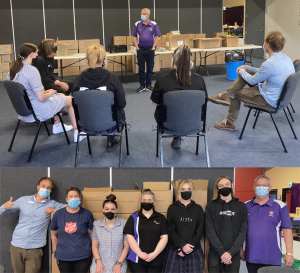 Top: Major Russell Anderson tells students from Northern Bay College about the work of The Salvation Army in Victorian prisons. Bottom: 1400 show bags later and a job well done! (from left) teacher Falk Davis, Major Joy Cassidy, Sarah, Jade, Sarah, Cooper and Major Russell Anderson.
At Northside Corps, just north of Geelong, people line up at the door every day to access fresh fruit and veg, and Christmas Cheer is no different. In the days leading up to Christmas, 340 meals will be handed out to singles and families, so they can share a meal off-site with neighbours.
Major Joy Cassidy and the team are also mindful of the wider community during the Christmas season, and with the support of students from Northern Bay College, volunteers packaged Christmas gift bags for more than 1400 prisoners in five prisons across the state. Led by Major Russell Anderson, chaplain at Langi Kal Kal and Marngoneet prisons, he shared that the gifts were a vital boost to the wellbeing of inmates after an extremely isolated year.
"Irrespective of what their faith is, we want to bless them with something more than what the system provides," said Russell. "To know that when everything else has fallen away, the Salvos are there ... it means a lot [to them]. It will be a real boost."
Tasmania
Christmas festivities went off speedily in Hobart as 1000 motorbike enthusiasts contributed to this year's annual Motorcycle Riders Association (MRA) South Toy Run.
Salvos from Tasmania Divisional Headquarters, local Doorways teams, Hobart Corps and Glenorchy City Corps met riders who dropped off toys at Macquarie Point, celebrating their generosity despite being faced with multiple challenges due to social-distancing guidelines and restrictions on numbers allowed at outdoor gatherings, which significantly reduced attendance this year. 
Divisional Commander Captain Kim Haworth thanked volunteers through a video message, emphasising that Christmas Cheer would not be possible without their help. 
"We haven't been able to do things the way we usually have each and every other year, but I want to thank you for the way you have just decided to be part of the toy run; and for your contribution to help families doing it tough this Christmas," she said.  
Western Australia
Perth Fortress Band has been bringing Christmas Cheer to city streets throughout December.
Perth Fortress Corps band has been busy carolling throughout December, with bandmaster Matthew Barker saying that it was important this year, more than ever, to spread hope and joy in the community.

"It's a great way to reach out to people [and] I reckon they are appreciating it more," he said. "People are searching for something, particularly this year ... hope or just something to look forward to. 
"It's really nice to see people come along, particularly the children, a lot of young children are really excited to see the band and start dancing and that gives us an opportunity to say the reason for the season."
A Christmas Carols event on Sunday 13 December attracted about 300 people and bolstered the spirits of corps folk as well as the community. 
At South West Salvos, which takes in Bunbury and Busselton, two annual biker toy runs went ahead, with COVID-safe modifications. Corps Officer Captain Mark Schatz said the events raised a lot of funds to help people in need this Christmas. He said partnerships with the community had been key this year. 
"We have had Woolworths get on board and pack all of our hampers for us, so that's been great. We have QBE setting up all the toys for our Christmas Cheer; just so much support from the local community – even 500 kilograms of potatoes donated from our local Spud Shed!"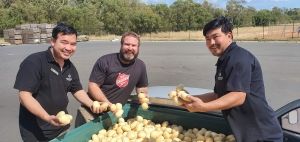 Now that's a lot of potatoes! Captain Mark Schatz (centre) with staff from the Spud Shed, who donated 500kg of potatoes to South West Salvos.
"In the south-west of Western Australia, we are set to give away approximately $60,000-$70,000 worth of assistance this Christmas. We are blessed to be able to pass that on to our community."
Community members experiencing loss or sadness this Advent season are being ministered to at Kwinana Corps, south of Perth, with a special 'Blue Christmas' event. 
Corps Officer Lieutenant Jodie Jones said the event is designed to honour people's loss and embrace the hope of Christ for those in the community who feel unable to experience the joy of the Christmas season. 
"We understand that not everyone finds Christmas a joyous time for various reasons. We wanted to recognise that and create a gentle space for people to remember their loved ones in a way that might not ordinarily be possible during the hyperactivity of Christmas."

She said that corps folk work hard to create a space for those attending to have their reality [possibly involving loss, separation or sadness] acknowledged. "Yet [even in that loss] to still be reminded of the hope that Christmas represents for a brighter future through what Jesus has done and is able to do in and for them."
Queensland
In Gladstone, the corps ran a 'Social Inclusion/Community Fun Day' in the small rural community of Builyan, about 100km south of the city, as a follow up to drought assistance provided in the community back in August.
Major Peter Sutcliffe, Area Officer for Central Queensland, said about 100 'Hampers of Hope' were handed out along with several dozen toy hampers. Peter said many in the community suffering from the drought were also still recovering from the bushfires that ravaged the area in 2019.
"To ensure no one felt left out because they could not afford to attend, the corps sponsored a couple of food vendors and amusement-ride operators to come," Peter said. The Gladstone Municipal Band and a country singer who had been out of work since the start of COVID-19 provided musical entertainment. This was followed by a free movie 'under the stars'.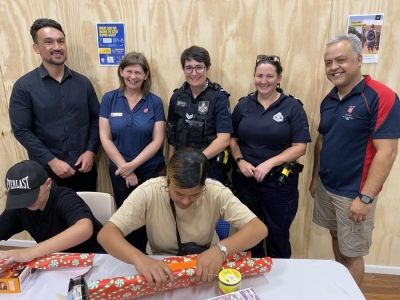 PCYC's Sualauvi Ah Kuoi (left), Logan mission's Captain Bronwyn Barkmeyer, Senior Constables Sandy Maguire and Hayley Campbell, both Logan school-based police, and Captain Ashley Barkmeyer, with two Youth Justice young people wrapping some toys that will bring smiles to the faces of many less fortunate and vulnerable people in Logan
In Logan, south of Brisbane, Majors Ashley and Bronwyn Barkmeyer have seen a new approach to its Christmas celebration – volunteers from the Youth Justice program have been fulfilling their community service hours by helping out at The Salvation Army centre.
Ashley teaches them how to use the coffee machine and they cook for the community. Previously, the corps has held a lunch to recognise the work the young people (and others in the community) had done at the centre, but this year police suggested a combined lunch with another service that worked with the Youth Justice program – Kingdom Community Life Care.
About 20 young people from the program met recently to help wrap gifts (that had been donated to the Army) for the less fortunate and vulnerable in the community, then sat down with other young people, community workers and police to a chicken and salad meal in a room at the Logan PCYC decorated especially for the occasion.
Sualauvi Ah Kuoi, of the PCYC, said the giving of the gifts was one way of giving young people and children in the area a springboard into the festive season that they otherwise might not get. Bronwyn said the ministry was changing lives.
She said the youth go from being distant and disengaged and "not wanting to be there" but, "as we spend time with them, we are blessed to see them joke and muck around like typical teenagers. Some share their story and we get to share something of our faith journey with them. These kids need prayer. Some of the stories we hear are heartbreaking. Each one leaves having heard that they are valued, loaded with potential and loved by God."
South Australia/Northern Territory
Marion Corps in Adelaide's south has introduced a three-week 'Christmas with the Salvos' carols event with a relaxed, lounge-room feel to accommodate the COVID-19 restrictions on group-gathering requirements.
Corps Officer Captain Cherie Clarke said the church had been transformed into a huge 'Christmas lounge room', which included couches for the three officers – Cherie, husband Chris and Auxiliary-Lieutenant Deb Strapp – to share the service from, and seating for those attending set around coffee tables.
People are encouraged to bring a hot drink and receive a sweet treat, and simulate eating together in a lounge-room setting. Some people have chosen to dress up to continue the relaxed theme of the evening.
"We share carols, use the 'Pass the Salt' Christmas conversation cards to foster interaction, and the kids pre-recorded videos, which portrayed their hopes for Christmas and the Christmas story," Cherie said. "It is designed to be just like we were part of a carols service in our home together."
This is followed by a devotion segment. Due to COVID restrictions on gathering numbers, the corps is unable to run its annual Christmas with the Salvos carols event, which usually is held on the Sunday night before Christmas. This Christmas in the lounge room enabled everyone who would normally attend this corporate gathering to attend, Cherie said.
City Salvos/Adelaide Congress Hall has 'moved outside' and heading back into the streets to connect with the community in its corps area with 'Church in the Park'.
Corps Officer Captain Shane Healey said the corps had also held a 'Sounds of Christmas' carols in the park event, which involved Adelaide Congress Hall band and music team, its choir and guest soloists Michelle Nightingale, Lainie Jamieson and Sally Hardy.
The highlight was the debut performance of its ukulele group, The Ukuladies. "Thanks to COVID (I actually mean it), we are doing Christmas a little differently. We are breaking free of our building and heading back to the streets, which is amazing," Shane said.
On Christmas Eve, the corps is to stage its annual DUO Christmas Dinner and is catering for more than 200 people. "Due to COVID social-distancing, we have taken this outside and created a wonderful partnership with Tandanya National Aboriginal Cultural Institute, which we are very excited about," Shane said.
A team from the institute is to help provide food and also serve the meal. About 20 volunteers have packed 3000 Christmas cards for chaplain Major David Simpkin to give to men in prison to send to their families and friends.
David said the cards go in packs that include bags of lollies, a writing pad, pen and a 2021 diary. "This is with the involvement of various corps and centres around the division," David said. "The packs are gratefully received and the feedback we receive is mainly: 'This is an indication that people on the outside are interested in us.' Or 'Without you guys, I would not have received anything this Christmas,'" David said. The Army ministers in the male prisons as another organisation works in the women's prison.
'Shieldy' and a bunch of friends after the Casuarina Square Shopping Centre Christmas parade.
In Darwin, representatives from several Army expressions in the Top End, along with Salvation Army mascot Shieldy, were invited to be part of the Christmas parade (of elves, a gingerbread man and Mrs Claus) at the Casuarina Square Shopping Centre recently, which included the arrival of Santa Claus in a crisp, white helicopter.
Corps Officer Major Kim Hawke said the shopping centre had set up a large blue gift box into which people could deposit non-perishable food items for the Army to hand out as hampers next week.
Kim said workers from the Doorways and Street to Home program had also joined with other organisations to provide a Christmas barbecue for rough sleepers and plan to deliver food to them on Christmas Eve.
In Katherine, as with many other corps, planning for Christmas Day lunches around the country has been affected by COVID-19 requirements. Auxiliary-Lieutenant Samuel Higginbottom and Candidate Helper Michellie Higginbottom were looking forward to hosting the meal as it would be their first Christmas as corps leaders.
"Traditionally, Katherine Corps would host a Christmas lunch for our homeless community, with nearly 200 people seated inside for a community-prepared lunch. We have been forced to reimagine this space in this time," Sam said.
"We are now holding the same lunch at the corps but this time all will be done in take-away packages and will need to be eaten off-site. Regardless, we have still received the massive support from other locals in the town, with Shell petrol station donating cans of drink and offering to help serve food. Jason, the town butcher, is donating and cooking a range of meats and many others in town are offering their cooking to be served.
"The community support has been awesome and we have received many offers from volunteers to help serve on this important day. We will also be preparing a 'goodie bag' for everyone to take with them after lunch, which includes some Christmas treats and snacks for later in the day."
Major Peter Jones (left) and a biker who rode in the Darwin Toy run in a polyester Christmas suit.
Darwin toy run
One of the biggest annual Harley Owners Group Toy Runs has hit the streets in Darwin.
The Salvation Army Public Relations Secretary in the Top End, Major Peter Jones, said more than 200 bikers took to the streets of the Northern Territory capital for the annual toy run in aid of The Salvation Army.
Peter said the 50km ride began at a Harley-Davidson motorcycle dealership and headed into the city before finishing at Darwin Pint Sporting and Social Club.
He said there were trikes, mini bikes, sports bikes and Harley-Davidsons "and everything in between".
"There were some toys in there I'd like to get my hands on," he said cheekily referring to the Harleys.
With no COVID-19 restrictions in Darwin, the event was well attended, unlike similar events across the country. The toys are to be given out on two occasions – in Palmerston on 16-17 December in Darwin on 22-23 December.