NSW corps impacted by new COVID-19 restrictions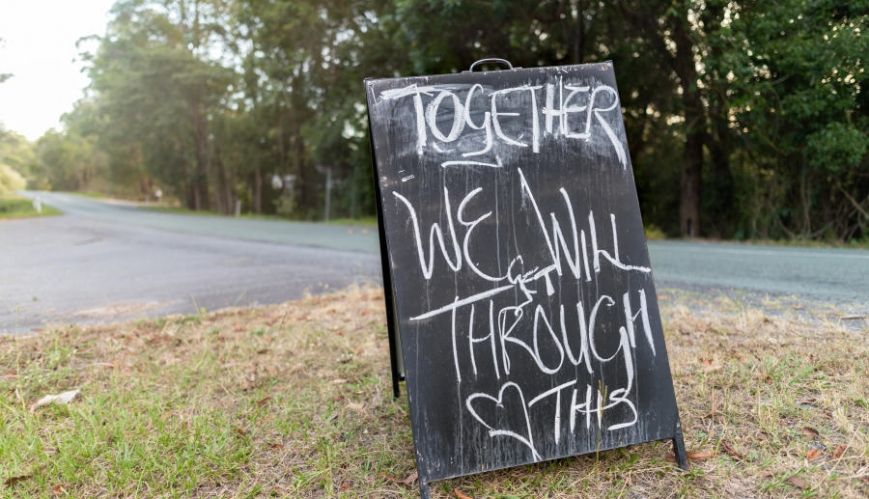 NSW corps impacted by new COVID-19 restrictions
21 December 2020
A chalkboard message on the side of the road sums it up – beating the latest COVID outbreak will require a united effort.
By Lauren Martin
With Sydney in the midst of another COVID-19 outbreak, NSW/ACT Divisional Commander Lieutenant-Colonel Miriam Gluyas is encouraging corps leaders in Greater Sydney, Central Coast, Blue Mountains and Wollongong to provide at-home options for Salvationists to celebrate the birth of Jesus on Christmas Day.
New restrictions announced on Sunday 20 December by NSW Premier Gladys Berejiklian moved Greater Metropolitan Sydney places of worship back to similar restrictions that were in place during March, with a one-person per four-square-metre rule, restrictions around singing and chanting and a cap of 300 people per venue.
Miriam acknowledges that the timing of these restrictions will come as a blow to Salvos in affected areas who, after a tough 2020, were looking forward to celebrating with their corps family the birth of Jesus, which brings such joy and hope.
"One of the things that has been on our mind is the lyrics to 'O Holy Night' ... when it says 'a thrill of hope the weary world rejoices'," she said. "It's been a tough year and everyone's weary and we all wanted to enjoy Christmas with our family and friends. But [it looks like] it's going to be a very different Christmas for many people. Let's still celebrate Jesus and family, even though it's going to look a bit different."
All corps within Sydney's Northern Beaches local government area ceased services and activities when the area went into lockdown at 5pm on Saturday 19 December.
Miriam says since the onset of the coronavirus outbreak in early 2020, corps across the division have been "operating on a hybrid system, with online and in-person meetings, so we will continue to do this, with the right balance both now and into the future".
The Salvation Army Aged Care centres in the Northern Beaches area were also affected by the lockdown, closing their doors to all visitors, volunteers or non-essential contractors.
Workers at Territorial Headquarters in Redfern were contacted via email on Sunday, strongly recommending them to work from home and only enter the building for "essential reasons", needing prior approval from a Head of Department.
The Salvation Army Emergency Services (SAES) has stepped up to support people in quarantine or affected by the outbreak, delivering food hampers to many households on Saturday, Sunday and Monday at the request of the NSW Government.
With some corps in the middle of Christmas Cheer operations, Miriam says delivery of assistance "will need to look different" because "the safety of everyone is key right now".
She has also called on people across the NSW/ACT Division to pray. "We are a people of prayer, so I am calling on the whole division to really pray and believe that this will come under control and that we will come through this fairly unscathed, and most importantly with people's lives.
"We need God right now. Again, this is a reminder that we can't do things on our own, we have to rely on a great God."
Salvation Army online Christmas Day services
Mid North Coast Service – a joint service from Port Macquarie, Kempsey, Taree and Forster/Tuncurry – Friday 9.00am AEST. Mid North Coast service includes a variety of contemporary and traditional with inspiring Bible-based teaching for all ages.
https://midnorthcoast.online.church/
Rockdale – Friday 9.45am (for 10am start) AEST. Rockdale is a contemporary worship style that engages people with spirit-filled worship and inspiring preaching.
A Zoom live-stream 'meeting' can be found at https://zoom.us/j/987284440 and it will also available through the Rockdale Facebook page: https://www.facebook.com/RockdaleSalvos/
North Brisbane Corps – Friday 9.00am AEST. North Brisbane is a contemporary worship style that engages people with spirit-filled worship, inspiring testimony and biblical preaching using various styles and preachers.
http://www.nbcsalvos.live
Wollongong Corps – Friday 10am AEDT. Wollongong's worship style is a balance between contemporary songs and traditional hymns.
https://youtube.com/wollongongsalvos or https://facebook.com/wollongongsalvos
Launceston Corps – Friday 10am AEDT. Launceston hosts a contemporary time of praise and worship, teaching from the Word of God and going deeper in the call to serve others with the love of Jesus. Follow the 'Web Cast Streamed Live each Sunday' link:
https://www.salvationarmy.org.au/launceston/ and then 
Ingle Farm Corps – Pre-recorded available from 6am every Sunday ACDT. Multi-generational worship. Ingle Farm Salvos YouTube (hosted).
https://www.youtube.com/channel/UCAPSxfwkiH5875IJR_vjqFA. Link also available through Facebook: www.facebook.com/inglefarmsalvos
Perth Fortress Corps – Friday 10am AWST. An intergenerational faith community featuring a mix of hymns and contemporary worship giving focus to the lectionary and the reading of God's Word.
Like this Facebook page https://www.facebook.com/perth.fortress.corps/