You are here:
Home › News › 2020 › 12 › 22 › Times Square Site Of Another Big Countdown To Christmas
Times Square site of another big countdown - to Christmas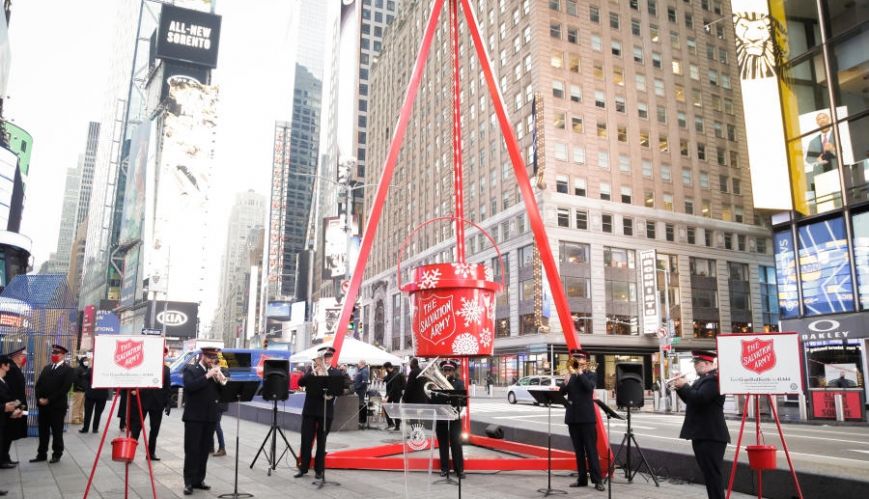 Times Square site of another big countdown - to Christmas
22 December 2020
A brass ensemble comprised of musicians from The Salvation Army's New York Staff Band herald the launch of the Giant Red Kettle in Times Square – Andrew Boynton, left, Aaron VanderWeele, Christopher Webster, Edward Mylechreest and Lieutenant Jonathan Quatela, who also is the Times Square Corps Officer.
By Darryl Whitecross
Times Square is synonymous around the world as the iconic Manhattan precinct in New York where a million people crowd each year to count in the New Year.
Equally iconic are The Salvation Army's Red Kettles, which are used in the run-up to Christmas each year to collect money, principally in America, for the Army's year-round provision of diverse social services.
They usually are a familiar sight across the United States and several other countries each year.
The Salvation Army's divisional commander in New York City, Lieut-Colonel Ricardo Fernandez said that, this year, with a significantly increased demand for services but reduced numbers of people in shopping centres and other outlets where the kettles are set up because of COVID-19, "the challenge is greater than ever before"."
Commissioner William Bamford, Territorial Commander for The Salvation Army United States Eastern Territory, speaks at the unveiling of the Giant Red Kettle in Times Square.
Because of that, the three icons are coming together in what is being proclaimed as "the world's biggest-ever fundraising Red Kettle", in order to raise awareness of "the biggest-ever need".    
A 2.2m-high Red Kettle has been installed in Times Square, hanging from a stand measuring about 10m by 5m. Along with built-in LED lights that illuminate and sparkle, it has interactivity with a text-to-donate feature triggering lights and ringing bell sounds – again synonymous with Red Kettle collections.
Ricardo said the kettle was designed to "amaze passers-by" and literally stop them in their tracks to make a donation.
The Territorial Commander for The Salvation Army United States Eastern Territory, Commissioner William Bamford, said at the unveiling of the Giant Red Kettle that, while the Army was "making history for the City of New York and the Army", the "real focus of today is on the tens of thousands of New Yorkers and their families who are in severe need of food, shelter, and emotional and spiritual support – right now".
"Many also need help giving their children a Merry Christmas, which is something The Salvation Army has always helped to do. This kettle before you is giant and that's because our need is giant."
Army officers and 24-hour security are to be on-site with a traditional kettle for cash donations and to answer questions. All activity around the kettle will strictly adhere to New York City's prevailing COVID-19 safety regulations. 
The Giant Red Kettle, which is part of the Army's 'Rescuing Christmas' initiative, was made possible with the help of businessman and philanthropist, George Stonbely, who is recognised as having been instrumental in transforming Times Square into a family-friendly world destination. He was also behind the creation of the 'Giant Snowflake' that hangs across Fifth Avenue at 57th Street, which has raised millions of dollars since its original installation.   
In Greater New York alone, The Salvation Army has provided more than 6.3 million meals to those in need since COVID-19 hit through more than 100 community program in the region.
New Yorkers are experiencing severe food insecurity and unprecedented need, requiring emergency housing and help with utility bills, rent and mortgage payments.
The Army has tipped that potential demand over the Christmas period could peak around 155 per cent compared with previous years, which is in the context of a projected 50 per cent decrease in donations if the reliance on previously tried-and-tested means was unchanged.  
Ricardo said the Giant Red Kettle would be a new tradition. To maximise visibility, the Giant Red Kettle will be moved to other locations in New York City during the countdown to Christmas, from the Meatpacking District to Madison Square Park. 
With the run-up to Christmas being a crucial period for delivering essential care for those in need and for fundraising, the Army, internationally, is adapting and innovating in numerous ways to work around the various COVID-19 restrictions in place.  
In New Zealand, people are being encouraged to bake cakes and other treats for their friends, family and members of the community. Baking supplies companies Edmonds and Chelsea are supporting the Army by donating $NZ10 ($A9.50) for every photograph of baked goods tagged with their social media accounts, up to $NZ20,000 ($A18,840).    
In Canada and the United Kingdom, Christmas concerts have been recorded in a biosecure manner, to share the narrative of the birth of Jesus and bring Christmas cheer through music, song and selected readings. The UK event had its premiere on YouTube on 2 December before being broadcast across the BBC Local Radio network.
The Netherlands is producing 'Alternative Advent' broadcasts, co-presented by a prominent Dutch television identity. The programs share Bible reflections through contemporary and traditional music and also offer stories of hope from Army social services centres across the country.
In Romania, the Army has taken its 'Angel Tree' initiative online, encouraging supporters to make use of e-commerce (socially distanced) shopping portals to buy toys, clothes and other meaningful gifts for children in need in cities from Bucharest to Buzau.   
Each of these initiatives and others are to be part of 'Countdown to Christmas' posts during Advent 2020 that can be shared from the Army's international headquarters' Facebook, Twitter and Instagram channels with the hashtag #CountdownToChristmas.  
Edited from a release from IHQ Communications, International Headquarters