Army behind refugee soccer tournament boots and all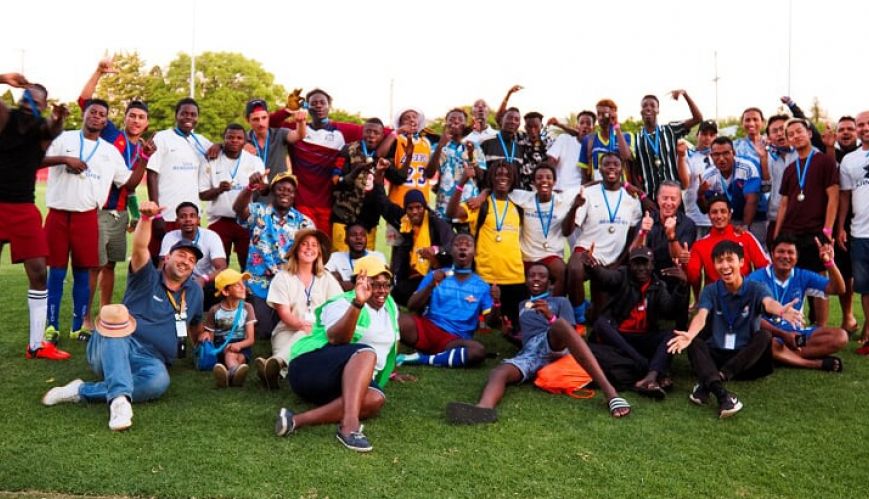 Army behind refugee soccer tournament boots and all
13 January 2021
Some happy soccer players showing off the medals they won during the inaugural Spring Intercultural Football Carnival in Toowoomba.
By Darryl Whitecross
A soccer tournament in Toowoomba in November 2020 brought together about 60 players from culturally and linguistically diverse backgrounds.
The brainchild of Charles Kitapindu, who is a Mercy Community multicultural community worker in the Queensland Darling Downs city, the Spring Intercultural Football Carnival was a significant undertaking, especially finding enough equipment to 'kit out' the teams of men and women in time for the tournament.
The Salvation Army got involved by donating some of the equipment needed after Major Deon Oliver, Area Officer for South West Queensland, put out the call to family stores and Salvos Stores in Toowoomba and surrounding communities.
Deon said providing recreational sports opportunities for young people was one of Charles' "passion areas" and the Army was happy to "come on board" to help with that Local Mission Delivery. Donations, mainly boots, came from as far as Roma and Kingaroy.
Charles, who fled Benin in the Democratic Republic of Congo in 2010, said that most of the players were new to Australia, having come from 11 different countries – many from Africa.
The four teams in the inaugural Mercy Community CAMS (Community Action for a Multicultural Society) Cup at the Toowoomba Sports Ground were Iraqi Ezidxan FC, Toowoomba African FC, Logan Stars FC and the Toowoomba Nepalese FC with 15 players per team. The referees were provided by Football Queensland South West.
Mercy Community's Charles Kitapindu accepts a donation of boots from South West Queensland Area Officer Major Deon Oliver.
Charles, now an Australian citizen, said the carnival was "an important milestone" in embracing cultural diversity and strengthening community cohesion in Toowoomba.
He said the carnival went a long way to "acknowledging the gift to our nation" the refugee population was giving Australia but also promoted working together collaboratively and in harmony in a multi-ethnic environment.
A recent Queensland Youth Strategy Future Building Forum in Toowoomba recognised that sport provided an important pathway for young people with a refugee background in their social integration. "Since then, efforts have been underway to ensure institutional and cross-cultural barriers are addressed to increase young migrant and refugee background Queenslanders participation in community and professional sports," Charles said.
He said the carnival happened only through the "tremendous and tireless contribution of valued partners" such as the Army. A continuing collaboration would contribute to "changing the world from the sports field".
In 2013, Toowoomba became one of three local council areas in Queensland to be declared a Refugee Welcome Zone and has been assisting to resettle thousands of refugees and migrants from Africa.