Full-circle opening at Morwell 30 years in the making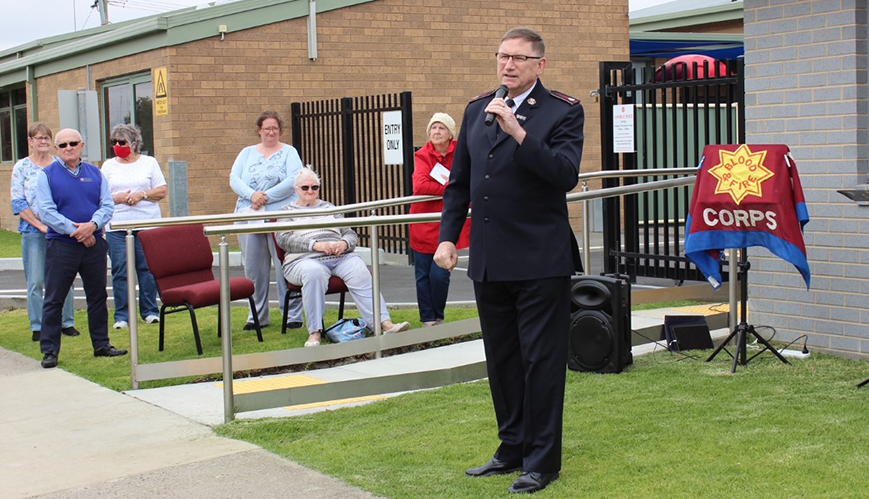 Full-circle opening at Morwell 30 years in the making
14 January 2021
Lieut-Colonel Bruce Stevens, Divisional Commander of Victoria, speaks at the opening of the new welfare centre in Morwell. 
By Jessica Morris
Chief Secretary Colonel Winsome Merrett officially opened a custom-built welfare centre in Morwell, 30 years after the land was bought during her appointment there as a corps officer.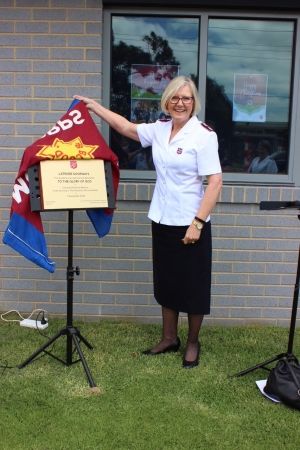 Chief Secretary Colonel Winsome Merrett officially opens the custom-built Salvation Army Welfare Centre next to Morwell Corps, 30 years after she and Colonel Kelvin Merrett (then captains) bought the land it was built on as corps officers.
Winsome and her husband, Colonel Kelvin Merrett, were captains at Morwell in the early 80s when they envisioned future expansion of the corps and facilitated the purchase of the land.
Their vision came full circle through current Morwell corps officers, Majors Alan and Denise Milkins, who oversaw the $850,000 Latrobe Doorways project and gave the Merretts an invitation to the official opening, which was held in December.
The project, which included renovations to the existing corps buildings, will better facilitate Doorways services across the Latrobe City region in Victoria, and allow for future expansion of services.
Alan said the much-utilised welfare service has gone from being housed in an unsuitable rented premise to a modern complex within the corps precinct, where the service actually began many years ago.
"We have worked on this for the best part of four years. The 144sqm building will serve us well, and is much better laid out in regards to the privacy and safety of clients and staff," said Alan. "We have a lot more opportunity to get integrated mission happening because the corps is next door."
The welfare team had been working from a 100sqm rented shopfront with limited storage and they sorted donated items outdoors from the rear car park. After a nearby fire in September last year, they packed up and functioned from the corps building while they waited for the new building to be started – making their mission delivery 'squashier', albeit more integrated, than ever before.
The new welfare building includes two custom-built counselling rooms, small meeting rooms, kitchen, a proper storage pantry with room for several pallets of food supplies to be sorted, and has direct access to the corps. This year, it is planned to run complimentary support programs for clients in the corps buildings enabling people to build a more sustainable, holistic life.
"In the rented shopfront, the best that we could do was counsel people, and offer to pay for support with their bills or offer food and vouchers. Now what we're hoping for is that by being on the same block of land as the corps, we can run a drop-in centre or peer-support options," said Alan.
"The great part is that Doorways operates in the Latrobe City municipality as a Hub, which includes three corps – Traralgon, Morwell and Moe. As funding becomes available we hope to extend services, which currently include emergency relief, case management and other support."
How's that for God's divine timing? Congratulations Morwell Salvos, we can't wait to see how God continues to transform your community in the future!
Watch the VicStory video about the opening here: