Special guest visits Darwin family violence refuge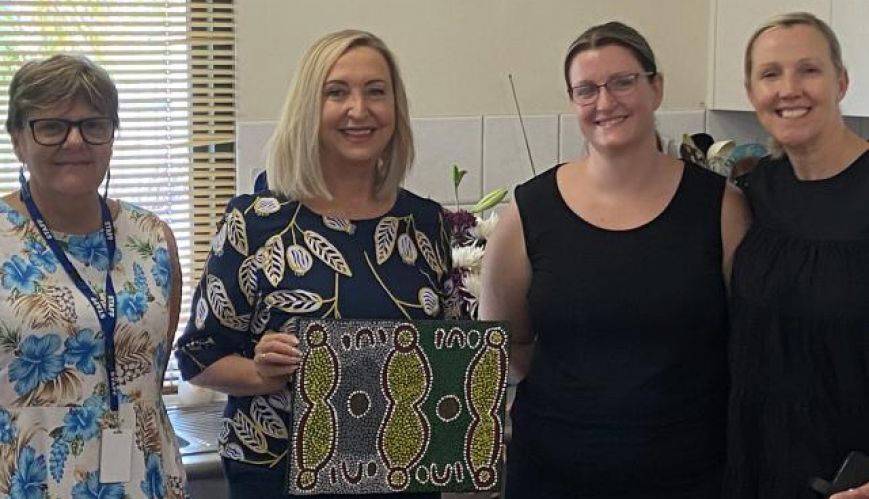 Special guest visits Darwin family violence refuge
16 February 2021
Northern Territory Administrator Vicki O'Halloran holds a gift presented to her when she visited Catherine Booth House in Darwin. With her (from left) are Dianne Gipey (the Army's Family Violence State Manager and Queensland Specialist), Erin Leech (Catherine Booth House Manager) and Lorrinda Hamilton (Territorial Family Violence General Manager). Photos: Captain Peter Jones
By Darryl Whitecross
The Administrator of the Northern Territory, Vicki O'Halloran, has visited The Salvation Army's women and children's domestic violence refuge, Catherine Booth House, in Darwin.
Vicki took the opportunity to speak with staff and stayed for morning tea in the 90-minute visit on 12 February.
Captain Peter Jones, Northern Territory Public Relations Officer, said Vicki, who had a background in the family, children and disadvantaged sector, had asked to visit the facility.
She wanted to encourage the clients as they worked through their issues, the staff for their dedicated work, and The Salvation Army in running the facility in such an important area.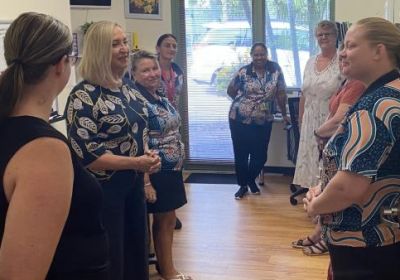 Northern Territory Administrator Vicki O'Halloran chats with staff and support workers at Catherine Booth House, Darwin.
Peter said Vicki was happy with what the Army was doing and how the facility was being run.
Vicki was accompanied by the Northern Territory Government Program Officer (External), Kelly Petersen.
Representing The Salvation Army were the Social Mission Department's Dianne Gipey (Northern Territory State Manager and Queensland Specialist in family violence), Lorrinda Hamilton (Territorial Family Violence General Manager) and Erin Leech (Catherine Booth House Manager).
Peter said Vicki enjoyed the opportunity to "get back out and see what's going on in the community".
The Northern Territory Administrator performs a similar constitutional role to that of a Governor in Australian states and does not take part in the political process.
Following the tour, guests and staff were served a special morning tea prepared by a client with a catering background.
Funding grant for rebuild
Catherine Booth House has secured a $4.5 million Federal Government Safe Places Emergency Accommodation Grant, which is to see the facility largely rebuilt.
The refurbished facility is expected to be able to accommodate more than 30 residents – up from about 10 now – and improved access to other Army services.
Erin said the project was still at the planning stage and no construction start date had been confirmed.
Peter said it was still being determined as to whether clients would be housed in other accommodation in the community during the reconstruction project.