You are here:
Home › News › 2021 › 02 › 24 › Australias Artistic Minds Challenged To Create A Great Easter Trail
Australia's artistic minds challenged to create a Great Easter Trail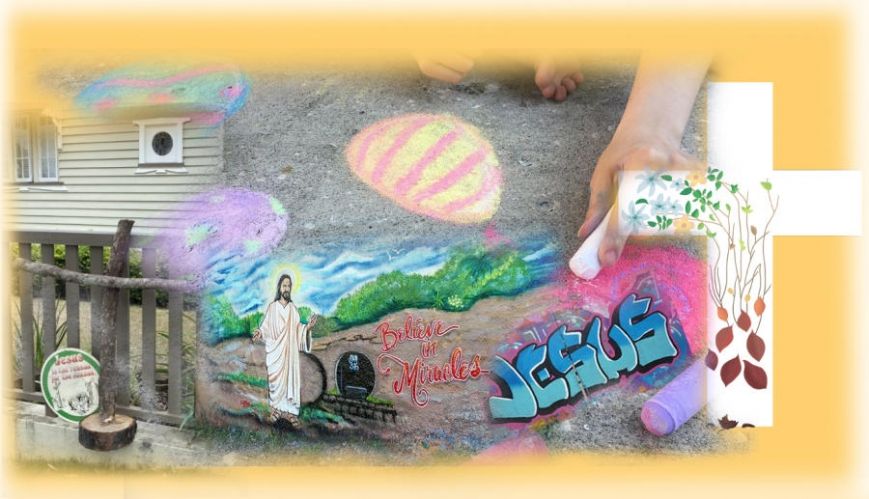 Australia's artistic minds challenged to create a Great Easter Trail
24 February 2021
Walls, windows, doors, gardens, balconies and footpaths are all a blank canvas on which can be developed into Great Easter Trail masterpieces to draw out interest from the public to the reason for the season – the death and resurrection of Jesus Christ. Artwork: Darryl Whitecross
By Darryl Whitecross
Corps, missions and centres across the Australia Territory are being challenged to be more highly visible and innovative in their presentation of the Easter message this year by going "back to basics" and using creative and artistic storytelling.
International Headquarters Communications Manager David Giles said this was an opportunity when the "inexhaustible creativity, gifting and talents" within the movement around the world could shine through arts and crafts.
David said the Army's challenge to such 'arty' people was to take the Easter message to the streets in the form of 'Stations of the Cross' – called Great Easter Trails – in the area where mission expressions existed, either in public spaces or on Army property.
A guide has been produced to provide inspiration and suggestions on how to make that happen.
"We're confident people will be affected by their encounter with the Gospel (presented in this way)," the guide says.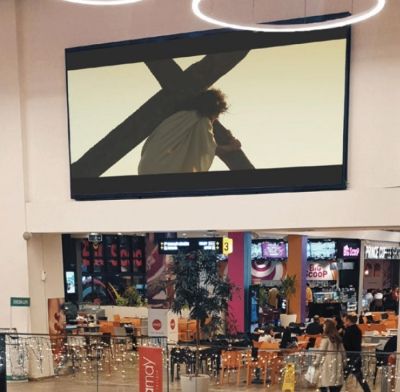 On a more grand scale: Arranging to have the Stations of the Cross presented in a video production on a big screen in a shopping centre.
David said the trails did not need to be created off-site. Army-site parking lots, windows, gardens or balconies could be used. Corpsfolk, employees or Army supporters could be approached to have a station set up at their homes.
Against the backdrop of COVID-19 pandemic restrictions on corporate worship and social distancing, the guide says it is important to "share the hope and life-giving power of the Easter message, even when it is not possible to undertake public witness and worship in the usual ways".
David said the "back to basics" initiative was taking the Gospel message to where people were in a way that would "engage, encourage and challenge" – and generate social media engagement – to maximise "kingdom impact".
He said the Great Easter Trails could be artistic representations that would show aspects of the Easter narrative on whatever scale possible, using one art piece or many.
The challenge was to create something that would encourage passers-by to pause, reflect and consider the Easter message.
People with an "artistic ability to create something that depicted part of the Easter story were encouraged to be as creative as possible, using styles, techniques and approaches that would "surprise, delight and make people think".
David said the Great Easter Trails should be accessible and visible at least over the Easter weekend.