Frigid air puts heat on Army warming stations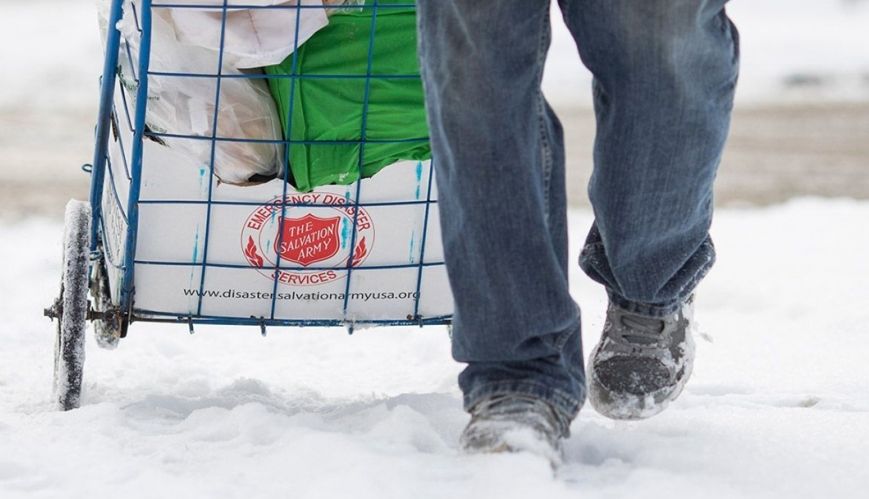 Frigid air puts heat on Army warming stations
26 February 2021
The Salvation Army, along with most of southern America, was caught by surprise when a cold-weather event arrived. Many of its annual 'warming centres' were opened early to help bring relief to the homeless and vulnerable, particularly in Texas.
By Darryl Whitecross
The Salvation Army in the southern states of America was kept busy last week responding helping bring relief to the community as unexpected record low temperatures and winter storms swept the area, particularly Texas.
Christopher Priest, the USA South Territory Director of Communications, said the storm "seemed to catch everyone out" and "prohibit immediate response".
The unusual weather patterns caused a polar vortex, which is usually stable in the Arctic region, to blow sub-zero temperatures across mostly Texas.
The Army expected the cold snap to produce record-high requests for assistance.
Every year, the Army sets up 'warming stations' across the country to help the thousands of homeless and vulnerable in the community seek shelter from the freezing temperatures, heavy snowfall and the resulting power outages across parts of the United States. This year, several opened almost two weeks earlier than usual as the unexpected chill arrived.
These stations usually welcome people to come in from the cold when the temperatures drop below 35°F (1.6°C).
As well as providing warmth and shelter from the elements, people can also get food.
Philip Burn, Communications Director for the Texas Division, said that, during the height of the consecutive days of record low temperatures, warming stations were open around the clock but would return to regular opening hours when the temperatures moved from dangerously low.
Philip said the cold weather went as quickly as it came: "Texas temperatures are now back in the 70s with beautiful spring sunshine this week."
Philip, who volunteered at an emergency shelter in Lewisville, which is about 30 minutes north of Dallas, said many of the people seeking shelter in the warming stations had "nowhere else to go".
Charlie, an elderly North Dallas man, said that after four days in his apartment without power, "I just couldn't take the cold anymore. I called 911 and they brought me here (to the Lewisville shelter). Thank you for taking care of me, giving me food and a warm bed for a couple of nights and getting me back home safely now that my power is finally back on."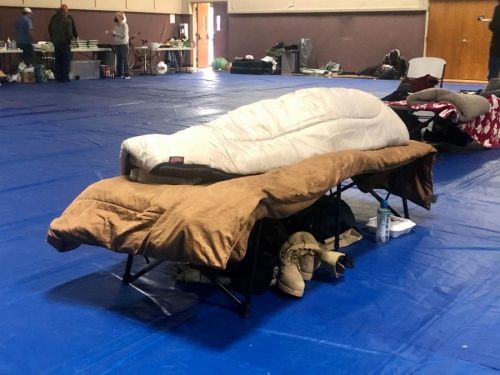 A typical bed in The Salvation Army's warming centres in the US. This was taken at the Lewisville shelter at the height of the recent deep freeze.
Philip said one homeless man was taken to an Army shelter in an ambulance "in bad shape".
"He stepped out of the ambulance into the snow with no shoes or socks on, freezing cold and in bad shape. The paramedics found him on the street and brought him to the shelter along with his bike and a small pile of clothes," Philip said.
The Army braced for record-high requests for assistance but still was required to adhere to COVID-19 restrictions, which limit the number of people who could congregate in one place at the same time. The pandemic had also reduced the number of volunteers, which was also an issue for the warming centres.
With infrastructure more designed for warmer conditions, there were many reports of frozen water and bursting pipes, rolling power cuts and dangerous road conditions as the temperatures plummeted.
A source in northern Texas said he had been without power for more than 80 hours at one stage.
"Everything shut down from the freezing cold and the water pipes froze and burst so no water for two days," he said. "It was zero outside and not much warmer indoors." 
He said he had resorted to collecting snow to melt to use to flush toilets.
Dallas-Fort Worth Airport's meteorological station recorded a record low temperature of minus 2°F (minus 19°C) on 16 February, making it the coldest day in Texas in 72 years.

The Army's US National Commander, Commissioner Kenneth Hodder, said the COVID-19 pandemic already had taken a "great" toll on Americans but "now the most vulnerable find themselves without a safe place to shelter from the sprawling winter storm".
He said that, even as some of the "warmest states" experienced below-zero temperatures, Army teams were ready to serve. "If needed, all of our 7600 locations can serve as warming centres, based on local conditions and needs."

Cold weather clothing and bedding was being distributed and mobile outreach units were dispatched as road conditions allowed to serve hot meals and beverages, feeding first responders, providing stranded travellers with temporary shelter and offering emergency transportation. 
In Houston, Texas, 1000 blankets were supplied to hospitals struggling to maintain power supplies and large quantities of drinking water distributed where piped supplies had been compromised and power outages have meant people could not boil water.
In some areas, the Army had had its own battle with providing the warming stations it normally would, facing their own power and heating issues. Having had to open earlier than usual had also put a strain on budgets.
Additional information from USA National Headquarters, USA Southern Territory, IHQ Communications and secular media