You are here:
Home › News › 2021 › 03 › 05 › General Brian Peddle Signs Covid 19 Vaccine Equity Declaration
General Brian Peddle signs COVID-19 Vaccine Equity Declaration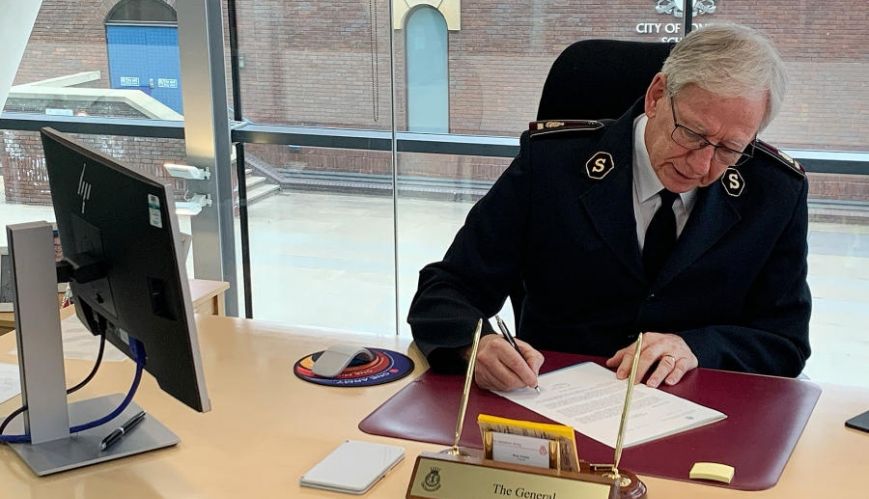 General Brian Peddle signs COVID-19 Vaccine Equity Declaration
5 March 2021
General Brian Peddle signs the 'WHO call to action: vaccine equity declaration'.
IHQ Communications
General Brian Peddle, the leader of the worldwide Salvation Army, has become the latest global leader to sign the World Health Organisation (WHO) Vaccine Equity Declaration.
Adding his name to the document on 2 March 2021, the General gave thanks to God for the vaccine which he described as an "answer to prayer".
"We know that not every country [yet] has access to the vaccine. Challenges of cost and logistics must still be overcome and we continue, then, to pray for justice and the fair distribution of vaccines around the world."  
The Vaccine Equity Declaration was created after an announcement on 18 January by WHO Director-General, Dr Tedros Adhanom Ghebreyesus that "the world is on the brink of a catastrophic moral failure – and the price of this failure will be paid with lives and livelihoods in the world's poorest countries".
The Army is supporting the WHO call for all governments to work together in solidarity and in each of their best interests to ensure that, within the first 100 days of this year, vaccination of health workers and older people is underway in all countries.  
Individuals are also encouraged to add their voices to the campaign. The WHO petition can be signed at https://www.who.int/campaigns/annual-theme/year-of-health-and-care-workers-2021/vaccine-equity-declaration
The declaration is to be sent to countries and companies to ensure that, by World Health Day on 7 April, COVID-19 vaccines are being administered in every country, as a symbol of hope for overcoming the pandemic and the inequalities that lie at the root of so many global health challenges.  
The endorsement of the WHO Vaccine Equity Campaign coincides with the publication of The Salvation Army public health messaging posters in more than a dozen languages and the release of a video message co-presented by the General and Commissioner Rosalie Peddle, World President of Women's Ministries. The movement's international leaders reflect on how COVID-19 can be overcome 'together' and exhort Salvationists and friends to receive inoculation when they are offered the opportunity in their own country.

"Together, we have uplifted one another," the General says in the video. "Together, we have prayed. Together, we have changed our behaviour to reduce the spread of the virus. We've washed our hands, kept space between us and worn face coverings." 
"Now, there is a new measure we can take to protect each other, together," Commissioner Rosalie says. "We can get the vaccine."
"We are thankful to God for the way scientists and researchers have worked to develop these inoculations," she says. "They are safe. They have been thoroughly tested and they offer protection against the virus."
The General concludes: "We urge you to get [the vaccination] when it becomes available in your country, as you're invited to do so. We believe that getting the vaccine is a way for all of us to show our love for each other, keep each other safe and then, together, we can beat COVID-19."
 

IHQ Communications
International Headquarters