Hobart Corps provides car park space for the community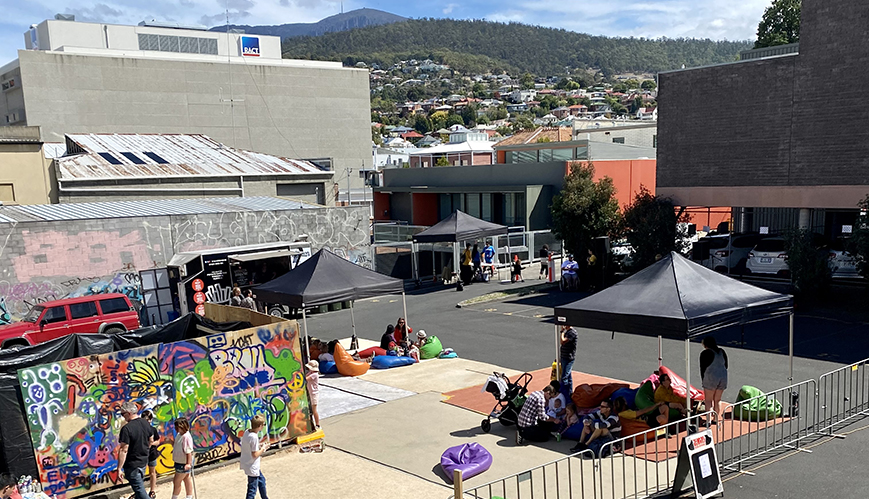 Hobart Corps provides car park space for the community
22 March 2021
Young people relax in the Hobart Corps car park, which was converted into a youth space for the citywide Vibrance Festival – just one of the events the corps has been part of in an effort to 'love their neighbours'.
By Jessica Morris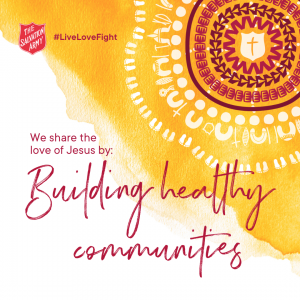 Any Salvo will tell you the Church is more than a building – it's about the people in it. Or, in the case of Hobart Corps, people filling their car park with skate ramps, graffiti and live music.
Situated in the centre of Tasmania's capital, Hobart Corps is literally in the middle of everything, which allows for great opportunities to connect with people, according to Corps Officers Captains Johnmark and Nicole Snead.
So, they have made their car-park space available for community events – making the Salvos accessible to people of all walks of life.
"We love being good neighbours in our city, and we are so happy to be able to provide safe spaces for people to enjoy," said Nicole. "We are a church for the city and that means we need to be where the people of our city are!"
When the City of Hobart held the annual Vibrance Festival in February, Hobart Corps hosted the 'Snake Pit," – not your brood of vipers, but rather a youth zone, where young people gathered to hear live music, learned street art and skateboarded. And, to unofficially commemorate the event, an Aboriginal mural was also painted on the wall of their car park driveway.
"We had our car park full of people," said Nicole. "And throughout the afternoon there was a sense of energy and excitement as people could stop and have some food, watch the skateboard demonstrations, and listen to music and enjoy the artwork too."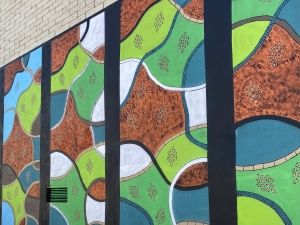 Hobart Corps opened its car park to the city for the Vibrance Festival and, in return, they had this beautiful Aboriginal mural painted for them.
Hobart Corps also made its car park available as an assembly point for the Hobart Pride Parade. And step by step, they are intentionally becoming a vibrant beacon of belonging for people in the city.
"We are determined to increase our reach into the city and to be the best neighbours we can be," said Nicole. "This is the living part of the [Army's] Vision Statement, to live alongside others in our community. We can't do that if our doors are shut and we are still inside the building.
"It is in the living alongside others out in the community with the love of Jesus that brings his hope to people of Hobart, and from there we will see mutual flourishing and a vibrant, hope-filled people thriving in our city."