Huonville hauls in the generosity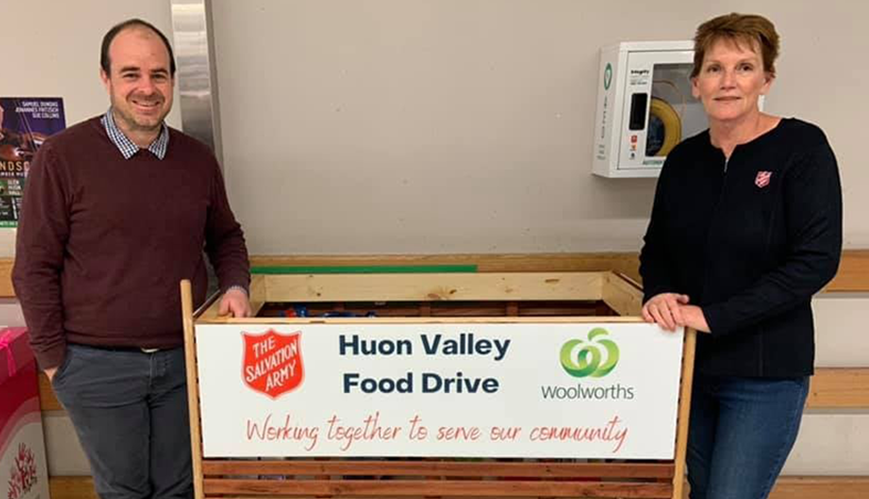 Huonville hauls in the generosity
7 April 2021
A new custom-built container at Huonville Woolworths means the community is still able to support the Salvos. Volunteer Christine Walker (right) organised the new container, and they receive up to eight bags of donations a week through the Huon Valley Food Drive.
By Jessica Morris
The community of Huonville in southern Tasmania is eager to support the Salvos – and a flourishing partnership with Woolworths is making it easier than ever.
Each week, grocery shoppers contribute essential items to Huonville Corps – giving people a lifeline to feed their families. It tops off their list of essential services, as the mission expression facilitates a Thursday morning 'Drop-In', meals, counselling and access to Doorways and the Bridge program.
And it nearly didn't happen.
"I was initially contacted by the then assistant manager on Boxing Day 2018 because a charity had a container in place but hadn't returned to collect it and Woolworths were getting flak from customers who had put items in for Christmas," recalls Christine Walker, a counsellor who volunteers at Huonville Corps. "He asked if I could collect the items as soon as possible. I said give me 20 minutes!"
Over the next two years, shoppers enthusiastically dropped in donations to a makeshift container created out of a birdcage. And many times, Woolworth topped up donations. So when the container was removed, the Salvos and their community felt the sting.
"We [would] get 6-8 bags of food a week. It may not sound a lot, but for us that's huge!" said Christine. "We really rely on the community."
Thankfully, Huonville Salvos don't do life alone. Support and funding continued to come in from the local council, Bendigo Community Bank and a myriad of volunteers. Customers still wanted to donate, though, and after some negotiation, they came to a happy conclusion: the Salvos could continue to accept donations from the public if they built a new container for the exchange. And it's been a hit.
"Since the new container has been in place, on average we receive about 8-10 bags of groceries per week. In the main, it is food but Woolworths often put stock in so we may, for example, have lots of makeup as was the case recently or lots of floor cleaner," says Christine.
"We never know what we are going to receive but it's always very valuable to us and is then placed on our Community Food Table that people at the Drop-In help themselves to each week. We ask that guests only take half a bag of items and if they need more, to speak with one of the volunteers."
As the Huon Valley community feel the effects of JobSeeker being cut after March, the Salvos expect their services and goods will be more vital than ever. Thankfully, the public is 100 per cent behind them. And that's what makes the fact they change "one life at a time", a community effort.
"I'm proud of being associated with The Salvation Army and being a Salvationist," Christine said. "We're here to help people. We're here to care for people and build healthy communities. Work for justice, integrity and compassion."