Booth's beard makes a comeback in Delacombe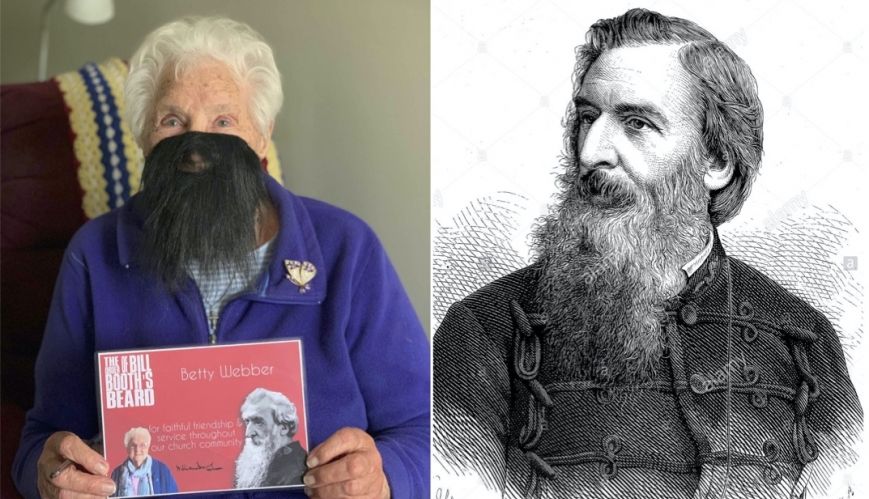 Booth's beard makes a comeback in Delacombe
9 April 2021
Delacombe Salvo Betty Webber received the 'Bill Booth's Beard Award' for her faithful friendship and service. The Founder General William Booth (right) would be proud of Betty.
By Jessica Morris
The only thing more iconic than General William Booth's message of salvation was his beard, something that has grown into an award-winning honour at Delacombe Corps in Victoria.
To recognise its most selfless volunteers, Delacombe Corps hands out the 'Bill Booth's Beard Award' to members of the corps community who go over and above in their service of The Salvation Army and to God. A certificate is presented, along with, what else, but a beard!
"This award was put in place to honour and celebrate anyone associated with our corps community [including the thrift shop and related services) who show kindness, compassion, care and concern for others," said Corps Officer Major Craig Farrell.
"Many recipients have been honoured and surprised to receive the award and have also been reminded of the importance of their own contribution to local mission."
Created in the same style as The Salvation Army's highest honour, the 'Order of the Founder', but with a little more whimsy, members of the corps can nominate anyone to receive the 'Bill Booth's Beard Award'.
Thrift shop volunteer Pushpa Nair received one "for her lovely and dedicated linen sorting", while corps member Alice Wood picked up a colourful version "for passion and leadership with youth". And Betty Webber recently received her honorary beard and certificate for her "faithful friendship and service" at Delacombe Corps.
"These awards have made us realise that there are so many people in and around our faith community, including our thrift shops, who do so much and care so much for others," said Craig.
"We wanted to remind the church community that it was not the time to sit back just because we could not meet in person due to COVID-19, but to reach out in different ways to our neighbours, who are feeling vulnerable during this time."
Just like acts of compassion, these iconic beards are 'growing' on people – who knows if we'll see one in a Salvation Army museum soon?