Army releases funding for cyclone recovery efforts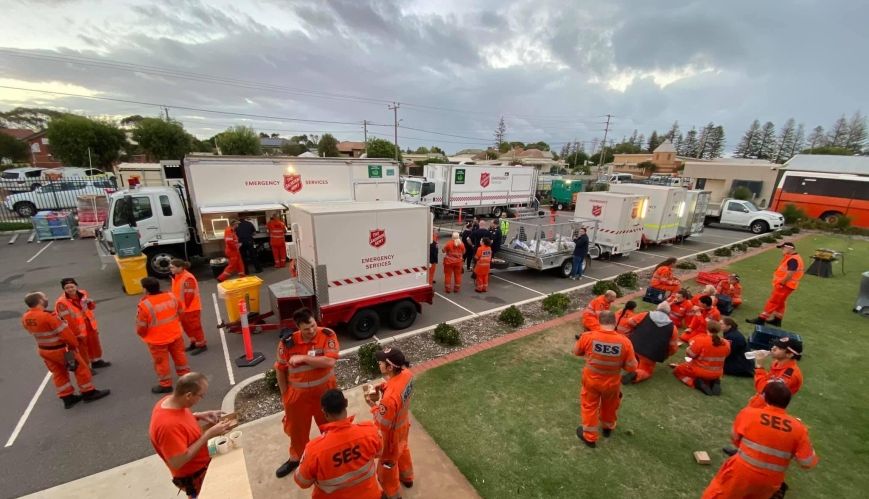 Army releases funding for cyclone recovery efforts
15 April 2021
The Salvation Army Emergency Services teams have been feeding first responders from Geraldton after Cyclone Seroja destroyed townships in the north of Western Australia.
By Lauren Martin
The Salvation Army has committed $1 million to support communities in Western Australia affected by Cyclone Seroja.
"The immediate release of a million dollars from Red Shield Appeal reserves allows Salvation Army services to respond in a timely and dignified way as people reach out for support," said Major Brad Potter, Western Australia Divisional Commander.
"We have the experience in natural disaster response to help people now and into the future, knowing each person's recovery is unique." 
Brad arrived yesterday in Geraldton, which is just to the south of the hardest-hit areas of Kalbarri, Northampton and Mullewa, to assist with recovery efforts. He said The Salvation Army had also made a commitment to affected residents that it would be there for the long haul as they rebuilt their lives.
"As you enter into the township of Geraldton, some of the things you are confronted with are the lack of power," he said. "Businesses, houses, residents don't have any power and have had no power since Sunday night, so you can imagine food stocks, what we take for granted, they are here without it."
Geraldton Corps opened its doors on Tuesday, just a day after the cyclone hit, running its Doorways emergency relief service with the aid of a generator to keep some food supplies fresh. A Doorways team from Perth has travelled 500km north to assist, and they are operating from the evacuation and recovery centre in Geraldton.
"We would see food shortages becoming more of a need over these next few days," said Brad. "There will also be needs around financial assistance or material aid."
A mobile recovery service will be set up to travel to isolated townships north and north-west of Geraldton to offer assistance to people who remain without power and, in some cases, no telephone service.
"People are feeling the isolation," said Brad. "They're looking for support and it's just not easy to get support up to some of these places. It takes a few days to coordinate that. We are only 48 hours from really when the cyclone came through. I think, overall, all the organisations here have done a fantastic job."
Salvation Army Emergency Services (SAES) crews and volunteers are also providing upwards of 1000 meals a day to first responders including the State Emergency Service (SES) and the Department of Fire and Emergency Services (DFES).
Standing by communities in need is about so much more than just practical assistance," Brad said. "It's about [giving support] with empathy and compassion and to do it non-judgmentally. That's what stands out for us as a Salvation Army. Whether it's our SAES or our Doorways, we have people that are well trained and they pick up on those values of compassion and care."