Model family parades as Polly puts fashion fundraiser on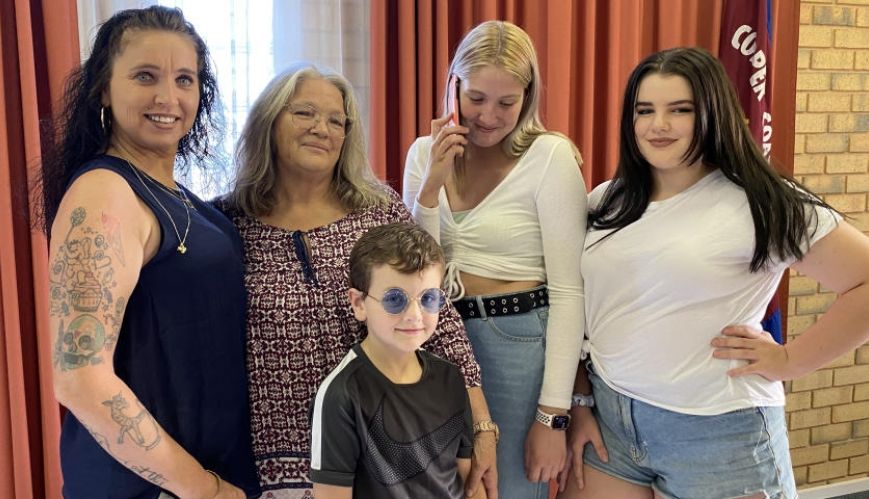 Model family parades as Polly puts fashion fundraiser on
16 April 2021
Fashionable family: Tammy Dobie (left) her mother, Marilyn Hurst, and children including Hudson, 6, Keishya, 20, and Meeya, 14, prepare for a night on the catwalk in Kadina, on the Yorke Peninsula in South Australia.
By Darryl Whitecross
There wasn't a supermodel, raised catwalk or any paparazzi in sight, but the Copper Coast Corps fashion parade drew regular 'oohs and aahs' from the audience anyway.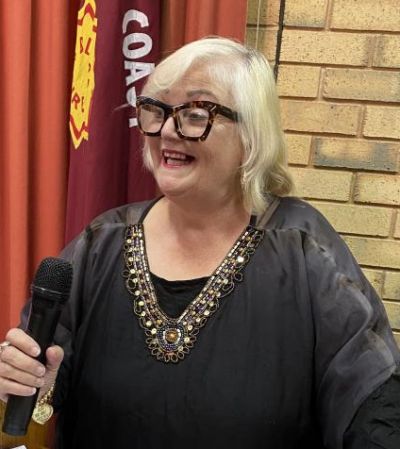 Fashion parade compere Pauline 'Polly' Phillips.
The fashion parade of clothes especially chosen from the racks of the corps thrift shop on South Australia's Yorke Peninsula was held as a fundraiser.
The clothes were modelled by three generations of the one family – Marilyn Hurst, her daughter, Tammy Dobie, and Tammy's children, Keishya, 20, Meeya, 14, and Hudson, 6. Additional fashion was modelled by corps volunteer Deb Morley.
Fashion parade organiser and presenter, media personality Pauline 'Polly' Phillips, said one thing The Salvation Army did well was to look after families and "the fact that we have three generations of the one family as models here tonight is quite commendable".
The town of Kadina, about 100km south of Port Pirie, was buzzing with anticipation in the lead-up to the night, which was a fundraiser for the Army's Making it Happen project. This project raises money for The Waterhole centre in Alice Springs. The Salvation Army operates The Waterhole as a safe and inclusive environment that encourages respect and acceptance and provides meals, support ministries, laundry services and shower facilities for vulnerable people in Alice Springs.
Captain Karen Armstrong, Copper Coast Corps Officer, said the thrift shop was opened after the fashion parade to allow eager shoppers to snap up bargains instore and to buy the clothes modelled on the night.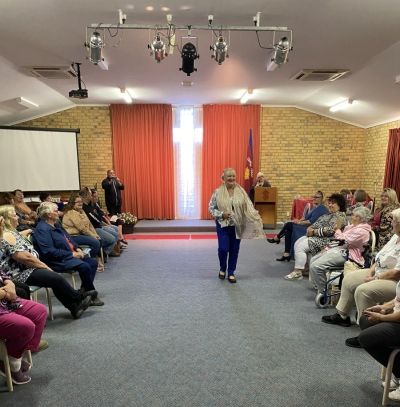 On the catwalk: Deb Morley in a dressed-up number.
Karen said she expected to raise about $600 from the event.
Polly described each of the outfits – casual wear to 'after-five' wear – as they were modelled on the catwalk, many of which still had the original tag on them, meaning they had not been previously worn.
She said that while the other models had their outfits chosen for them, "Hudson chose all his outfits, which shows his flair for fashion" – complete with "John Lennon glasses". 
"The Salvation Army has outdone itself with the quality it has in its store. Doesn't that make a statement," Polly said. "We're certainly going to make it happen tonight with our fashion parade because we have a lovely selection of clothes."
Karen said about 60 volunteers helped keep the store running successfully. It is open six days a week and stocked with "locally sourced" items.