Army releases JobSeeker survey findings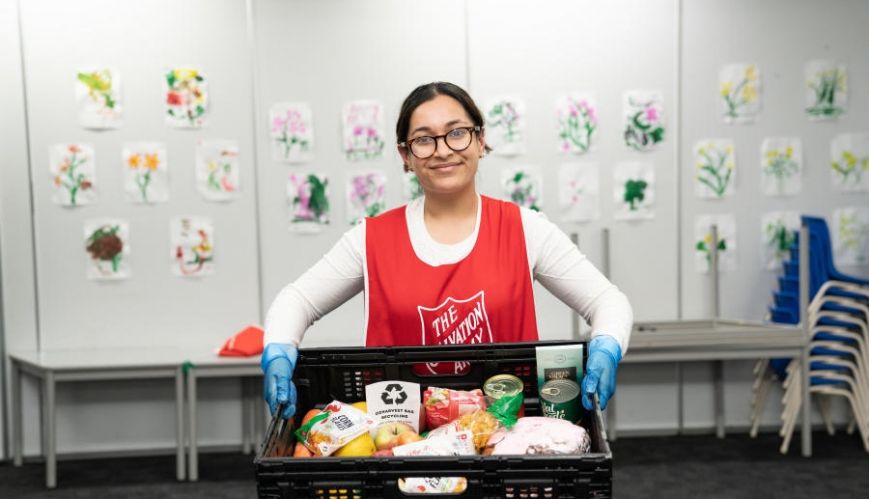 Army releases JobSeeker survey findings
5 May 2021
A volunteer from the Sydney Congress Hall with one of the trays from the corps' Hope Food Pantry. (TSA stock image)
By Lauren Martin 
The Salvation Army's Policy, Research and Social Justice (PRSJ) department has released the results of a study into the impact of government reductions/cessation to the JobSeeker Coronavirus Supplement.
The department conducted more than 1300 surveys of JobSeeker recipients who had accessed Doorways emergency relief.
"The Coronavirus Supplement was a lifeline for many people on JobSeeker," said the department's Lerisca Lensun. "When the supplement was reduced, 85 per cent of respondents were negatively impacted in their ability to pay for essential items."
A father of three who completed the survey said when the supplement ended he was facing eviction from his home. "I can pay rent or utilities ... but not both. Do I want to have the lights, gas and water, or do I want to keep a roof over our heads?" he said.
Other interviews revealed that those surveyed were struggling with food insecurity, difficulty in paying bills, limited spending on social activities, difficulty seeking or maintaining employment, decreased mental health and difficulty maintaining connections with family and friends, due to the supplement being cut.
"This research informed The Salvation Army's submission on the proposed $50 per fortnight increase to income support, which is now in effect," said Jennifer Kirkaldy, The Salvation Amy's General Manager for Policy and Advocacy. "We submitted that an increase of at least $250 per fortnight to the base rate of the JobSeeker payment and Youth Allowance is needed to allow people to live with frugal dignity."
The Salvation Army is already seeing the impact of the cessation of the Coronavirus Supplement, with more people accessing its services for low-cost and free food, help with bills and other poverty-related issues.
The report and summary findings can be read on Salvos Central. If you don't have access to Salvos Central, you can request copies by emailing: research@salvationarmy.org.au