'Four Million Dollar Man' hangs up his collection box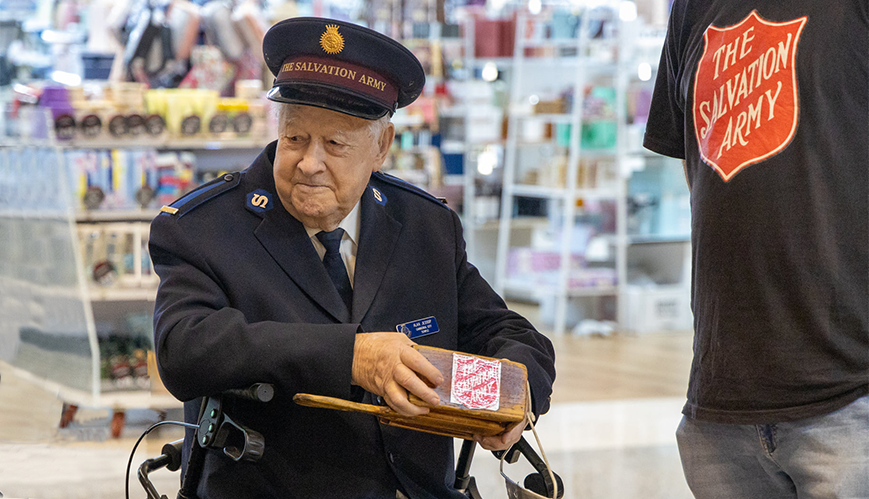 'Four Million Dollar Man' hangs up his collection box
13 May 2021
Alan Jessop began collecting for The Salvation Army at the Canberra Centre 32 years ago. Known as the 'Four Million Dollar Man' due to his fundraising efforts, this year he has retired from his post at age 90.
By Jessica Morris
Many Salvos will tell you that retirement is just a figure of speech when it comes to the Lord's work – and at 90 years of age, Alan Jessop has passed on his mantle for a well-deserved rest.
Alan Jessop with Canberra City Corps Officer Lieutenant Mitchell Stevens during the 2019 Red Shield Appeal.
"When I moved from Maitland City Corps (in NSW) to Canberra, I went to Canberra City Temple and the officer asked what I could do to contribute to the corps. I said I had a bit of experience with the street outreach, and I had plenty of time!" recalls Alan.
That was 32 years ago. After setting up his post at the Canberra Centre shopping mall one day a week, Alan quickly inherited two additional days. Over the years he became an icon in the city – the man dressed in his Salvation Army uniform with a friendly smile and a bucket for collecting donations.
And did he collect! Alan raised more than $4 million for The Salvation Army, was named the ACT Local Hero of the Year in 2011 and had his portrait painted in 2013 to commemorate Canberra's centenary. But it's the relationships he forged that keynote the end of his era of collecting.
"I have wonderful memories of all the different people. And it's also sad – so many people who have died over the years [who I met]," he said.
A lot has changed in Canberra since 1988, and Alan had a front-row seat to it all – moving his stool, and later his walker, to accommodate developments in the mall and to interact with people. He has overcome two heart attacks and manages prostate cancer, yet three days every week he would wake at 4.30am, take up his post and collect for people who needed it the most.
It's fair to say he gave up his post unwillingly – Alan loves serving and working for the Lord. But his legacy of generosity is a beacon for Salvos everywhere who are looking for a way to be Christ's hands and feet. 
"If you have that inclination [for collecting] don't hesitate," says Alan. "It's quite enjoyable as long as you have the time and the patience."
You're a legend Alan. Thank you for your tireless service and heart of gold.