Creative Salvos out in force for Red Shield Appeal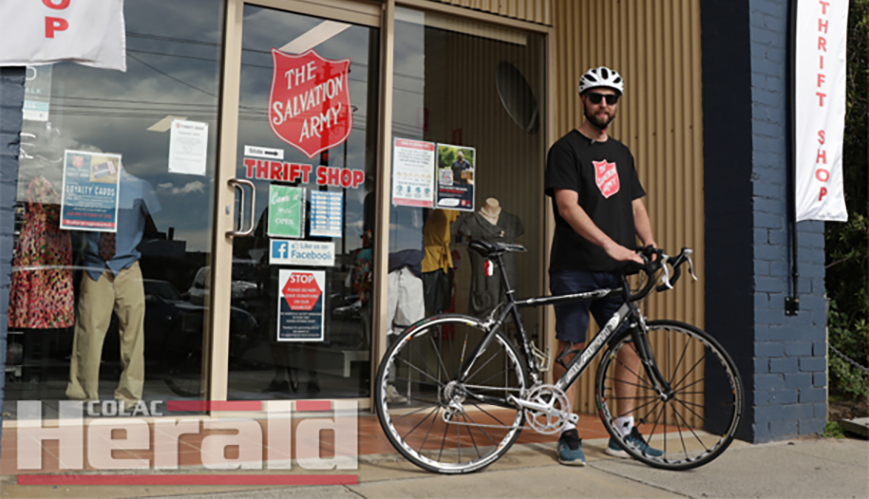 Creative Salvos out in force for Red Shield Appeal
17 May 2021
Luke Lethbridge, manager of the Colac Salvation Army Family Store, is riding 1000 kilometres in May to raise money for the Red Shield Appeal. Photo courtesy of the Colac Herald.
By Lauren Martin, Darryl Whitecross and Jessica Morris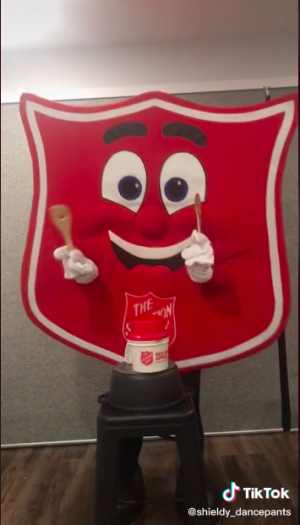 Is that a volunteer doorknocking for the Red Shield Appeal? No, that's 'Shieldy Dancepants', the quick-footed Shield raising funds for South East Tasmania Corps!
Salvos and friends across Australia are coming up with unique ways of raising money for this year's Red Shield Appeal.
Now three weeks into the appeal, corporate launches continue to be held, while corps and other expressions find additional creative ways to spread the word and leave no one in need.
Getting creative 
In Victoria, Colac Corps Family Store manager Luke Lethbridge is putting 'pedal to the metal' in his aim to raise thousands for his local Red Shield Appeal. He has committed to riding 1000 kilometres during May and has been watching his online fundraising donations grow as news spreads of his endeavour.
"I've never ridden 1000 in a month before," he said. "It has been challenging; I've had to get up very early in the mornings to get the kilometres in before work."
He says he gets to talk to many customers at the family store about the Red Shield Appeal, and they like the fact that most of the money raised stays local. "It's good to know that it goes straight back into the local community."
Across the Bass Strait, the team at South East Salvos in Tasmania is also celebrating the Red Shield Appeal, albeit in a slightly less traditional way. Last year, Corps Officers Lieutenants Craig Boyd and Jess-Frost Boyd and their team created an account on social media app TikTok, where Salvo mascot Shieldy performed dance numbers. Known as 'Shieldy_Dancepants', he is back again in 2021 and dancing for donations.
In Launceston, a group of volunteers from Tassie Facemasks have also lent a hand to the Salvos. They baked 300 Red Shield cookies, with each $3 pack sold going straight towards the Launceston Corps' Red Shield Appeal.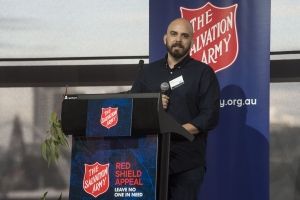 Case Worker Martin Pizarro-Cabargas tells guests how his journey through addiction has informed his work at The Salvation Army Beacon Accommodation and Homelessness Service in Perth.
The official appeal launch for Northern Tasmania also kicked off last week, with a gathering at Albert Hall in Launceston. Launceston Red Shield Appeal chair Janie Finlay was the guest speaker while long-time supporters from WAYfm radio station and The City of Launceston showed up, and the Tsing Wah Asian Grocer donned their Salvo socks.
Launch events continue
The official launch of the Red Shield Appeal in Western Australia was held on Wednesday 12 May when 390 Salvos and supporters met at Optus Stadium in Perth.
With the Red Shield resplendent above the goalposts, Martin Pizarro-Cabargas, a case worker at The Beacon Accommodation and Homelessness service in Perth, spoke to the guests about his journey from addiction and shared his heart with members of the local council, the police, businesses and sponsors.
The breakfast was topped off with music by a Salvo brass band, and guests generously raised more than $200,000 to change lives across Western Australia.
Pulteney Grammar School students and staff at the Red Shield Appeal launch in Adelaide. Students from the school regularly fundraise for the appeal. 
Year 12 students from Pulteney Grammar School were guests at the launch of the Red Shield Appeal in South Australia over lunch at the Hilton Hotel in Adelaide last week. When the students returned to school after the launch, they were asked to relate some of their thoughts – personally, as a leader in the school and as part of their house team.
One student, Erin Beard, said that the "many confronting stories" told at the launch "made me realise that homelessness can affect anyone and hence 'giving', whether it's something big or small, goes a long way. Today made me realise just how important it is to educate people on the prominence of homelessness, as 'homelessness is not a problem, homelessness is people'." 
Another student, Jessica Sallis, said thatas a house leader, her responsibility was to lead "by a good example" and "to educate those that giving is a wonderful gift to those in need and even the smallest of gratitude shown to someone who's having a bad day may make a bigger difference in their day than you think."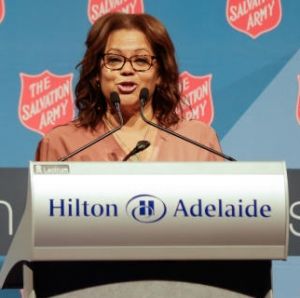 Keynote speaker Tanya Hosch at the South Australia launch of the Red Shield Appeal in Adelaide.
Alex Candy said it was "really eye-opening to hear some of the stories of people similar to myself or my parents that, due to no fault of their own, have faced hardship and needed the assistance of The Salvation Army".
Amber Lennox said that she was impressed with the quote from keynote speaker Tanya Hosch, South Australia's Australian of the Year, that "kindness in tangible ways can never be underestimated". "The small acts that don't take more than a moment can have a large impact on the person that we are helping," Amber said.
The Army's South Australia/Northern Territory Relationship Manager for Community Fundraising, Duan Kereru, said the school had been "strong supporters" of the Army for eight years, from fundraising for the Red Shield and Christmas appeals to "everything else in between".
National ad campaign
Nationwide, a Red Shield Appeal advertisement will air on major TV networks today, encouraging people to give in light of the effect COVID-19 has had on our society.
"Today, many Australians find themselves alone for the first time," says Major Brendan Nottle in the ad. "You can help them." You can watch the advertisement here.