Cuppa Tea, Digger? is hot off the press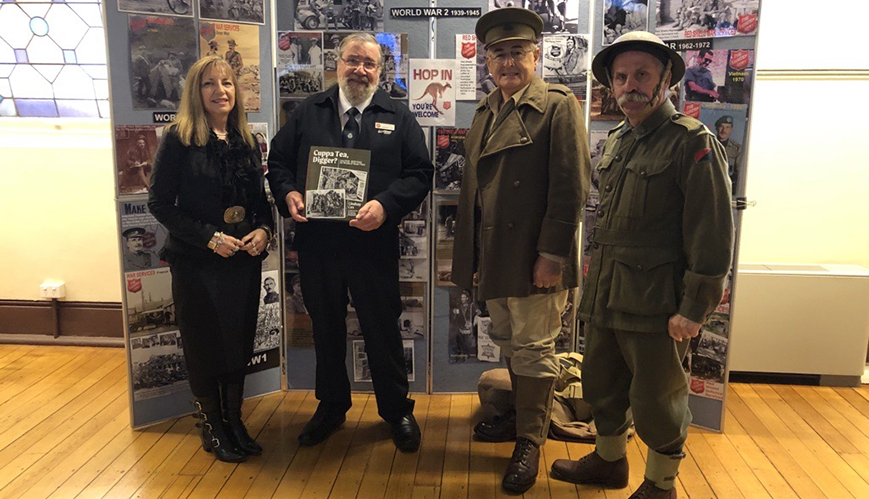 Cuppa Tea, Digger? is hot off the press
19 May 2021
The new book Cuppa Tea, Digger? looks at the service of The Salvation Army in World War Two. Pictured here, author Lindsay Cox (second from left) and his wife Helen celebrate 25 years of research at the official book launch in Melbourne alongside members of the Historical Re-enactment Society.
By Jessica Morris
Lindsay Cox's new book Cuppa Tea, Digger? is more than a hop into the history of The Salvation Army's service in World War Two.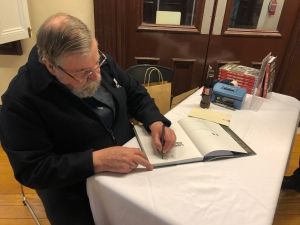 Cuppa Tea, Digger? author Lindsay Cox at the book launch signing his name to 25 years (and 90,000 words!) of hard work.
The historical account is 25 years, 20 historians and 90,000 words in the making. So, it only fitted that everyone from Red Shield Chief Commissioner Brett Gallagher to Secretary for Communications Lieut-Colonel Neil Venables was on hand to launch the book last Friday at Melbourne City Temple.
"[This book] is a record that just had to be written," shared Lieut-Colonel Laurie Robertson, who oversaw the curation of the book during his time as Editor-in-Chief.
"Thousands of military women and men and their families have been positively impacted by our Red Shield Defence Personnel. Because of cups of tea, toughly tender care, listening ears, and so much more – families have inextricably been linked with The Salvation Army."
As Museum Manager for Salvation Amy Museums in Australia, Lindsay is well versed in World War Two history. But the origins of the book are even more personal for him. 
"I recalled having a cup of tepid orange cordial in hot, dusty scrub at the Puckapunyal military camp back in 1962. I was a young soldier in the Citizens Military Force attending an annual training camp; the provider of the drink was a Salvation Army officer," Lindsay said.
"Thirty-three years later, as I read the stories collected by the Red Shield History Project in commemorating the end of World War Two, I thought that if a drink given to a part-time soldier not too far removed from the comforts of home during peace-time could mean so much, how much more meaningful was the cuppa tea given to a soldier deprived of all comforts and on basic sustenance, living under combat conditions surrounded by death.
"I was compelled to write the story of the Red Shield War Services and their ubiquitous 'cuppa'. It truly exemplified 'heart to God and hand to man.'"
The proof of the Salvos legacy during World War Two and its ongoing impact on service personnel is evident from page one of Cuppa Tea, Digger? Sir Peter Cosgrove, former Governor-General of Australia and a retired senior Australian Army officer, gives a foreword, and 300 photos reveal more about the Salvos who gave diggers hope during the war. This legacy continues as every RSL branch in the country will receive a copy of the book.
"Cuppa Tea, Digger? reaches beyond The Salvation Army to the community," said Laurie. "It bridges the gap that we often find difficult to successfully navigate. The one where our faith in Jesus Christ is seen as a positive as we put love into practical action in the massively dangerous arena of war." 
Cuppa Tea, Digger? is available at Sydney Salvationist Supplies (1800 634 209) or thetrade.salvos.org.au, Melbourne Salvation Army Supplies (1800 100 018) or commerce.salvationarmy.org.au and The Salvation Army museum.