You are here:
Home › News › 2021 › 05 › 26 › Clarence City Partnership With Hobart Airport Takes Off
Clarence City partnership with Hobart Airport takes off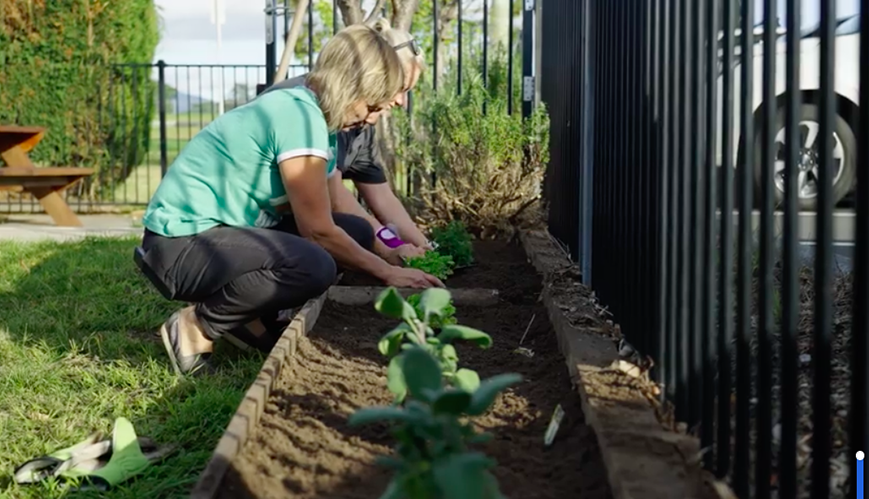 Clarence City partnership with Hobart Airport takes off
26 May 2021
Clarence City Corps has grown a partnership with the Hobart Airport Corporate and Social Responsibility Committee to benefit the community. In their most recent collaboration, they constructed six eco-friendly planter boxes for a community garden. Credit: Hobart Airport
By Jessica Morris
Many flights may have been grounded over the past year, but that hasn't stopped Clarence City Corps from growing an exciting partnership with Hobart Airport.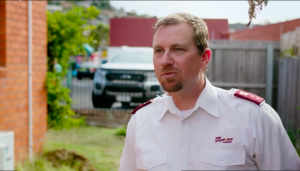 Clarence City Corps Officer Captain Joel Clifford stands at the new community garden created in partnership with Hobart Airport. Credit: Hobart Airport.
Over the past 18 months, the Hobart Airport Corporate and Social Responsibility Committee has worked side by side with multiple mission expressions of Clarence City Corps to create a community garden and fund events to reconnect families who are separated in the region.
"In July last year, we met with the airport committee and I gave them a list of opportunities they could be involved in with our mission expressions," said Corps Officer Captain Joel Clifford. "They picked some options off the list and have engaged in a whole bunch of things. It means we are living, loving and fighting with these people in a spirit of collaboration."
Earlier this year, the partnership bloomed when the airport funded and helped build six garden beds, providing Doorway clients with fresh food year-round. Using 80 per cent recycled products, the initiative has been a game-changer for Clarence City Corps, which has since added another garden bed.
"The community garden was something we had been discussing between the corps and Doorways for a while," said Joel. "A lot of the products in our food parcels are tinned, and there's not a lot of fresh or overly nutritious produce in it. We identified this as a priority."
Thanks to the wisdom and innovation of the Hobart Airport Caring is Our Nature Program, Doorway clients now have access to freshly grown produce all year. From leafy greens to herbs, the garden beds are low maintenance, and the contents are 'companion plants', actively supporting the entire crop of produce and being more ecologically sustainable.
The community garden is just one of the fruits of this partnership.
Last year, the airport funded a Christmas party for The Salvation Army Doorways to Parenting program, which engages families in the child-protection system or at risk of entering it.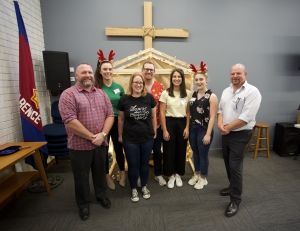 Volunteers from Hobart Airport help out at the Clarence City Salvos Doorways to Parenting Christmas party last year.
The Salvos run a weekly parental contact playgroup, providing parents with supervised access to their pre-school children living in foster or kinship care. This program is vital for these families; some only see each other once a week.
The majority of participants would not have regular contact if not for the Doorways to Parenting program providing advocacy with Child Safety Services. The Christmas party also provided a very special and rare occasion for older siblings to reconnect with younger siblings, including babies living in Out of Home Care, and for family members to come together in a wonderful celebration of the family unit.
"One of the ideas we pitched was that we'd love to provide space for families to be together during the holidays – and the airport funded us to run the entire Christmas party, including food. Santa was there, and every person got a Christmas present. It was an awesome day and meant so much," said Joel.
The partnership between the Salvos and Hobart Airport is still ripe with opportunity, and the Cliffords are excited to see what innovation the Holy Spirit lands next. How's that for transforming one life – or community – at a time, with the love of Jesus?
"We are bringing transformation," said Joel. "Families are coming together, people are eating veggies. And it's all done out of the love of Jesus."