Call for unity in prayer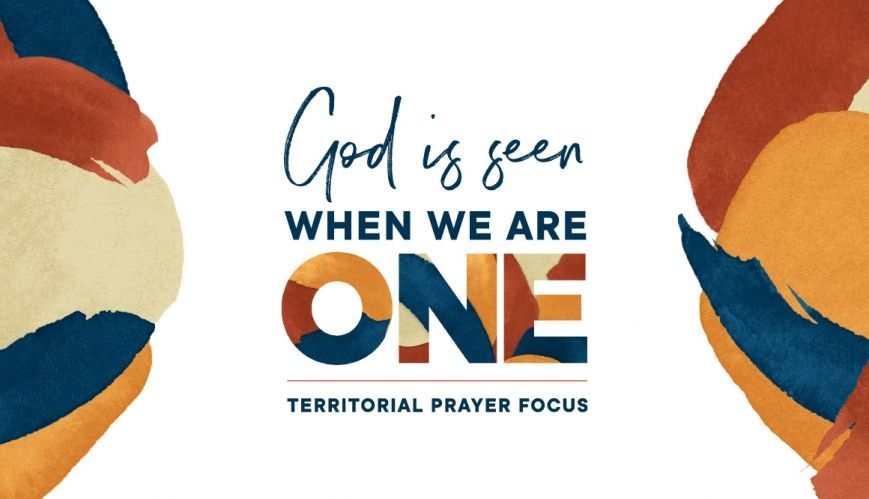 Call for unity in prayer
2 June 2021
'God is seen when we are One' is the theme for the 2021 Salvation Army prayer initiative.
By Lauren Martin
The Salvation Army's national prayer initiative for 2021 is a call for Salvos across Australia to come together as one in prayer and unity.
The prayer initiative will run from 22 August to 12 September and follows on from last year's initiative, which had the theme of remaining in Christ: "Yes, I am the vine; you are the branches. Those who remain in me, and I in them, will produce much fruit. For apart from me you can do nothing" (John 15:5).
This year's key Bible verse is, "God is seen when we are one", taken from John 17:23.
Majors Barry and Rosslyn Casey, Territorial Secretaries for Spiritual Life Development, said the theme was determined by Territorial Leaders Commissioners Janine and Robert Donaldson. Feedback from those who took part in last year's initiative strongly confirmed the direction. 
"There was quite a huge buy-in actually, in terms of the numbers of people that engaged in it," said Rosslyn. Some of the key messages God gave through last year's prayer initiative were that The Salvation Army Australia Territory needs to:
Be kingdom focused.
Be obedient, surrendering with courage and boldness to the voice of God and the promptings of the Holy Spirit no matter what.
Be outward focused, with a strong sense of expectation that God is doing a new thing.
"The follow-on from that is that unless we are united together, we are not going to see that happening," said Barry. "We won't have a kingdom focus unless we stand together as God's people. Then people will see God in us, and that's when the fruit will grow."
People from all areas of The Salvation Army – corps, mission expressions, mission enterprises and headquarters – are being invited to attend nightly online prayer meetings, which will be led by Salvos from different areas of the movement.
People are also encouraged to start small prayer groups or come together in prayer in their existing small groups, with a campaign prayer diary being produced and resources available on different ways to pray.
"The 'God is seen when we are one' scripture is Jesus' pastoral prayer for his disciples in the years to come," said Barry. "It's a call for us now as an Army to be united like never before, and if we're united, then this prayer says that then people will see God in us. So, it's really a call to the Army to say, 'Let's work really hard to unite together, no matter what our differences, let's work as one so that we can really reflect the love of God and people will see him in us."