EVERYDAY SALVO: The many hats of Mavis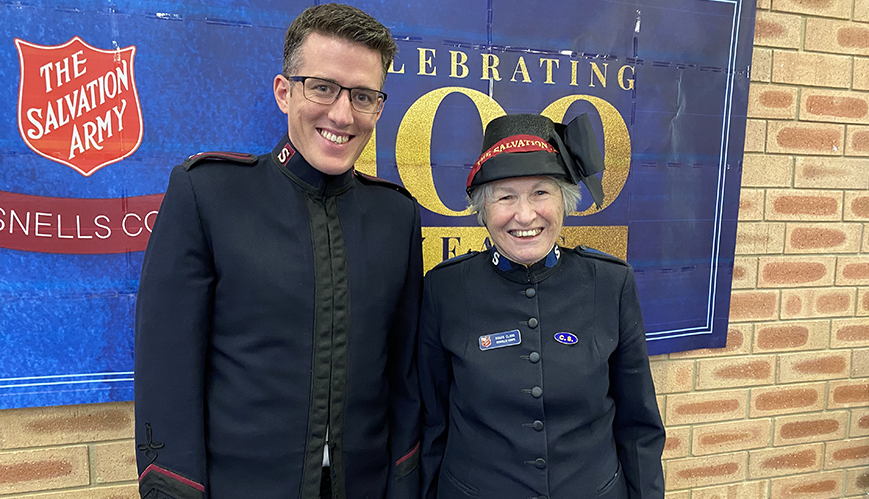 EVERYDAY SALVO: The many hats of Mavis
6 June 2021
In her 34 years at Gosnells Corps, soldier Mavis Clark has held many roles. She is pictured above with Gosnells Corps Officer Captain Ben Hollis during the corps centenary celebrations earlier this year – so you can add 'event planner' to her list of roles! Photo by Lisa Bernard.
By Jessica Morris
Mavis Clark wears many hats – so it seems appropriate that her Salvation Army bonnet represents them all!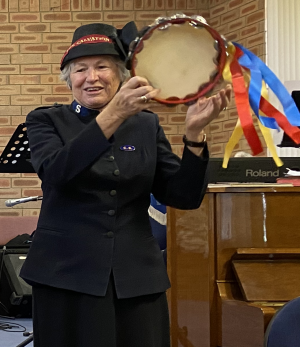 Did we add 'timbrel player' to Mavis's list of activities she's involved in at Gosnells Corps? Photo: Lisa Bernard.
A member of Gosnells Corps for 34 years, she still considers herself the 'new kid on the block' at the historic corps in Perth's south-east. And that's what makes her love of the Salvos so remarkable – because not only is she in the job of curating 100 years' worth of memories as Corps Secretary, but she is responsible for chronicling new ones.
That takes a lot of work – especially when you're in the habit of living out the Salvos mission to 'live, love and fight' for others in Jesus' name as well.
"To me, I'm getting older, so I do loads of things. Like, I've been on mission trips to Olympic Games. I was a teacher, and I used to run the Sunday School and all this," says Mavis.
Sure, a mission trip to the 2012 London Olympic Games only a few years ago with an Australian mission team is nothing to sniff at. But when it comes to Mavis' ministry, it's just the tip of the iceberg. She grew up in The Salvation Army but attended a Baptist Church as an adult. When her husband was asked to become the zone chairman for their local Red Shield committee more than three decades ago, her path back to the Salvos was set.
"I started to link up [with the Salvation Army] when we came to Christmas services. And when I had my kids, I started bringing them to Sunday School," she recalls. "I became a soldier in 1984 and was enrolled just after I had my second child. She vomited down my brand-new uniform right before the enrolment ceremony!" Mavis laughs.
In addition to her role as Corps Secretary, Mavis helps keep an eye on the many programs at Gosnells. And, in her spare time, she also holds the roles of Administrator of Volunteers, General Support Assistant, and Assistant Team Leader for the Kids' Ministry.
It sounds like a lot, but for Mavis, it's all about using what she has to serve God's Kingdom alongside her community.
"Everyone cares about each other at Gosnells," says Mavis. "Our people are wonderful."