Serving up Inclusion in Kalgoorlie-Boulder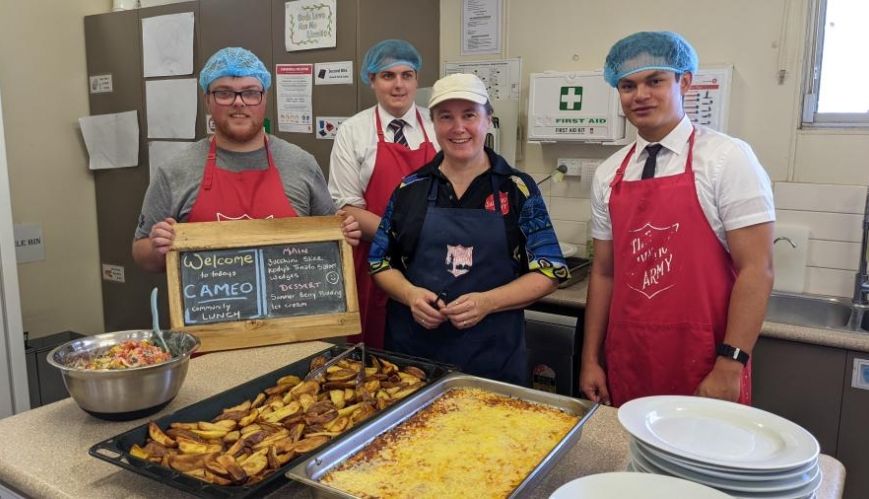 Serving up Inclusion in Kalgoorlie-Boulder
8 June 2021
CAMEO coordinator Robin (second from right) and three volunteers preparing delicious meals for the weekly CAMEO lunches.
By Jessica Morris
In the mining town of Kalgoorlie-Boulder, the disparity between locals doing it tough and the wealthy is stark – but The Salvation Army has found a way to engage people often left behind.
Their weekly 'CAMEO' meal – an acronym for 'Come And Meet Each Other' – has been bringing people together for over a decade. With the inclusion of differently-abled locals and their carers, volunteer coordinator Robin saw the potential for CAMEO to become something even bigger – a place for people to give back by volunteering in the kitchen and on the floor.
So, when Lieutenants Bethany and BJ Baillie arrived in October as corps officers, they took the baton and ran with it.
"We started with one man, Todd*, on the autism spectrum. He started volunteering in the kitchen when he was 18, and his parents were desperate to find something for him to do now that he had finished school. He was high-functioning but struggling to find a job," explains Bethany.
"He volunteered with us for nearly a year and then got a job, which meant he couldn't come to CAMEO anymore. But, somehow, we bumped into him on the street at the beginning of this year. Because of COVID, he had lost his job – so he's back again and loving it. He cooks whatever he can. He's a great presence."
Todd isn't the only person who acts as a sous chef in the kitchen. Another 19-year-old, John*, began volunteering this year – and it's the first time his mother has felt comfortable leaving her non-verbal son to work independently with the team.
"We love having them in the kitchen. The purpose is that we get people connected in, and to feel like they can give back to something they have enjoyed being a part of," said Bethany.
The weekly meal is a staple for locals who have few other places in town to socialise, but the Salvos also see people passing through stop by for a bite to eat. The lands around Kalgoorlie and the goldfields have a large Indigenous population, and CAMEO is an ideal place to stop when people are travelling to significant events and funerals. Some other people who attend are referred from the local Salvos Doorways expression, and there has also been some crossover between participants and people attending Sunday services.
"One thing we are really focusing on this year is that it's not all about Sunday," Bethany said. "We see our Tuesday meals as another church service. Each week we share a short and encouraging message that is linked in to Sunday's theme. We try to be a point of referral – to keep our ears to the ground and build up that connection base for people."
As the community bands together and celebrates everyone's skills and abilities, there's no telling what God could do.
"I hope we can encourage all people to see what they do have to offer. [Imagine] how much the town could change if we were all encouraged to be who we really were – to bring our gifts to the table," said Bethany.
*Pseudonyms given for privacy