You are here:
Home › News › 2021 › 06 › 09 › Project 614 Delivering Food And Hope In Latest Lockdown
Project 614 delivering food - and hope - in latest lockdown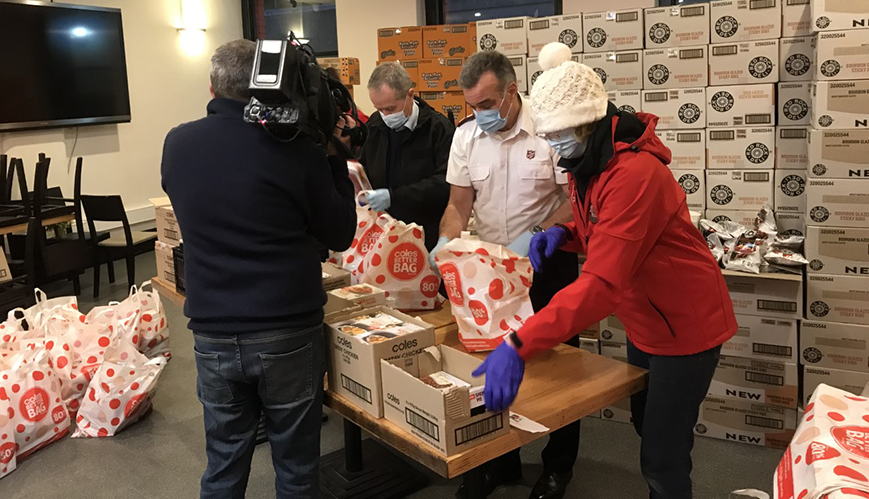 Project 614 delivering food - and hope - in latest lockdown
9 June 2021
It's all hands on deck at Melbourne Project 614 to pack bags for their food delivery service, thanks to an ongoing partnership with Coles. The venture has been met with national media attention. Here, a television cameraman films the Honourable Bill Shorten MP packing bags with Majors Brendan and Sandra Nottle, Corps Officers at Project 614.
By Jessica Morris
Melbourne Project 614 Corps is used to feeding people doing it tough through the Magpie Nest café and takeaway window. But with the city in its fourth COVID-19 lockdown, they are now going the extra mile – literally – with a food-delivery service.
Staff at Project 614 have been working non-stop, delivering food parcels to more than 320 additional people during Melbourne's fourth lockdown.
The delivery service comes as international students and hospitality workers once again struggle to put food on the table during the latest restrictions.
"We are being contacted by an increasing number of 'new people', and when we dig deeper, we are confirming they're predominantly from the hospitality sector, including international students and other people in casual and precarious employment," said Major Brendan Nottle, Corps Officer at Project 614. "This situation is causing major mental health issues with many of the people we are talking with and helping."
Project 614 staff have packed and delivered food parcels to more than 320 "additional people" so far. Many are aware of the Salvos' work in the CBD due to their hospitality work and are now in need of their support.
"We've delivered food across the city and as far away as Cranbourne and Frankston. We say, 'Instead of coming into the city, stay in, and we will take it to you'," said Brendan.
The food parcels fill a pivotal gap for many people who don't know when they will regain a source of income.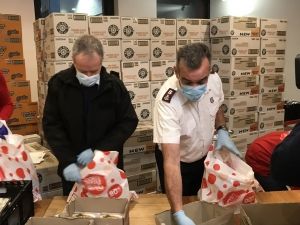 The Honourable Bill Shorten and Major Brendan Nottle hard at work, preparing food parcels for casual workers.
"People are quite moved that we are delivering food to them. They were in a stable situation, and suddenly their income stopped, but their bills didn't," said Brendan, adding that many have said the food parcels had given them hope. "We didn't want people to feel like they were abandoned. We turned up, and they realised they weren't forgotten."
Project 614 experienced a surge in demand for food delivery after Federal MP for Melbourne Adam Bandt and Victoria Trades Hall Council Secretary Luke Hilakari shared the crucial service online. The effort has also received national television coverage after the Honourable Bill Shorten MP arrived to help Brendan and the 614 team pack some hampers.
"This is a reminder that The Salvation Army is always at its best when we are flexible and nimble. It means we are able to give a meaningful response to issues that arise," said Brendan. 
The delivery service has been made possible by Project 614's ongoing partnership with Coles, while Budget donated the use of a freezer van.