You are here:
Home › News › 2021 › 06 › 11 › In Brief Whats Happening Around The Australia Territory
IN BRIEF: Snapshots from around the territory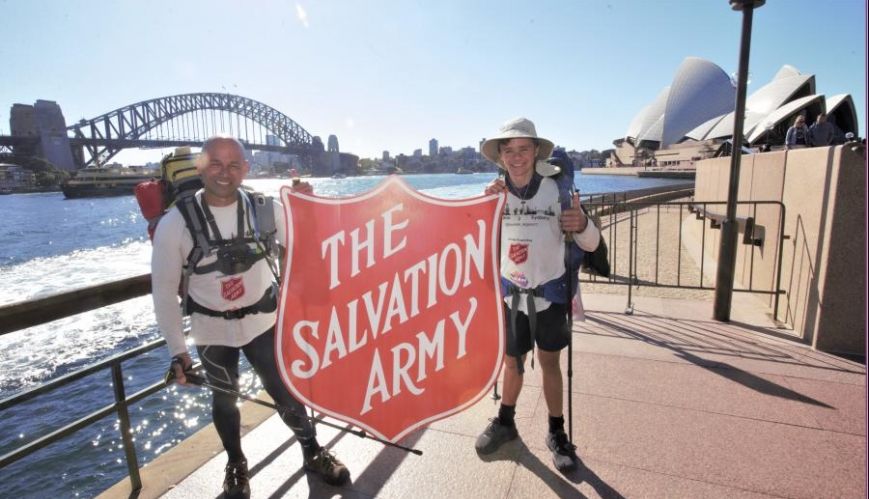 IN BRIEF: Snapshots from around the territory
11 June 2021
To a backdrop of Australia's most famous icons, the Harbour Bridge and Opera House in Sydney, Tim Koloi (left) and Will Neisler completed a 1000km walk from Brisbane to the NSW capital and raised money for The Salvation Army.
Compiled by Jessica Morris, Faye Michelson and Darryl Whitecross
Trekkers hit Sydney with a 'boom' 
A group of Salvos from Sydney Congress Hall greeted Will and Tim, including Captain Carolyn O'Brien (left) and Linda Wells.
"Boom" was the word young Will Neisler used to describe the final step he and his walking partner Tim Koloi took to end their 1000km, 47-day trek from Brisbane to Sydney.
With the tread well worn from their walking shoes, 15-year-old Will and 46-year-old family friend, Tim, marched confidently up the 40-odd steps to stand proudly in front of Australia's iconic Sydney Opera House. Family and friends joined them for the last 3km as they walked from Bradfield Park at the north end of the Sydney Harbour Bridge to the Opera House. Tim said the pair had "sore feet every afternoon" during the journey but had "recovered each morning".
The pair managed to raise more than $7200 on their journey, but some online donations are still to be factored in. "This was an awesome adventure," Tim said. "I am so proud of Will. So happy to have raised a bit for the Salvos and to have met so many beautiful people [along the way]."
---
Cheque this out!
Major Peter Sutcliffe and Rotary's David Thomas with the big cheque.
A big novelty cheque is always big news, so when a 'big shot' from the Rotary Club of Rockhampton Sunrise – its president David Thomas – brought one along to the big brekkie launch of the Red Shield Appeal, it was a big moment.
When another 'bigwig' in the town – the Army's Area Officer for Central Queensland, Major Peter Sutcliffe – saw it, a big smile spread across his face, and he couldn't wait to get his big mitts on it. Of course, Peter had to make a big deal of the 'Hope' socks he was wearing (pairs were given away at the launch). A big shout-out to the club for its $1000 donation.
---
Bikers blanket Beechworth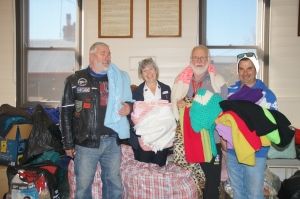 Blanket run organiser Trevor Botting, Captain Pauline Middleton, Jim Kenney and Kurt Dissengna sort through the mammoth haul of blankets donated by more than 60 motorcyclists. Photo courtesy O&M Advertiser.
Beechworth Corps received a huge number of donations from last month's annual blanket and coat run.
Trevor Botting, who has organised the run for six years, said as well as items brought by more than 60 motorcyclists from North East Victoria and Phillip Island, four ute-loads of blankets and coats were also delivered.
These included many knitted over the past year by Pamela Alison of Wangaratta. Beechworth Corps Officer Captain Pauline Middleton said, "We're in a very cold snap right now, so we have been able to share these much-needed blankets and coats as well as fill up our stores for winter."
---
Funeral service expands

Salvos Funerals has expanded its services to Victoria six years after it was founded in NSW. Its service is to be available in Melbourne and the Mornington Peninsula, with profits going to the frontline mission work of The Salvation Army. "By choosing Salvos Funerals, you will not only receive a service full of compassion, but you will also contribute to the incredible work of The Salvation Army's 2000 services across Australia, helping people in need every day," said Marc Allison, Salvos Funerals Sector Advisor.
---
Connecting families 
Children participate in an activity at Menai during Family Connect Day.
The first NSW/ACT divisional Family Connect Day for 2021 was held on 1 May.
Children's Secretary Susanne Geracia said more than 70 people spent the afternoon at Symbio Wildlife Park. Participants searched through the park for clues to lead them to the Salvos mascot 'Shieldy'.
"Then we headed to Shire Salvos in Menai and played in their gym, danced the night away and had a fantastic dinner," Susanne said. "Divisional Commander Miriam Gluyas led us in a devotional about the importance of family and how we are all connected as God's family. What a wonderful day to connect with others." 
---
Path to hope


The Perth Rotary Club held its Path of Hope Foundation Gala on 22 May at the Crown Towers in Perth. The Path of Hope Foundation exists to break the intergenerational cycle of family and domestic violence. All funds raised went towards The Salvation Army's work in the area of family and domestic violence.  
---
Turning the page 
The book, 'Cooper helps Jack make a plan', will be an excellent resource for friends and family impacted by someone close affected by drugs.
School nurses, teachers, Alcohol and Other Drugs (AOD) workers and other family support specialists in South East Tasmania have been given a free education resource created by The Salvation Army Tasmania Communities for Children and Drug Education network Inc.
The children's book Cooper helps Jack make a plan was written by Mary Koolhof and illustrated by Mich Oliver, and was seed-funded by The Australian Drug Foundation.
It tells a story that navigates how to support friends and family affected by methamphetamine (Ice) use. Information and downloadable copies are available here.