You are here:
Home › News › 2021 › 06 › 15 › One For The Archives As Historian Makes History Himself
One for the archives as historian makes history himself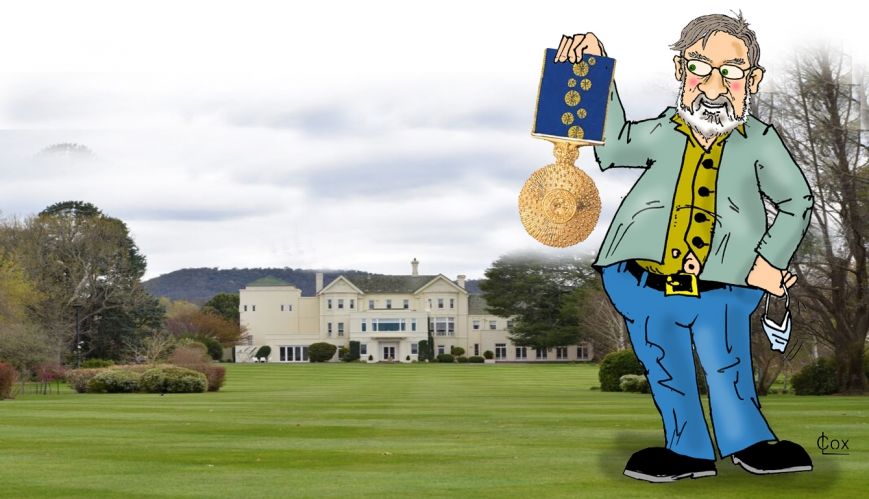 One for the archives as historian makes history himself
15 June 2021
OAMmmmmmm .... Salvation Army Museum Manager Lindsay Cox's self-portrait cartoon with his Order of Australia Medal on the grounds of Government House in Canberra where the Governor-General lives. 
By Darryl Whitecross
The Salvation Army's head of history in Australia yesterday made history himself by being awarded an Order of Australia Medal (OAM) in the Queen's Birthday Honours list.
The official citation stated that Mr Lindsay Charles Cox had received his OAM "for service to community history".
While being honoured to have been awarded the medal, Lindsay said it was not about him but more about highlighting and celebrating the preservation of Army history and collecting memorabilia and other items of historical significance.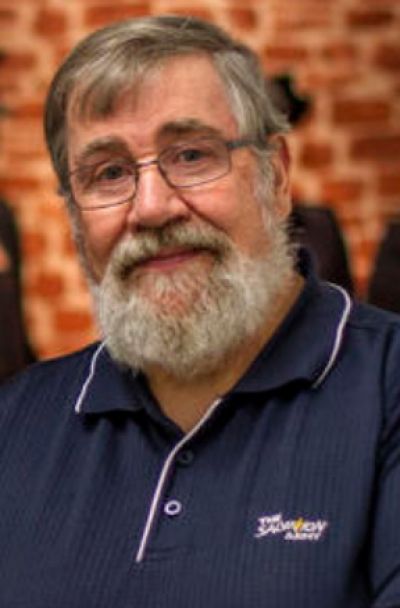 Lindsay Cox OAM.
Lindsay is The Salvation Army Museum Manager, based in Melbourne. It is a role he loves, spending around 10 hours in the office most days. He's probably best known for being an archivist for about 25 years at the former Australia Southern Territory Heritage Centre in Melbourne. He is married to Dr Helen Cox, and they have three sons.
Australia Territory leaders Commissioners Robert and Janine Donaldson joined Salvationists from across the country in congratulating Lindsay.
"It is always a blessing when the community recognises the often unheralded work that people such as Lindsay do for the Kingdom of God," Robert said. "Our history needs to be celebrated as having given us the foundation to the organisation we are today and giving us the building blocks to the Army we are becoming in continuing to better care for people, create faith pathways, build healthy communities and work for justice with the love of Jesus."
Lindsay said he was contacted last month and asked whether he would accept the award. He said he would be pleased to receive it, but he thought his friends were playing a prank when he did not hear back for a while. "When I didn't hear anything, I thought: "Hello, I've got some very clever friends out there. I think I've been set up."
As for who nominated him for the medal, Dr Helen is keeping silent on that person's identity and the two seconders. "She said it's up to them if they want me to know," Lindsay said.
He does not yet have the medal. It is to be presented to him at a special ceremony and afternoon tea at Government House in Melbourne later in the year.
Lindsay is the author of four books: The Galloping Guns of Rupertswood and Werribee Park – A History of the Victorian Horse Artillery; Brave and True: From Blue to Khaki – the Band of the 2/22nd Battalion; Cavalry Uniforms of the Australian Colonies; and Cuppa Tea Digger? – Salvos Serving in World War Two, which has just hit the bookshelves. He has also published three booklets of his cartoons: Fire a Folly; Fire another Folly; and Banned for Life – a humorous look at Salvation Army bands with Gordon Main's witty poetry. He has been the illustrator for about a dozen more books and is a prolific journal writer.
Lindsay has been part of The Salvation Army since he was 15 and attends Moreland City Corps in Melbourne's north.
Before his role at the museum, he worked as a technical officer for the Postmaster-General's Department [later known as Telecom] for 37 years and served in the Army Reserve for six years. He dreamt of becoming a full-time cartoonist but has continued to draw, although his career took a different path.
"I like cartooning, and it's something I've always done, and when something happens, I do a quick cartoon and put it up on the noticeboard at work," Lindsay said.
Despite his love of brass band music – he's a cornet player and a former left-handed trombonist – he has a fondness for traditional jazz. 
Since the OAM citation was made public, Lindsay said phone calls, emails and Facebook comments had not stopped, with people wanting to congratulate him and find out what he thought of the gong.
Lindsay said most people say they never expect to be recognised in such a way but was honoured and grateful to be a recipient of the OAM: "I have been moved by the fact that someone thought enough of me to actually propose [my nomination]," he said.
"I must enjoy these few moments of reflected glory before getting back to being my normal self."