Salvos continue to help in storm-ravaged areas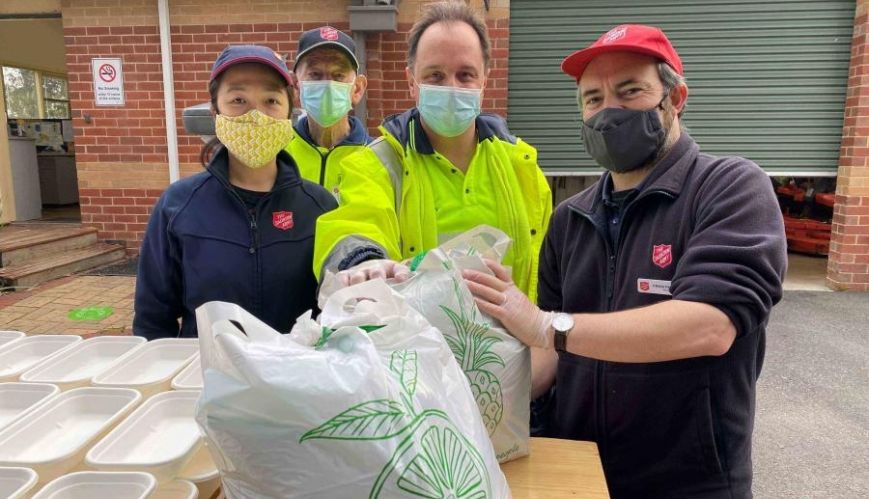 Salvos continue to help in storm-ravaged areas
16 June 2021
(From left) Delacombe Corps Officer Ellen Farrell, John Donaldson, Assistant State Coordinator Emergency Services Adam Clark and Corps Officer Craig Farrell organise care packages.
By Faye Michelson
The Salvation Army Emergency Services (SAES) set up its catering operations at Lillydale Lake in Melbourne's outer-east on Tuesday to assist emergency services workers and residents impacted by last week's destructive storms. More than 17,000 homes in the Yarra Ranges are still without power.
With two huge SAES trucks set up in the carpark, SAES personnel, volunteers and workers from the Shire of Yarra Ranges swung into action. Assistant State Coordinator Emergency Services Adam Clark said they had provided 500 meals during each sitting that day and expected this to increase in the coming days.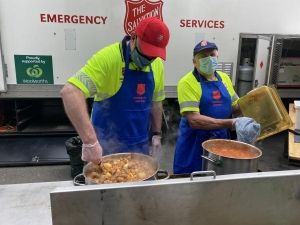 Stewart Orchard, from Ringwood Corps, and Wilf Smith, from Greensborough Corps, prepare evening meals for hundreds of people in need.
The hot meals prepared by the SAES are placed in insulated carriers, then delivered to affected areas by council drivers.
"As well as meals, we're providing financial assistance through council referrals, material aid and care packs," Adam said. "There's a big need here in the Yarra Ranges. We expect to be here at least until the weekend."
The SAES truck from Ballarat has been deployed to Lillydale Lake, with people from corps around Melbourne and Ballarat assisting the relief effort.
The Salvation Army is continuing to provide refreshments and financial support through council referrals at the Rowville centre. In Traralgon, financial assistance and material aid is being provided through council referrals.