The power of human connection in our lives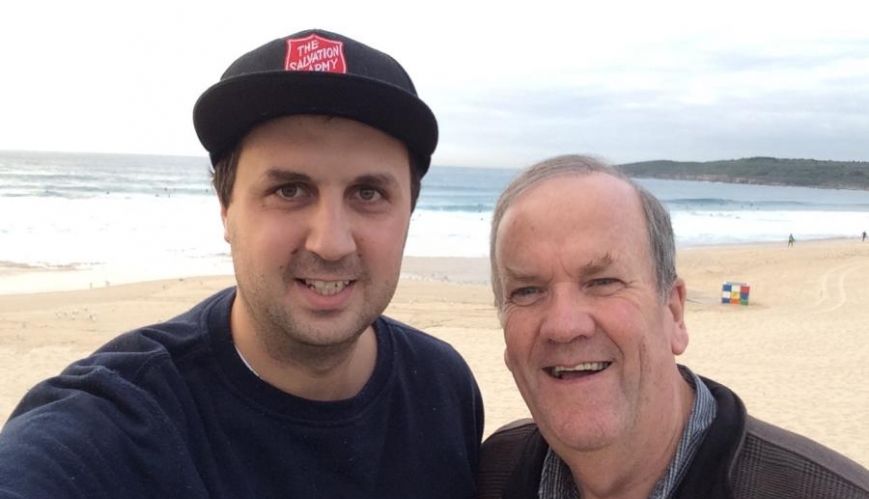 The power of human connection in our lives
17 June 2021
Matt Gluyas (left) and his mentor, James Condon.
Interview by Simone Worthing
More than 10 years ago, Matt Gluyas, then a young Salvos leader, asked James Condon, a senior Salvos officer at the time (later Commissioner), to be his mentor. The relationship continues today. Matt talks about mentoring, the impact it has had on his life and its role in the lives of young people today.
When did your mentoring relationship start, and why?
More than a decade ago, I was a young leader in the Salvos, and I was looking at people around me and in other churches to find other leaders that I would like in my own leadership journey. I really wanted to learn from others and had several mentors.
I saw grace and humility in James, in the way he led his life, in his leadership and in the way he pastored. He was passionate about Jesus, and I saw Jesus in his life.
It seemed a bit audacious asking James, a senior leader, to mentor me; however, I asked, and he agreed. We connected regularly and talked through many things – struggles, leadership, relationships, marriage, our walk with Jesus.
At first, our catchups were regular. We lived close geographically and could go for walks, a coffee, or work together locally in church ministry. Over the years, that has changed as we have both moved to different states. Even with distance, James will still connect each month to check in on me and see how I'm going, so the relationship continues.
What were some of the impacts the mentoring had on you?
Hearing some of James' leadership journey showed me that all leaders struggle with similar issues. They may look different, but we all face them, and none of us is perfect.
James also challenged me in some areas – my prayer life and as a husband and father. He showed me that my personal relationship with Jesus trumps everything. I have implemented much of what I learned from him.
A mentor like James also gave me a safe space to talk. Leadership can be lonely. I knew I could be myself with James and unpack what was going on in my life in a healthy way.
Were there some positive outcomes from the mentoring that you weren't expecting?
An unexpected by-product was the friendship that resulted. There is an age difference between us, so it doesn't necessarily make sense to many, but the mentoring became a healthy friendship. It wasn't awkward, forced or a power play. It evolved into learning more about Jesus and life together.
In the first Salvos church my wife and I pastored, James became a champion for us. He wanted to see us flourish and succeed; he would come to church services, collect at local shopping centres for the Salvos Red Shield Appeal for us, and help in the church.
He was a support. When our son was born and my family had time off, James and his wife came down and ran the church for us, so we didn't have to worry about anything.
Why do you think mentoring is particularly important for young people?
It brings a different perspective, a different experience in life, to show us what we don't see. It's healthy to gather different voices and opinions because none of us has all the answers. Mentoring helps us see life through a different lens.
Jesus was very much into this. He had his 12 disciples, but three (Peter, James and John) seemed closer and perhaps he would've been more real with them.
We all need people to be close to and with whom we can show our real selves 'warts and all'. It's critical.
Is mentoring important for men?
We are all craving deep connection – COVID-19 taught us that as well – and often, with men, it can be harder to share feelings and the realities of life. Guys need that. It's critical for their mental health.
I now mentor others. A couple of the guys I mentor have become mates, and I intentionally check in with them to see how they're going. It's very much a part of my life, my ministry, my discipleship.
Sometimes you have to chase being mentored – it doesn't just fall into your lap. If someone says no, ask someone else. It's key, and you will not regret it.