Cairns a corps in missional harmony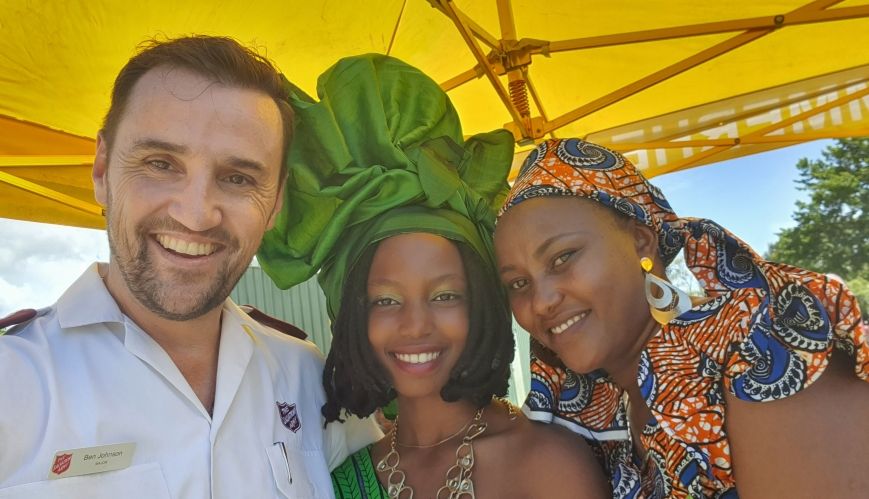 Cairns a corps in missional harmony
23 June 2021
Cairns Corps Officer Major Ben Johnson with Vestine Uwera and Esther at Harmony Day celebrations earlier this year.
By Darryl Whitecross
Helping refugees on their faith journey and integrating them into the community through several initiatives is a growing ministry for the Cairns Corps in Far North Queensland.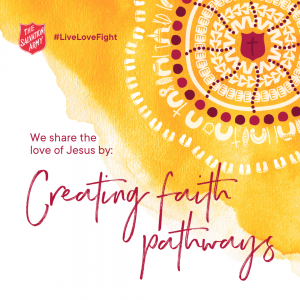 Corps Officer Major Ben Johnson said about 100 people with a refugee background regularly attended either the English-language or Swahili/Kinyarwanda-language services on Sunday mornings, a Nepali service on Saturday mornings or the youth service on Friday nights.
Ben said several children had been enrolled as junior soldiers, and 24 adults had become adherents in the past six months. "We also have five people attending 'Exploring Soldiership' sessions," he added.
Simon Gazmer, a Bhutanese refugee who has been in Australia for about 10 years, has been employed by the corps as a part-time inter-cultural ministry worker and leads the Nepali congregation.
Ben said training and employing culturally diverse leaders was essential to the growth of corps ministries.
The corps also runs a Just Brass music program for young people. The group was able to perform at the Cairns launch of this year's Red Shield Appeal.
Ben said about 20 children were part of that program, and many of them were attending Kid Zone (Sunday school/kids club) and doing preparation classes to become junior soldiers. 
The corps community integration programs include a 'Drive-A-Mentor', which is helping refugees (and others) get their driver's licence, which assists them in getting into the job market. This has been running for about eight months.
"We have subsidised accredited lessons and now have a small Holden Barina for volunteers and staff to help them get their hours up. Most of those who have accessed this program so far have been from the Congolese and Rwandan communities," Ben said. 
Some of the youth were also being sponsored to play in the corps basketball teams, which are entered in a competition in the city. "All interaction is helpful in developing their English-speaking skills," Ben said. 
He said the corps ministry among refugees grew out of having hosted a series of 'welcome dinners' in partnership with the Catholic Church's Centrecare, the main refugee settlement service in Cairns.
"The welcome dinners started in 2018 through conversations with Centrecare around gaps in service provision. The [Cairns] corps building has become a gathering space for many cultural groups and is really seen as being at the centre of the community," Ben said. 
The Federal Government has identified Cairns as a regional centre for the settlement of refugees. Ben said it was part of a government strategy to "steer people away from major centres".
Ben was part of a 60-minute, live-streamed panel discussion coordinated by the Army's Diversity and Inclusion stream during Refugee Week last week.
Along with Ben, the panel included other Salvationists who have been involved in ministry among refugees and asylum seekers and those who have lived life in those areas.
The panel also discussed how faith pathways could and have been created for people from culturally diverse backgrounds.