You are here:
Home › News › 2021 › 07 › 09 › Army Teams Respond As Hurricane Elsa Hits Caribbean Islands
Army teams respond as Hurricane Elsa hits Caribbean islands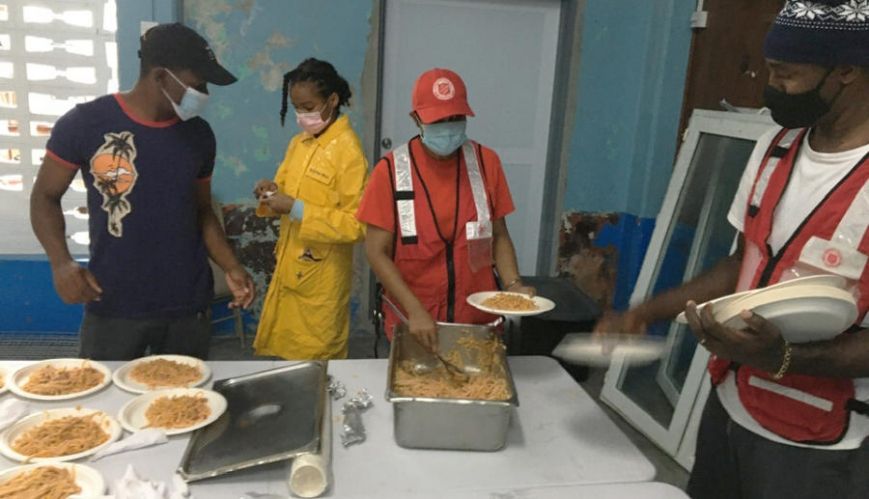 Army teams respond as Hurricane Elsa hits Caribbean islands
9 July 2021
Lieutenant Luke Lyons (left) junior soldier Serena Mitchell, Major Sandra Mitchell and Castries Corps' Emran Ornaville serving hot meals to victims of Hurricane Elsa who sought refuge in a Castries City Council shelter.
The Salvation Army's emergency service teams are working on getting food and clothing to those most affected by Hurricane Elsa, the first of the 2021 Atlantic hurricane season, which struck the eastern Caribbean islands of St Lucia and Barbados last weekend.
In St Lucia, Castries Corps became a temporary emergency shelter.
Major Derrick Mitchell, the officer coordinating the response in Castries, said his team was "prepared to do what we need to do" to help people unable to remain in their homes.
Derrick, who had driven the area in the immediate aftermath of the storm to assess damage and need, said his team - which included Major Sandra Mitchell and Lieutenant Luke Lyons and some "little junior soldiers" Derrick and Serena Mitchell – served hot meals to about 60 at a Castries City Council shelter.
In Barbados, the Army's Reed Street facility in Bridgetown and Lighthouse Centre in Speightstown were mobilised to receive donated goods of food and clothing to distribute to storm victims.
Elsa blew roofs off buildings, downed trees and powerlines and caused flash flooding with winds speeds of about 120km/h. The Army on both islands has been providing emergency support.
As it made landfall, Prime Minister Mia Amor Mottley announced that the government would be working with the Army and other faith-based organisations to provide accommodation, food, clothing and other needs.
Mia was reported as having said that Elsa was the first hurricane since Janet in 1955 to have directly hit the country.
Army teams cooked hundreds of hot meals for people adversely affected by the winds and torrential rain, as well as for members of the emergency services.
As the storm battered the Caribbean islands, the Army's Emergency Disaster Service teams based in Atlanta, Georgia, were on high alert as the storm was expected to continue to the United States. The storm lost intensity and made landfall in the US as Tropical Storm Elsa in Taylor County, Florida, on 7 July.
Major David Swyers, the Army's Area Commander for Tampa, said the EDS teams had been on high alert and ready to deploy mobile canteens and/or other resources necessary in collaboration with first responders and local government.
"We can roll out with dedicated teams who know how to cook meals, and these units are large enough to cook thousands of meals; we have 50 to 60 available at any time to go," David said.
Edited from an IHQ Communications report. Additional reporting by Others staff reporter Darryl Whitecross