Gladstone Corps rushes water of life to 'dry' town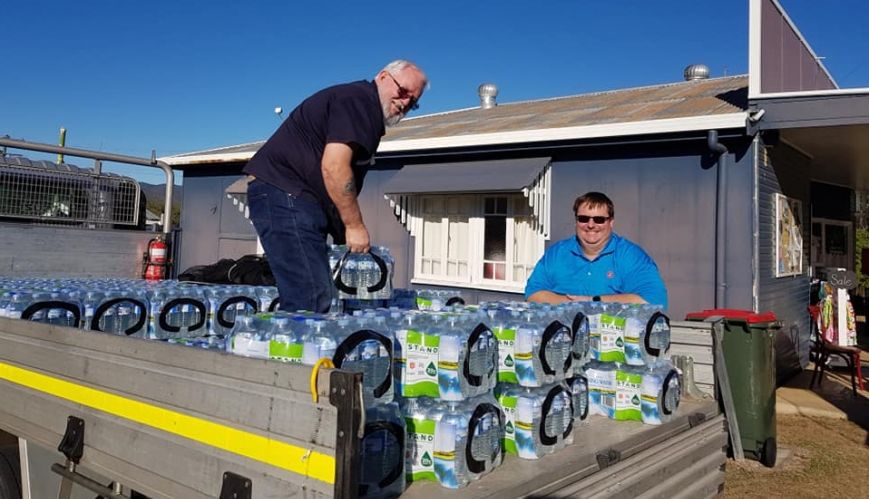 Gladstone Corps rushes water of life to 'dry' town
12 July 2021
Gladstone Corps Officer Captain Chris Ford (right) helps Corps Sergeant Major Mitch Evans load hundreds of litres of bottled water onto a truck, ready to be distributed in Builyan.
By Darryl Whitecross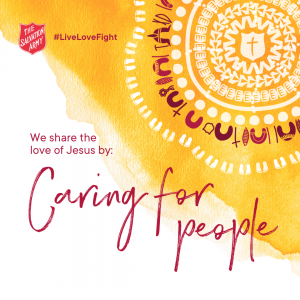 The Salvation Army in Gladstone has come to the aid of drought-stricken residents of the Boyne Valley in Central Queensland.
Gladstone Corps Officer Captain Chris Ford said residents in Builyan, 100km south of Gladstone, had resorted to showering at the town's community hall because the taps had been 'turned off' as freshwater bores supplying the town had all but dried up.
Chris said that while there had been 50mm of rain recently, it was not enough. He said a corps member who monitored rainfall said the region usually received 500mm to 700mm of rain a year, but his gauge had recorded only 336mm in the past 12 months.
Kirsten Laney, from Kirsten's Cottage in Builyan, contacted the Army for help because of its reputation for "always going above and beyond" in helping people.
Pauline Dobbie, Gladstone Corps Ministry Assistant, said farmers in the valley were "a proud people" and had Kirsten not brought to the Army's attention the dire need for water, "we probably would have been none the wiser".
The corps and its community response team swung into action, organising to get hundreds of litres of water to Builyan. Chris said the Army had enacted a "recovery response" protocol to buy pallets of water from Woolworths to transport to Builyan.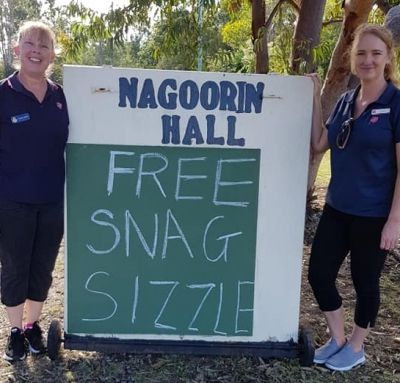 Gladstone Corps Ministry Assistant Pauline Dobbie (left) and Moneycare's Sonya Wawrzyniak were part of a Boyne Valley mission trip that ran a sausage sizzle at Nagoorin, 25km north of Buliyan.
Captain Leanne Stevens, Queensland Associate Coordinator for the Army's Strategic Emergency and Disaster Management (SEDM), said the most logical and immediate response to the call for help was to get fresh drinking water to the community: "Bottled water was the easiest and quickest solution. SEDM provided the funding to support this initiative."
Chris said because the corps' Family Store truck could not carry the heavy load of water (four tonnes), Avis car and truck rental company provided a flatbed truck for the mission.
Chris said a 48-pack of bottled water was handed out to each person in Builyan in the first shipment, plus an extra pack for each family, with more deliveries planned. He said that, along with SEDM, the action to help the stricken residents had drawn together several Army mission streams.
Since April, Pauline and Moneycare's Sonya Wawrzyniak have headed a team of volunteers, health professionals and community representatives – under the banner 'Boyne Valley Mission' – to be in Builyan on the third Thursday of each month to meet with people to discuss their needs. Each visit has a specific theme, such as health and wellbeing, drought assistance and Army services. The theme for July is 'telecommunications', as unreliable internet and mobile telephone reception are an issue in the community.